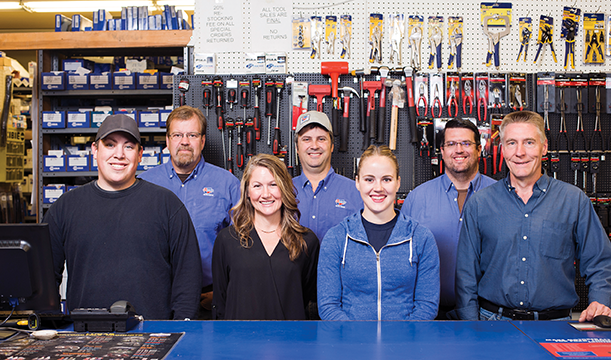 Now celebrating their 30th year in Ashland, Ashland Auto Parts Inc. is owned by Sherman and Jami Peters. Over the past three decades Ashland Auto Parts has gone above and beyond to find all those hard to find auto parts and more. Not only do they know nearly everyone in town who has ever needed a part to fix their car, they also have far-reaching connections all around the Rogue Valley. This includes their sister store in Phoenix, appropriately named Phoenix Auto Parts Inc.. Finding those hard to find widgets for everything from old engine parts to new parts—even parts for hybrid and electric cars—is what they do best! Sherman and his crew have the connections and resources that you need to track down and find exactly what you want when you need it.
Hi Jami and Sherman, thanks for speaking with us today and congratulations on celebrating 30 years in Ashland!
Thanks, it's been a great year! We are very appreciative to all our Rogue Valley customers who have loyally supported us for the past 30 years. Here's to the next 30!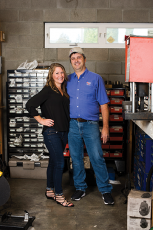 How has the year gone for you and how is the team doing?

This year has been going better than ever. The team is doing great, and it's been an interesting change from Napa to Carquest. Everyone has had to learn to use a new computer system, new part numbers and new product lines. It was a lot of work learning that new information but everyone has adapted well.
In retrospect what would you say has been part of the secret to your success here in Southern Oregon?
It is important to us to give good service, and, even when we were the only auto parts store in town, we have always treated everyone the same. Giving everyone the same great service and respect encourages them to come back year after year. So we do our best to make sure our customers leave satisfied.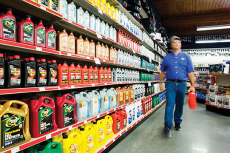 Sherman you have always been very competitive on your pricing. How have you gone about doing this?
If something looks expensive to me then I know it looks expensive to you, so I am always making adjustments to keep things fair. I am also very aware of what the corporate stores are doing, so, since we are a local business, I have the freedom and flexibility to offer the best rates. A customer came in on Friday and she had obviously done research about auto part stores in the area. She wanted a turn signal bulb for a Jeep Liberty. Another business was selling the bulb to her at $12.49 while here at Ashland Auto Parts we are selling them for $5.99. I am doing continuous research so that we can offer the best price to our customers, and that's what keeps them coming back.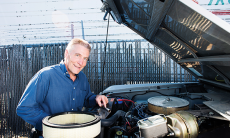 Sherman and Jami, your teams are always going above to provide the customer with the highest level of service. What are some recent examples of products you had to hunt down?

Recently I had a customer come to me all the way from Salmon River, California who was looking for a clutch to an antique dodge truck. I searched through all of my resources, but ended up having to have one specially made for him.
Your reputation for finding hard to find parts has even people from Medford and beyond calling you.
It sure does. For example a customer called this morning and needed a harmonic balancer. Another store told him it would take a week to get, so I called to down to Redding and found that there was a harmonic balancer for sale. We offered to have it delivered up here in two days or he could drive to Redding and grab it. I have a lot of resources at my fingertips, so it's not difficult for me to find another option for my customers.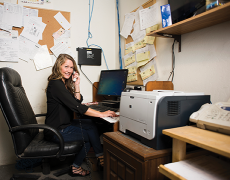 Returns are also something that you feel strongly about. Please say more.
We don't hassle people at Ashland Auto Parts, unless the part has been installed. It's hard to sell items that have been previously used such as electrical parts, batteries, fuel system parts and tools. Basically, if your part has not been used we will take it back.
Your teams are always going above and beyond to give great service. What are some examples of this service you provide?

Some of the services we provide are providing parts that are difficult to find, battery and wiper installs, and scanning check engine lights. We also provide specials tools for rent.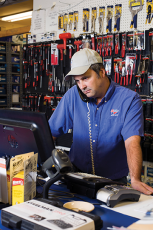 Are there any new lines that you have introduced this year into your store?

Yes there are! Our oil selection has expanded greatly, and I think it's second to none. Some of the oils we provide are: Liqui Moly, Quaker State, Havoline, Pennzoil oil, oil for European cars, as well as a variety Japanese oils. We've also greatly increased our stock of shocks, struts, and we have over 200 radiators in stock.
Between your two stores you guys have of the largest local inventories on hand. Please say more.
At Ashland Auto Parts we have always prided ourselves on an extensive inventory. Our goal has always been that when a customer walks in to make a purchase we have everything on hand so our customers don't need to wait. Most of our customers need the part right away.
Sherm, what should people be thinking about coming in and stocking up on as we begin to move into fall and winter?

After summer it's a good idea to start winterizing your vehicle. Replace wiper blades and check your antifreeze and think about purchasing an ice scraper, a bottle of lock deicer, a roadside emergency kit and a flashlight. We recommend carrying tire chains with you during the winter, and make sure you try putting them on your vehicle before you actually need to use them.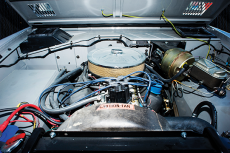 You are now also offering automotive paint in Phoenix. Tell us about this.

We can mix it up and put in a spray can for you. We offer Nason Paint, custom mixed paint and now we have the ability to mix and match and put it in spray can.
Is there any new news for you and Jami?
Our oldest son Colby just got married, and will be stationed in Turkey starting in January for 15 months with the Air Force. Our daughter Amber and her husband Ben are expecting their first child in March, which is very exciting for all of us. We have also been enjoying the company of our two grandchildren, Eli, 6, and Ali, 2.
Are there any last thoughts or comments you would like to share with our readers?

We would really like to thank all our loyal customers for the support over the last thirty years, and we are looking forward to what the next thirty will bring us. Since our change from Napa to Carquest many customers have stayed with us, and we are extremely grateful for that. Thank you!
Learn More:
Ashland Auto Parts
1952 Hwy. 66, Ashland, OR
(541) 488-0803
locations.carquest.com/
Comments