Canopy is committed to delivering skilled and passionate care of trees to the communities of Southern Oregon. Our aim is to provide your home with increased safety, health, and beauty. Whether your trees are in need of pruning, have pest or disease issues, or requires removal, Canopy offers a complete range of tree care options and look forward to being of service. Canopy is fully licensed, bonded, insured, and certified by the International Society of Arboriculture. In today's interview we spoke with Canopy owners Christopher John and Kevin Scott to learn more about the care of trees.
 Chris and Kevin thanks for speaking with us today and congratulations on your fine work here in our community! 
Thank you.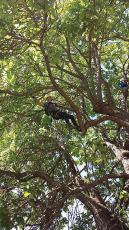 Over the past three years Canopy has experienced some significant growth. What do you attribute towards this success?
Perhaps the main reason we're successful is that we are wholly immersed and committed to the trade, to the science and the art of tree care…that every other success with Canopy stems from this. It's a sort of universal idea that if you love what you do, and actively seek to be at the edge of it, you will eventually succeed. Another way of looking at it is to say that the quality of your work, the attention to detail, is a direct representation of where you are at in your evolution as a human being. Chris and I are both obsessive and somewhat eccentric. Perfectionists. Anyway, character traits aside, we've worked well enough together with enough care in what we do to have attracted a like-minded team of good people who want to work with us. For both of us that's the biggest reward of all…having surrounded ourselves with high quality, highly effective people without egos. We got the fire lit and they've come and tended it, carried it along. Thinking back on the various bosses we've had in the past, we've tried not to emulate them but for the few effective ones. In our team, everyone's opinion matters. Everyone is heard. It's an occupation fraught with hard consequences, so excellent communication is absolutely essential. This open armed way of working together works far better for us than the closed fist model. We could not work that way, which is why we're here today.
 So you have assembled a great crew with Canopy. Introduce us to them and share a little bit about what everyone brings to the equation.
Jennifer Hagen is our unofficial crew leader. She is part of our Midwestern league of players. She comes from a wildland firefighting/hotshot crew background. Before working with us she led pack trains of tourists into Glacier National Park, from which she has some harrowing bear stories. I suspect she works with us in part to support her art habit (her pen and ink drawings are exceptional). She is someone you want in your foxhole. She climbs trees, prunes, fells, plants, diagnoses, bids, fixes, braces, cables, and makes startlingly accurate estimations and procurements for Canopy's future needs. 

Jamie Schlittenhart is another of our northern Midwest transplants, who came here after touring the nation with his punk band, It Came From the Sea. Apparently, the forty-hour work week qualifies as part time to a North Dakotan, though it agrees with him just fine. He came to the Rogue Valley on the word of a friend, who said it was where young people come to retire. Jamie has a background in landscaping, bass guitar, operating large machinery, and laughter. He has a great eye for pruning, is becoming an accomplished climber, and is ever pleasant to be around. He never shirks a task.

Randy Mason is the former owner of Upper Limb-it Tree Service. He works with Canopy part time. He's been in the business since before many of us were a twinkle in our parents' eyes, and has forgotten more about arboriculture than most will ever know. We're fortunate to have Randy sharing his expertise and strength of character with us. Often we say hello to him in the morning, exchange pleasantries around quitting time, and for the rest of the day he's up in the canopy contentedly pruning away. He will probably beat you up Mount Ashland on your road bike.

As for Chris and Kevin: you must see to truly appreciate…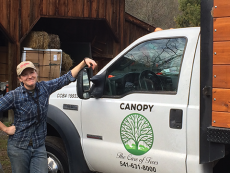 Many of your clients work with you time and time again. What keeps them inviting you back?
One of the most common compliments we get is how impressed our clients are with our level of communication and efficiency, the level of respect and consideration we have for each other. This is a humane dynamic. It speaks of good relationships within the team and confidence in what we do. It draws attention. Or they cue in to other things, like how clean we left the yard, how pleasant our crewmembers were to deal with, how we went about pruning or removing a difficult limb or tree. Most of our business comes by referral. It's a fairly smallish valley. Word of mouth can make or break a business here, so we take it as huge compliment, these growing chains of recommendations. Thank you so much to those reading this who have passed our name along.
Please give us an overview of the services you provide?
Canopy services:

*Pruning

*Removals

*Diagnoses of pests and diseases

*Hazard tree evaluations

*Planting

*Fuels reduction

*Arborist reports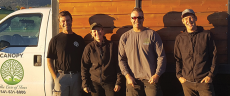 What do you appreciate most about working in the Rogue Valley?
There is generally a higher consciousness here regarding the value of trees. People are attached to them. Trees are not seen as something in the way of 'progress'. There is a culture of tree hugging here, and also the antipodal logging mindset. We lean towards tree hugger, but we also know that, in an urban environment, particularly with the current drought trend and the propensity toward overplanting, there are many times when removals are necessary and encouraged. Fires that ravaged my home stomping grounds in Northern California last year left standing the homes that pruned or removed certain trees and reduced fuel loads with wildfire in mind. Those that did not burned to the ground. It was an eye opener. The terrain is very similar to Ashland. But I diverge…

The true value of trees in the urban environment is an evolving idea. It's refreshing to see the cities and their administrators making the effort to learn and improve certain aspects of the urban topography to favor the growth and preservation of trees. It's progressive. We're proud to work and play in a place that makes these types of decisions.
Canopy is also available to do commercial care. 
Yes, Canopy does commercial work: apartment complexes, homeowners associations, business parks, dealerships, and retirement homes. You name it.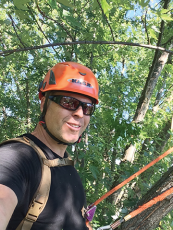 Would you mind sharing your mission statement with us?
To be committed to the skilled and passionate Care of Trees, providing the utmost in sound, knowledgeable arboricultral care and outstanding customer service.  To consider the care of trees to be the cultivation of a precious resource, an enhancement of our community, and a work of art. 
Can you share some recent testimonials with us?
Here's a recent thank you letter:

Wow Kevin!

I couldn't have asked for a more amazing team of people to handle a job that was a tad overwhelming. You made it all seem effortless-although it was anything but that. Thank you so very much for your fantastic, positive attitude. I appreciate the terrific job- Thank you, thank you, thank you!

Leanne

Every week we receive thank you notes and emails from clients saying essentially the same thing; What a great crew…very knowledgeable and professional…thank you! It's a good feeling, helping people.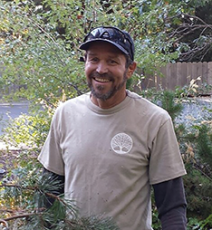 Are there any last thoughts or comments you would like to share with our readers?
Just to say thank you for the overwhelming support of our business. We're very grateful to the greater Rogue Valley community. 
Learn More:
www.canopyarborcare.com
(541) 631-8000
Hours: Mon – Fri 8:00 – 5:00, Sat 8:00-Noon
——————————–
Pruning
We specialize in the fine pruning of large and small trees. It's our favorite! Pruning can revive and beautify mature trees, set young trees on the path to optimal health and longevity.  A proper pruning can transform the look and feel of a landscape, home, or neighborhood and can truly be…a work of art. 
Removal
We have the experience, skills, and equipment to remove trees in the tightest of places with zero damage to the surrounding structures and landscapes.  You won't even know we – or the offending tree – were ever there.  We also offer stump grinding services.
Planting
It is said that the best time to plant a tree was 50 years ago. The 2nd best time…is today! From Japanese maples to future heritage oaks, Canopy can help you with expert planting recommendations for any site. Have you decided on a tree? We can source a specimen and get it going and growing for you. We have planted thousands of trees and would love to put our experience to work for you. 
Consultation
We provide Arborist reports which are often required as part of tree permit removal process, for protecting trees, for construction and landscape planning, for legal documentation, etc. We also can perform Tree Risk Assessments. We're also happy just want to walk and talk trees with you!
 Pests and Disease
Why are my leaves sticky? What is that orange dust? Why are those branches dying?  We love getting to the bottom of these questions and more. We have a plethora of tools in our bag to treat all manner of insect, fungal, bacterial, and cultural issues affecting the health of trees. 
Fire Fuels Reduction
Dead trees and certain conifers can pose a wildfire risk to homes and properties. We fully support the efforts of local fire departments and the Firewise Communities program. We can help you in establishing a "defensible space" around your home or small wood lot.