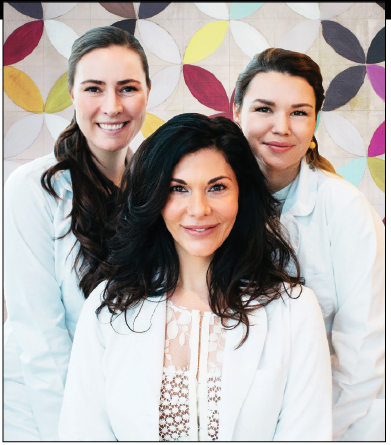 Open the dictionary to the word "aging" and it's apparent that our culture is fixated on the negative portrayal of the aging process, such as deterioration, crumbling, fading, and wearing out. We could not find one positive word!  At Glow, we embrace that we are all aging, and yet science and tools can help us to look and feel beautiful at any age.
Thanks for talking with us today, Tasa. Tell us about what's been going on at Glow. 
These past two years since joining Dr. Margo Herron, Board Certified Plastic Surgeon, have been very full with learning new techniques and continuing our education at full speed. We have been productive in terms of settling into the field and learning more about what is coming in advancement of esthetic technology. We have also added another advanced esthetician to our team, creating three of us with a full body of knowledge. I'm excited for the future of esthetics. Results just get better and better.
Remind us what Glow is all about. 
The focus of Glow continues to be about you. We are proud to offer the most advanced and state-of-the-art non-surgical cosmetic procedures, equipment and providers. We also continue to offer traditional skin care options, such as facials, peels, and oxygen treatments. Our goal is to maintain and cultivate the health and appearance of your skin from the inside out. We believe skin care is a craft, and in practicing it we continually learn and grow in order to pass our knowledge and skill onto you, our client, for your greatest benefit. People—women and men—are clearly craving these non-surgical services. The age of the surgical facelift is on its way out. Noninvasive medical aesthetics, a rapidly growing industry, are now being sought after as the preferred alternative to more invasive procedures, as there are so many great options.
Tasa, what makes Glow special?
Coming from a background in fine arts, aesthetics has always been important to me. Every detail in our space has been planned to create an experience of beauty. Glow is a private and intimate environment where you can escape and rejuvenate, while still experiencing transformative results. We spend time with each and every client individually to ensure their needs are considered, and they feel special and never rushed. We cater to the discerning client whose priority is quality service and who desires customized care under the supervision of a qualified medical physician. Our partnership with Dr. Herron ensures that everyone receives the best and most appropriate treatment for their skin and current health. Through our consultation process, the team at Glow can offer a treatment plan to prevent, maintain and improve on areas of concern for you—tailored for any budget. This past year, all three of us have traveled to many advanced trainings, and continue to increase our knowledge to bring you the very best at Glow. We care about our clients, and this shows in the overall nurturing experience you'll receive.
Tell us more about these nonsurgical options that you offer.
As technology is ever expanding, I am motivated to continue to bring the latest science to our clientele.   

Recently, I upgraded my Exilis Elite to Exilis Ultra to combine ultrasound with radiofrequency, yielding even better skin tightening results than before. Ultra can be used anywhere on the face and body, including around the eyes, jaw line, jowls, mouth, neck, arms, chest, abdomen, thighs, hips, and love handles. It is redefining nonsurgical alternatives. Exilis is not a laser; there is no skin peeling, pigment change, or prolonged healing, and little to no downtime. Optimal results after four to six sessions give immediate and progressive outcomes. We suggest maintenance treatments to provide long-term benefits. Our clients continue to be impressed with their appearance and many have added additional areas of treatment, attesting to their high satisfaction.

We are so excited to announce the addition of the Vanquish ME, another type of radiofrequency targeted for the body. While a lot of people have heard about CoolSculpting, our research led us to Vanquish ME, which utilizes heat instead of freezing or cold, and thus is a more pleasant experience for body shaping and fat reduction. Patients love this treatment as there is no downtime and it's virtually painless. Even better, Vanquish can handle a larger variety of body types and treats multiple areas at once. After four to six treatments, patients often see a difference in pants size. One of the best features that drew us is that it combines skin tightening with fat melting for advanced results. To this we also add Cellutone to expedite the break-up of fat cells.

We still continue to offer Sciton Broadband Light (BBL) laser treatment with remarkable results. This treatment is fast becoming one of the most popular cosmetic procedures for people of all ages and genders. A wide variety of conditions can be treated with BBL therapy, including redness and age spots, rosacea, blood vessels, unwanted hair and uneven skin tone, providing our clientele with clear, radiant skin.

Microneedling, also known as collagen induction therapy, uses the skin's natural ability to repair after creating micro wounds to stimulate a healing collagen response. Microneedling minimizes pore size, fine lines and wrinkles, and is a promising treatment for lip lines. This procedure is performed in a safe and precise manner with a single-use sterile needle head. To this service, we have added our LED light therapy to promote faster healing time and a more all-inclusive treatment.

Medical-grade peels are for those who want to try another progressive option to achieve results. While there is a process of shedding skin involved, peels can refine texture and tone by producing new healthy skin layers to come to the surface. Peels are offered at many different levels and we individualize the treatment based on your skin. For example, a deep-sea peel uses no acids; instead it utilizes sea-based herbs to stimulate collagen changes at a deeper level. As we age the process of turning over cells slows way down, so performing peels can be like a workout for the skin. A series is often recommended to move you forward in results. I have always been a fan of peels. I do them regularly on myself.

For those who feel timid about these bigger procedures, we continue to offer these cell-nourishing treatments: microcurrent, LED light therapy and oxygen. Microcurrent stimulates ATP, which is the vital nutrient to healthy, functioning cells.

Even after one treatment, microcurrent lifts and tones the muscles of the face. LED light therapy increases the health of your skin by restoring collagen, minimizing fine lines, and reducing redness and pore size. Oxygen deeply hydrates and revitalizes, because it infuses vitamins and antioxidants into the skin during the treatment. These are all non-invasive, extremely healing techniques.

Last year, we created several combination packages in partnership with Dr. Herron to further enhance the options that we can offer.

Tell us more about these combination treatments with Dr. Herron. 

With the technologies that we offer, we can't correct everything, so bringing in Dr. Herron with her specialties gives more of a full-spectrum answer to natural-looking results. For example, last year we started combining Kybella, which is a fat-melting injection for under the chin administered by Dr. Herron, with Exilis skin tightening to maximize the results.

While this subject might be controversial to some, I would like to break the silence and talk about Botox and filler. This is a personal choice to incorporate these options into your skin care routine; yet it is utilized more than people know and is now becoming more acceptable to achieve the overall results people desire. Botox and fillers are one of the modern-day tools to avoid surgery and maintain your youthfulness. Don't discount that this world is rapidly changing and in the very near future, it will be very much about using our own bodies to stimulate change.  For instance, Dr. Herron uses Sculptra, the first filler that builds your own collagen to replace volume that is lost with time. Dr. Herron is extremely gentle and makes sure her clients are comfortable, well-informed, and satisfied. She is well-known for her conservative approach and natural-looking results using Botox and other injectable fillers. Very often people are worried that they will look unlike themselves after filler or Botox, but in the right hands, people will never know you had anything done.
We understand that you have two employees now, so tell us about them. 
Yes, Amma Rowan and Jody Sage both bring to Glow well-skilled hands and in-depth expertise.  They attended laser school together last year to become certified advanced estheticians in order to allow more opportunities for our clients. Amma joined Glow over a year ago and continues to nurture our clients with her sweet energy. She's a special member of this team, supporting the growth of Glow, and our clients love her.  ody and I first met in esthetic school and I liked her immediately. She is especially focused, loyal, and able to get things done. She comes to us with significant experience incorporating her certification in massage with facial treatments. Jody also has experience with management, which complements my ability to build the business foundation of Glow.
What do your clients say?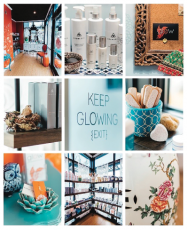 "Jody presented information not as a sales person, but as an educator.  I'm very happy that I made the decision to come to Glow.  I have been very impressed with Glow's philosophy and the results of my treatments."  ~ L.L., Medford

"I love the results of your work.  I am amazed at the positive changes."  ~ T.W., Ashland

"Tasa of Glow is excellent in every way.  A pleasurable experience and very informative.  I'll be returning… forever!" ~ S.H., Ashland

"I am so thankful that I found Amma at Glow. My skin never looked as good as it did after working with her. I struggle with "problem skin" and acne and wanted to get regular treatments before my wedding. After just a few sessions, my skin was noticeably more clear and by the time my wedding came around, my skin looked amazing without a blemish in sight!  Her treatments are both relaxing and luxurious as well as thorough."  ~ M.R., Ashland
Tell us about your upcoming event on March 9. 
Education within a public forum has been something we have looked forward to offering for quite some time. We are excited to announce our upcoming evening interactive presentation on March 9 at the Ashland Hills Hotel. Dr. Herron and I will be sharing MODERN AND INNOVATIVE TECHNIQUES IN FACIAL REJUVENATION along with our panel of experts. The evening will conclude with live demos and one-on-one availability for questions and answers.  Come learn about the future of esthetics. The event is free, but limited to only 100 people, so please preregister at 541-708-5433 or on Facebook at www.facebook.com/Elizabeth-Institute-242620172439170/
What recommendations do you have for at-home daily skincare?
Hot towels used regularly can do wonders. Coconut oil is a wonderful, nourishing and inexpensive way to hydrate the body. If your hair is short or up, always remember to use sunscreen on the back of your neck and ears—a common site for skin cancer. Wash your face every night (you are collecting pollution, pesticides and dirt throughout the day). A smile is the most beautiful thing you can wear.
Do you have anything else you want the readers to know?
Glowing skin is healthy skin. Come in for a complimentary consultation. See, feel and sense the difference!    
Learn More:
Glow
638 N. Main, Suite D
Ashland, OR  97520
541-488-5555
innerbeautyouterglow.com
Comments