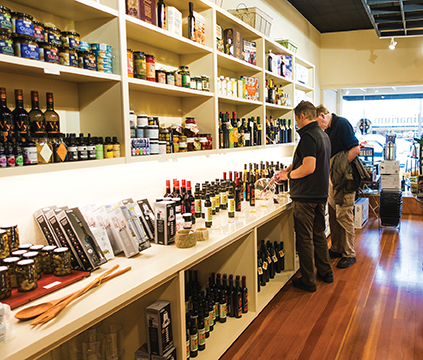 By Constance Jesser
What an interesting start to the year we have had here in Southern Oregon. Thirteen inches of snow and then snowbound at home for 3 days. It was time to go through the cupboards and freezer to make breakfast, lunches, and dinners. Fortunately we had a few supplies on hand and weren't limited to eating condiments. The following are two meals that are simple, delicious, and can be stretched over a few days if need be.
Hot Make-Ahead Cereal
This hot cereal uses steel-cut oats, quinoa or other grain such as chia (yes, the one they used to spread on clay figures to grow sprouts) and pearl barley.  All these grains are high in fiber and protein making them the perfect breakfast for a day of shoveling snow (if you have to).
1/2 cup steel-cut oats
1/2 cup dried fruit (we used dried cherries, apricots and orange peel)
1/4 cup raisins
1/2 cup well-rinsed quinoa or 1/4 cup chia and 1/4 cup pearl barley
pinch of sea salt
4 cups water
Bring all grains and dried fruit to a boil. Turn off heat and allow to sit covered on your stove overnight. In the morning stir and reheat for a hearty breakfast. If you want, you can add a small pat of butter after cooking. The dried fruit adds enough sweetness that sugar is not necessary.
Cauliflower Soup with Brown Butter
You will need a blender or hand blender for this soup. Simple and satisfying, the brown butter adds a nutty quality to the soup giving it richness without heaviness.
1 large head cauliflower cut into similarly sized florets
2 tablespoons garlic avocado oil
1 rib celery – cut into small dice cut
1 leek – white part only – cut into small dice cut
1 clove garlic – creamed
sea salt to taste
1/4 cup white wine
1 quart vegetable or chicken stock (we used a demi-glace and added extra water)
4 tablespoons unsalted butter
Before cooking, toss the cauliflower with a pinch of salt and a teaspoon of garlic avocado oil. Cook the cauliflower in the oven at 350°F for 1/2 hour. When soft, remove from oven and reserve. In a stock pot, add a small amount of garlic avocado oil, the celery, leek and garlic. Cook until lightly browned. Add the cauliflower and wine. Deglaze the pan and cook off the wine. Add the stock and cook until the vegetables are very soft. Either blend in the stock pot with a hand blender or remove the soup to a regular blender and blend in batches. To make this silkier strain the soup in a china cap. In another pan heat the butter until brown and has a nutty scent (approximately 5 minutes). Add this butter to the soup and cook for another 5 minutes. Serve hot.
Bon Apetit!