Articles
Interviews
Handcrafted Goodness at the Lithia Artisans Christmas Faire – November 23, 24 & 25
Get ready to explore the 18th Annual Lithia Artisans Christmas Faire. Hosted at the Historic Ashland Armory over Thanksgiving Weekend, this event showcases many of Southern Oregon's best artists and craftspeople. In today's interview I speak with market director and manager Marcus Scott about the abundant opportunity to shop local and find some great treasures.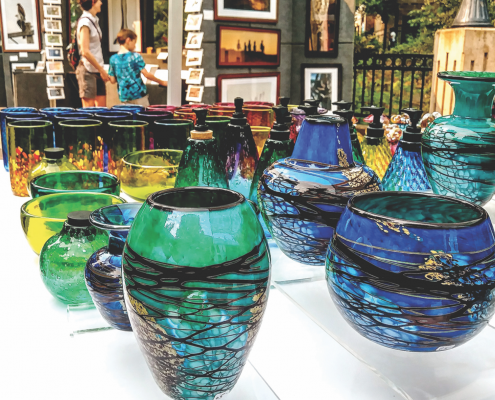 Hi Marcus, thanks so much for taking the time to speak with us today. I can't believe that this is the 18th annual Christmas Faire. This has certainly grown into an Ashland tradition.
Timed to run in conjunction with the annual Festival of Lights in downtown Ashland, the Lithia Artisans Christmas Faire has always been in the same place and at the same time. For 18 years we've held this art and craft event at the Historic Ashland Armory, corner of Oak and B Streets, on Thanksgiving Weekend. It truly has become a tradition in Ashland and a great place to hang out with family and friends over the holiday. Open Friday 10-7, Saturday 10-6, and Sunday 11-4. The tradition continues.
Marcus, please tell us how everyone goes above and beyond to make this a special event for Ashland.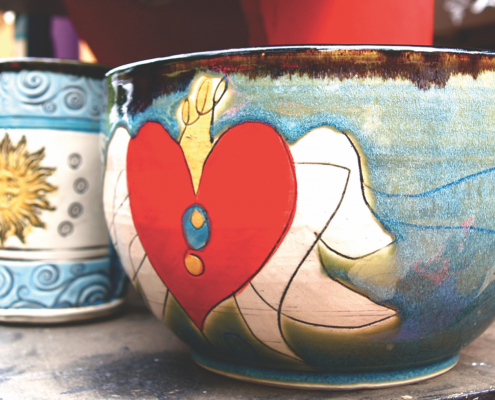 This is a magical event. Everyone is encouraged to bring out the very best they have to offer. Some vendors hold back special pieces just for this show. A good example is lapidary artist and silversmith Dan Clark. He finds wonderful scenes trapped in Oregon jaspers, agates, and various other semi precious stones. Over the years Dan has searched through mountains of stones, sawing his way through these specimens with a watchful eye, looking for the images trapped within the stone. Some of these picture stones he sets aside each year to share for the first time at this show. It is part of his personal tradition. Many of the participating artists share Dan's high regard for this show, bringing out unique pieces specially created for the Christmas Faire. That makes for a special event.
Let's talk about the vendors you choose to have at the event. 
Every artisan you meet at this event is a juried member of the guild of artists known as the Lithia Artisans Market. Any prospective member of the market must present their art form to a group of their peers. This group of veteran artists and craftspeople assess the art or craft looking for high quality and originality.

Many of the very best artisans of the region are represented at the Christmas Faire. I am always amazed at the quality at this show. We are lucky to have such a fine event right here in our own backyard.
Marcus you have been at the market more than 24 years. What is the biggest take home lesson you have received after all these years?
The biggest takeaway I have is that art matters. The items we carefully craft with our hands can have a profound impact on the life of another, as well as the life of the artist. When we tune into our calling as artists and craftspeople we are connecting to ancient art wisdom. We put our own spin on it, but it is all timeless. Pottery, stone cutting, metal work, woodwork, leather, clothing — humans have been making these items ever since the dawn of civilization thousands of years ago. From ancient cave drawings to present day painters, keeping these art forms alive, vibrant, and viable makes a difference in our fast paced world. Ultimately, Art Matters!
How have you seen the artisan culture evolve and change over the years?
The artisan path is the way of innovation. Artisans are constantly changing processes to make the creative task at hand more efficient, less cumbersome, and more artistic. Finding those tricks of the trade is how we evolve as individual artisans. Years of that dedication transforms one into a master of their craft.

In the last couple decades I have watched as the art and craft model has gained more credibility and professionalism. The artists and craftspeople who make up the membership of our market are true professionals. They put their heart, mind, and soul into the things they create, always evolving, always looking for a slight tweak that will make things that much better. The artisan culture is always changing the model to reflect the time in which we live.
Can you highlight some must-see vendors this season?
There are so many great artists. We will have around 50 artisans set up over the Thanksgiving Weekend. I will highlight three of the many talented artisans. Come on down to see them all!

One of our newest members is impressionist painter Jessica Johnson. Jessica joined the market this season and has been an outstanding new addition to our guild. Her landscape pieces focus on familiar places as seen only through her eyes, using her unique method of touching brush to canvas. I find her pieces comforting. Her use of color is stunning. The way light comes through her paintings is mesmerizing. I love her work.

Scott Carlson makes handblown glass; this is his first year as a member of the market. He has been blowing glass for decades. Blending different colors of glass and precious metals, Scott works in the traditional blown glass fashion in front of a big furnace. Blowing into the glass, he inflates it into a white hot molten balloon, expanding it into functional tumblers, vases, and decorative pieces. His art is inviting and inspiring. Take a close look at the details in his work. Outstanding!

My final highlighted artist is Alissa Clark. Alissa is a long time member of the market and a master of her craft. Her pieces are uniquely her own. Her sense of humor and playfulness come shining through her mugs, vases, and wall hung pottery. The color combinations and image-based textures bring a smile to my face. She is an artist through and through.

All of these artists and so many more will be selling their creations this year at the Lithia Artisans Christmas Faire Thanksgiving Weekend at the Historic Ashland Armory.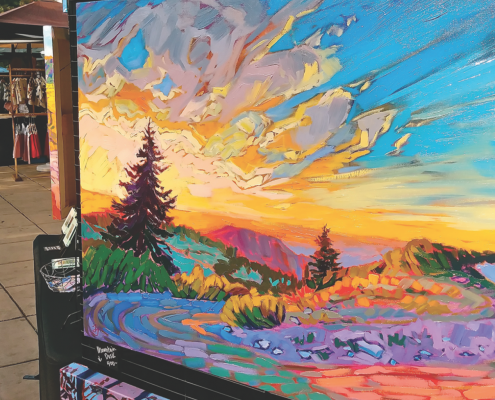 Marcus, please talk about the Lithia Artisans Market connection to the Lithia Arts Guild and your upcoming show in the Medford Armory?
The Lithia Artisans Market and the Lithia Arts Guild have done many great projects together over the years. The Holiday Market, our December show offering, started at the old Briscoe Elementary School 14 years ago in the section known as the Art-Wing. We are grateful to the Lithia Arts Guild and the Briscoe Art-Wing for helping to make this venture work for the past 13 years. Last year the market determined that we had outgrown the space and wanted to try something completely new. Bigger and better than ever, the Lithia Artisans Holiday Market is moving to the Medford Armory, 1701 North Pacific Highway in Medford, Oregon. This year we are embracing change.

This new show will take place December 14, 15, and 16. It will be one big three-day weekend in Medford. Even though the Holiday Market is in its 14th season, this is its first time ever in Medford. More details to come in the December edition of this paper, or check our website: lithiaartisansmarket.com.

We are talking about two different events. Christmas Faire takes place at the Ashland Armory Thanksgiving Weekend, November 23-25. Holiday Market takes place December 14-16 at the Medford Armory. Two great show opportunities.
Are you still looking for vendors?
Yes! We are still accepting applications for the Holiday Market in Medford until it is filled. Christmas Faire in Ashland is full. For more information go to: lithiaartisansmarket.com/member-info/.
Marcus thanks so much for what you do. Thank you actually to all the artisans who have chosen the path less taken. You have made our community unique and memorable!
Thank you to LocalsGuide for always offering us artists and craftspeople a platform to advance this model of self-sufficiency through the arts. We are grateful for all that LocalsGuide does to help out fledgling and established businesses in the Ashland area. You too have taken the path less chosen in your method of communicating the unique stories of our community. Thank You!