Interviews
Lithia Artisans 19th Annual Christmas Faire
The Lithia Artisans Christmas Faire is celebrating its 19th year in Ashland, Oregon. As part of an annual tradition, the artisans host a holiday faire located at the Historic Ashland Armory, on the corner of Oak and B Streets. The event takes place Thanksgiving Weekend. In today's interview, I speak with market director, Marcus Scott about the upcoming holiday event and all that the artisans have to offer.

Marcus, thanks for speaking with us today and welcome back to the LocalsGuide.
It is my pleasure. Locals Guide and the Lithia Artisans have had a solid relationship since the beginning. We appreciate all you do and the support you have shown the local artisan community over the years.

Marcus, we've been having this conversation for years now about the Lithia Artisans Market and how it evolves. Has anything changed?
Nothing dramatically has changed. We keep improving on the model, evolving with the times. The market is vibrant, young, inspiring, and fresh. We are blessed with so many talented new members within our guild of artisans.

The veteran artisans keep fine-tuning their concepts and improving their skill sets. The products continue to get better, more creative, tighter. I love watching people get to those points of mastery of craft. I believe we have a good number of masters in our midst.

One of those master artisans is Leah Fairbanks of Gardens of Glass. She makes glass beads and sculptures. Leah uses a flame torch to melt soft glass rods made in Italy. She shapes her beads with a graphite paddle and uses a glass kiln to anneal her work. Her special skills as a flame worker and teacher are sought worldwide. Her attention to detail is apparent throughout her body of work. Don't miss her elaborate beads, shells, necklaces and more.
Will you please tell us about the history of the Lithia Artisans Market?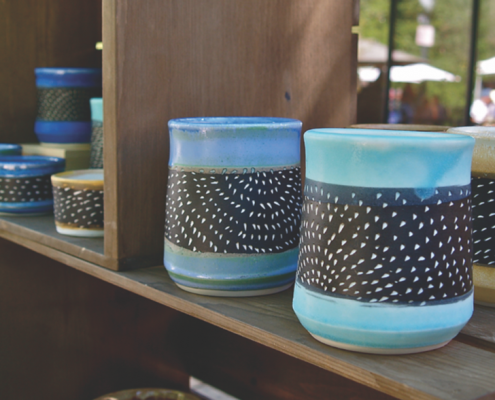 The artisans market has been around in one form or another since 1983. In the early 1990s we incorporated as a non-profit. The market is run and owned by the membership it represents.

I have personally been a part of this guild of artisans since 1994. What I have witnessed over the course of those 25 years is that we have grown in stature because the quality of the art and craft has become ever more refined over time. This is a juried art and craft guild and the quality just keeps getting better.

I remember hard times at the market right after the flood of 1997. The guild nearly fell apart. Membership was way down and Calle Guanajuato was a construction zone. During that period I served on the board with a fine Scottish gentleman named Cyril Maitland. Cyril was an artist thru and thru and an outspoken advocate for artists and craftspeople in our community. He served as the board president for many years and did so with grace and honor — a man dedicated to peace. Cyril passed from us this last summer at the age of 91 leaving behind his wife of many years Lucie. Rest in peace dear comrade, you will be missed. We all appreciate you.
How do you see the market continuing to enrich the lives of all those who participate?
The sense of independence that comes from owning your own business is valuable beyond the money. Running an artisan business is no small matter. It takes years of dedication before really paying off. You learn patience, specific skills, and the notion that anything is possible if you put your mind to it. The big takeaways from running a successful artisan business are self-reliance and self-determination.
How does the market continue to adapt to the changing economic conditions of the times?
The market has stood the test of time. At the Lithia Artisans Market we have always believed that authentic, one-of-a-kind craft still has a place in the hustle and bustle of today's world. The outdoor market and the holiday events we host are a place where time slows down. Not only does it take time to create the things we sell, it takes time to tell stories, to listen, and to engage. It is exactly that exchange of stories that brings us all together, improving the health of our human experience. Personal connection is what is so lacking in the online or big-box store consumer model. The artisans' market model offers the exact opposite… Human interaction.


What makes a good gift and what questions should we be asking ourselves when choosing and buying a gift?
Tough question, because the definition of a good gift is so subjective. Buy gifts that feel right to you. The bonus of purchasing some of our gifts at local fairs and markets is that you are buying from the maker. The items presented at the Christmas Faire are made by the folks presenting the art. Buying local feels good and is proven to help the local economy.

A good gift is one that comes from the heart, is made to last, and tells a bigger story than just the thing itself.


In all the conversations you have had over the years with your customers, what do you continue to see that they are looking for?
They are looking for connection, quality, and authenticity. Connection to the item comes from the story behind the maker of the item. It is a wonderful thing to be able to place a face, a smile, and a kind gesture with a treasured item.

I think that in a world so full of mass production consumption there is a built-in lack of uniqueness. The one-of-a-kind world is well represented here at the artisans market. Folks shop at the artisans market searching for unique, exceptional items made by local hands.


What are some of the questions you hear your customers asking when they are choosing their products?
How did you make this? Where do you source your raw material? People are interested in the process; therefore, it is really cool to be able to speak with the maker. That being said, much information is trade secret stuff. I'm a self-taught lapidary artisan. I have my own techniques that have taken over 25 years to become well-honed. That knowledge only comes from experience.

When choosing a piece from my booth people like to touch and feel the stone before buying. People crave that connection. It is very personal. At the artisans market you can experience a hands-on understanding of the items available and what it takes to produce those unique things.
Shopping local really means quality. Can you tell us more about this?
The amount of time spent skill-building within this group of artisans is tremendous. We are talking collectively about hundreds of years of self-apprenticeship and practice. When you make things by hand you want them to stand the test of time and become heirloom items. That desire for longevity translates into a high degree of personal quality control.

Last season I visited the blown-glass workshop of Scott Carlson during the winter months. Scott's shop is just down the driveway from his home in the foothills of the Siskiyou Mountains in Phoenix, Oregon. I spent three hours mesmerized as I watched him work his craft. What I witnessed was pure alchemy in fluid motion. Glass transforming from liquid to solid and all points in between. Glass sculptures, bowls, vases, tumblers and more, all created with precise hand-eye coordination only achieved through years of dedication to the craft. The end-results are unique, beautiful, high-quality items.

This year you will discover roughly fifty local makers at the Lithia Artisans Christmas Faire.
When are the specific days for the upcoming event?
The Lithia Artisans Christmas Faire is open starting the day after Thanksgiving, November 29, 30 and December 1, Friday 10-7, Saturday 10-6, and Sunday 11-4, at the Historic Ashland Armory on the corner of Oak and B Streets in downtown Ashland.

Stay tuned next month when we will talk about our last show of the year, the Holiday Market at the Medford Armory on December 13-15. We hope to see you all out and about at the local holiday art and craft markets. The best place for unique, quality, one-of-a-kind gift items.

For More Information go to LithiaArtisansMarket.com.