Interviews
Lithia Artisans Holiday Market moves to the Medford Armory, Dec. 14-16
Get ready to explore the 14th Annual Lithia Artisans Holiday Market! Traditionally hosted at the old Briscoe School in Ashland, the Holiday Market will make its debut this year at the Medford Armory. This years event takes place December 14-16, Friday 10-7, Saturday 10-6, and Sunday 11-4. In today's interview I speak with market director and manager Marcus Scott about the expansion into the Medford market. We then talk about the extraordinary local art and craft talent that we have here in Southern Oregon.
Marcus, welcome back to part two our discussion. To begin with, can you please give us a historical overview of the Lithia Arts Guide and the role they have played in bringing the Holiday Market to life?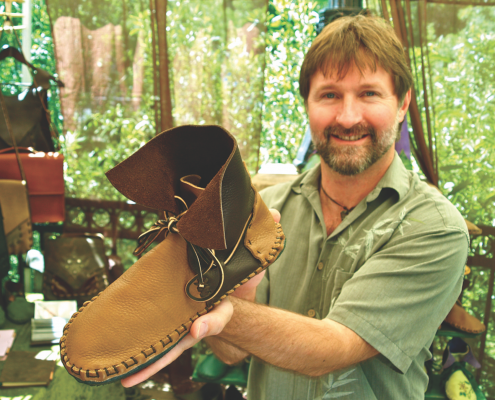 Fourteen years ago I approached the Lithia Arts Guild and asked if they would like to host the first Holiday Market at the Briscoe ArtWing, that was 2005. It was their first year at the old Briscoe Elementary School, the very beginning of negotiations with the school district to turn part of the old school into artist studios. The guild graciously accepted my offer and we created our first Holiday Market. Today, the Lithia Artisans Holiday Market at the Medford Armory is the result of all the years of creating community events that highlight the artistic talent of our region.
The old Briscoe School was a very unique space to work with.
That old school is a very cozy spot. I've always said that Holiday Market in the Briscoe ArtWing felt like family. The ambiance was casual and friendly. However, the space is limited and a bit tricky to work with as a manager. Figuring out how to place everyone in the building was like working inside of a maze. Every nook and cranny was full of art and craft and it could be challenging but rewarding at the same time. The end result was a beautiful neighborhood show. We are hoping to expand on that vision by bringing the event to a bigger location at the Medford Armory, 1701 South Pacific Highway.
This year's market will make its grand debut at the Medford Armory. Tell us about it.
We are really excited to try out this new venue. The location allows the artists and craftspeople plenty of space to properly show and sell their creations. The space is huge, and there are about 275 parking spaces, including ample handicap spots.

The thinking within the leadership of the market was that it was time for a change. We always liked the setting of the Clayfolk show at the Medford Armory and believed that the space was ideal for a big art and craft show featuring the artists of the Lithia Artisans Market. We started the process of moving Holiday Market to the Medford Armory back in January of this year.

I am excited by the prospects of this new show. This is an opportunity to bring something fresh and new to the folks who live in and around Medford. We hope that the fans of the Holiday Market as it took place at the Briscoe ArtWing will follow us to this new location. The show is bigger and better than ever and with over 60 booths displaying a wide variety of high quality art and craft. Perfect gift items for the holiday season.
Wow… that sounds like there is a ton of potential to be actualized here.
I agree! The tricky part of any new concept is getting all the logistics in place to make it into a success. The City of Medford has been extremely helpful and welcoming. It feels like this is the right move at the right time.

There are so many great artists and fine craftspeople at this show. The response from the artisan community has been overwhelming. We hoped to have at least 45 vendors at the show; as it turns out, we will have over 60 artisans showing their wares. I am cautiously optimistic about this show. There is still loads of work to do over the next few weeks but everything is coming together.
Southern Oregon seems to really draw creative people into its midst. Marcus, can you share some vendor highlights at this years event that demonstrates that creative spirit?
Southern Oregon is full of creative people. At this show you will find artisans who are at the top of their game. People like Leah Fairbanks who makes lamp-worked glass beads. Leah is an internationally renowned contemporary glass artist acknowledged for her distinctive floral glass beads. She has taught her technique all over the world. Her pieces have been on the front cover of Bead and Button magazine. She lives right here in Ashland and we get to see here amazing creations at the Lithia Artisans Holiday Market on December 14-16.

Erin Linton is a fine artist who brings passion and a creative twist to her art form. She paints wildlife, mostly bird images, but she does so on a canvas that she has textured with recycled teabags. She cleans and dries the teabags and adheres them to the canvas. She then paints on the bags. The effect is like nothing I have ever seen before, and her work is world class. Seriously. She is connected to the wild world and it shows in her art. You have to see her work in person.

The final artisan to highlight is leather worker Dave Summers. Dave makes leather shoes, purses, backpacks, wallets, and more. He has been honing his craft for decades. Those years of commitment show in the quality of his work. I own a pair of his shoes and they are the most comfortable shoes I own. I also own one of his backpacks. That pack has been through a lot on rockhounding expeditions. It is made to last a lifetime. Dave is a master of his craft.
When you are shopping for gifts for family and loved one's, what are some of the qualities that you set as criteria for yourself in choosing gifts?
Authenticity and quality are at the top of my list of criteria. Whether it is hand made soap, a mug, a wooden bowl, or a piece of fine art, you can tell by talking with the maker just how connected he or she is to their craft. When you discover authentic art or craft you can feel the quality. You will discover dozens of authentic artisans at this year's Lithia Artisans Holiday Market at the Medford Armory.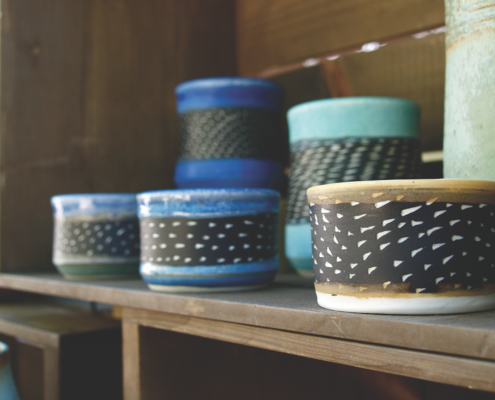 Well, thanks for creating this opportunity once again to shop local and support true local artistry.
It is my pleasure. Bringing community together is a beautiful thing. Making a living with your own two hands and imaginative ideas is an amazing form of economic freedom. When folks purchase items from artisans it feels good and it benefits our local economy. Support local handmade, it matters.

Thanks to all the folks who have come out over the years in support of locally created art and craft. We within the artisan community feel blessed to live in a place that values quality items made by hand. In a world so full of mass-produced stuff, it is refreshing that we have the Lithia Artisans Holiday Market as an alternative to the big box stores. Keep coming out, we love our customers.

This event will feature live music all weekend, food trucks, and over 6O local artists and fine craftspeople. FREE ADMISSION to the general public. Join us at the Medford Armory, December 14-16.
Learn More:
Lithia Artisans Holiday Market in Medford
Medford Armory, 17O1 South Pacific Highway, Medford, Oregon 975O1
www.lithiaartisansmarket.com