Interviews
Lithia Artisans Holiday Market Medford Armory
Marcus, welcome back! Last month we explored the topic of how to choose great gifts. And then you helped us by spotlighting several artisans. This month you are back and we are talking about the quality of craft that is being created locally, and the Lithia Artisans Medford Holiday Market at the Medford Armory held December 13th – 15th.
Hello Marcus, and welcome.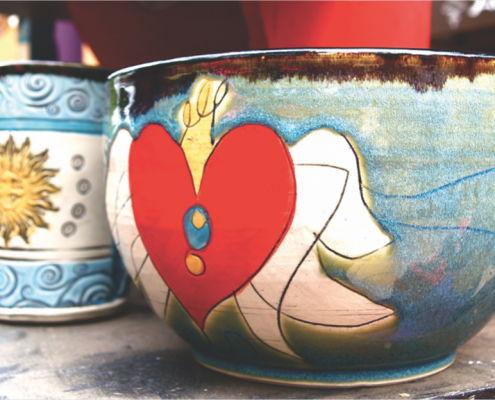 Good to be back with you. There will be nearly 80 artists and fine crafts-folk at the Lithia Artisans Holiday Market at the Medford Armory. This is a well-curated show. Everyone has gone through a jury process and their art form has been closely scrutinized for quality, originality, and authenticity. On December 13th – 15th you will see some of the region's best art and craft on display and for sale to the public. A great gift shopping experience!
This is not the cheapest place to get something, but it is the best place to get something!
No, it is not the cheapest alternative. But for one-of-a-kind gifts and handcrafted merchandise, this the best place to find those items. Frankly, for the quality of merchandise, the prices at this event are really reasonable. You can find items at the show starting at around $5, less for a bar of handcrafted soap, and going up from there. Here is the thing; the gift items you find at the Holiday Market are all made by the folks presenting the items. You are getting as close to the source as possible. These items have more meaning and a connection to the maker. It is worth it to pay just a little more for something unique and made by local hands.

Look, you can buy a cheap necklace at a chain store for say $19.99, or come by the market and find a hand-cut stone necklace starting at around $25. The biggest difference is that one is made here in the Rogue Valley and the other is made in China. Buying local feels good, the quality is better, and the items are made to last.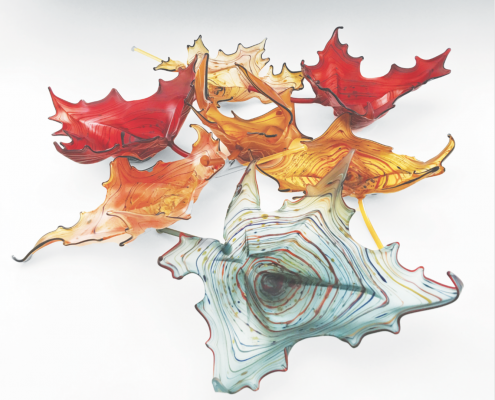 Tell us about the new expansion into Medford.
We began the Holiday Market 15 years ago at the old Briscoe Elementary School on North Main Street in Ashland. For 13 years the old school was transformed into the Briscoe Art-Wing. We created some really good memories in that space. One of the coziest holiday art shows I can remember.

We outgrew the old school. We knew we wanted a large, highly visible location to run the Holiday Market. Many artisans in our membership live in Medford so we decided to explore the idea of moving the show to Medford.

Last year was our first time in Medford at the Medford Armory. The show was a tremendous success. The folks from Medford came out in droves and welcomed us to the new location. We are back again this year with the hope of making this event into a new tradition in Medford.
Where and when exactly will the event be hosted?
The Lithia Artisans Holiday Market will take place on December 13th – 15th at the Medford Armory, 1701 South Pacific Highway, next to the Walmart on the south edge of Medford. The show hours are Friday 10 am-7 pm, Saturday 10 am-6 pm, and Sunday 11 am-4 pm. Admission is FREE!
You guys do such an amazing job with running these holiday markets. What's the secret?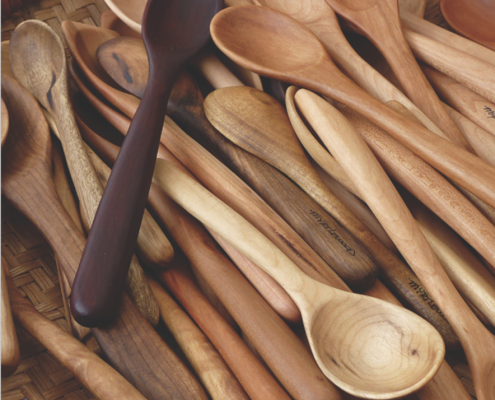 I always think you should play to your strengths. With over 30 years of experience, this guild of artists has fine-tuned itself. Quality is the key. The artisans who make up this guild are the foundation of what makes for a good show. If the quality is superb then people want to come back. If individual artisans are inspired to continually evolve their craft, then the guild becomes better, stronger, and more creative. It comes down to many gifted artists working together. It is that simple.

This is a magical event. Everyone is encouraged to bring out the very best they have to offer. A good example is lapidary artist and silversmith Dan Clark. He finds wonderful scenes trapped in Oregon jaspers, agates, and various other semi-precious stones. Over the years Dan has searched through mountains of stones, sawing his way through these specimens with a watchful eye, looking for the images trapped within the stone. Some of these picture stones he sets aside each year to share for the first time during the holidays. Many of our artisans share that passion and it makes for a special event.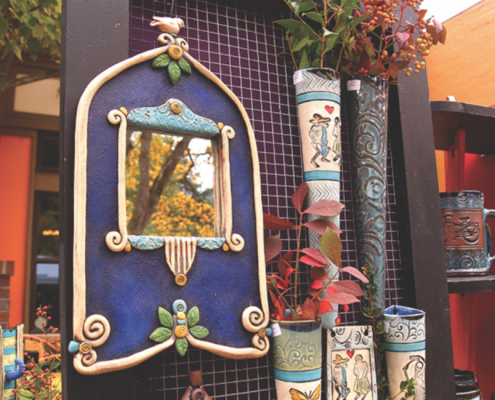 Marcus, will you please spotlight some of the artisans who will be at the show?
Lamp-worked glass artist Joshua Rodine is from Phoenix, Oregon. Josh uses a torch to melt colored glass rods that turn into wonderful art pieces. You must see his work in person to truly appreciate the beauty. He is one of the best glass artists in the Pacific Northwest, winning numerous awards for best in show at many of the region's most prestigious art and craft shows. We are honored to have him at the Lithia Artisans Holiday Market.

Joshua's work is inspired by the beauty of the Pacific Northwest, as are many of our artists. As Josh says, "the natural process of growth and decay are continually a source of focus in my work, beauty right beside destructive forces such as wildfires, volcanoes, and earthquakes. This duality serves as a reminder of the dynamic world we live in, an ever-evolving one, in which nothing stays the same forever."

Local potter Alissa Clark has a playful side that comes through strongly in her pottery. Ali has been a part of the Lithia Artisans Guild for nearly twenty years.  Her pots are all hand-built and embellished with textural touches that make every mug a one-of-a-kind item. Her whimsical pieces bring a smile to my face. It is a joy to drink my morning coffee from a mug made by Alissa Clark.

From Ashland, Oregon by way of Chicago, Illinois is wildlife photographer Dan Elster. Dan has been fascinated with wildlife his entire life. When it came time to raise a family and put down new roots, he chose Ashland because of the Lithia Artisans Market and the support our community shows for art as a career. This year he published a beautiful coffee table book telling his story as an artist and featuring some of his best images. The book, "Wild Animals in Wild Places" will be available at the show. A great Christmas gift!
Please talk more about the importance of the artisan's economy and how it builds and enriches our community.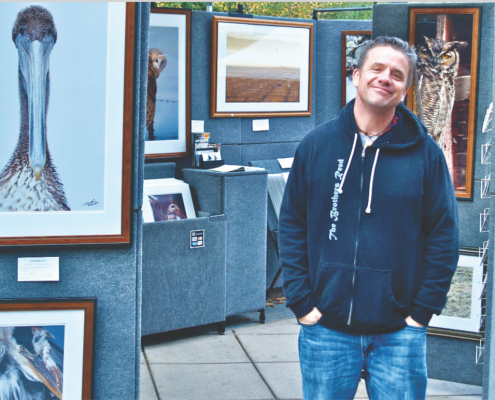 Money spent with local folks tends to recycle within the community over and over again. Money spent locally stays local. When we buy from big box stores our dollars do indeed support jobs and the folks who work there, but a majority of those dollars go out of town to corporate profits. No local recycling effect with that capital. It is just gone.

At the end of a show like the Holiday Market, the artisans have some money in their pockets. These folks, in turn, spend the money locally, making the local economy stronger. Buy local, it matters!
What are some highlights you have planned for the December 13th – 15th event?
We have some great local musicians coming to the show to help us create a warm and family-friendly atmosphere. One of my favorite local acoustic bands is "The Brothers Reed" featuring the original music of Philip and Aaron Reed. This brother duo plays folk, alternative, and country music. Wonderful songwriting that touches the heart. I am also looking forward to the set of music by "Hollis Peach", another local duo featuring the songwriting of Daniel Sherrill and the vocals of Jacqui Aubert. Local singer-songwriters from various genres will play their original music throughout the weekend.

We are also pleased to announce that Manna from Heaven Bakery will be providing baked goods for sale to the public, and Griffin Creek Coffee will be brewing up some great, locally roasted coffee.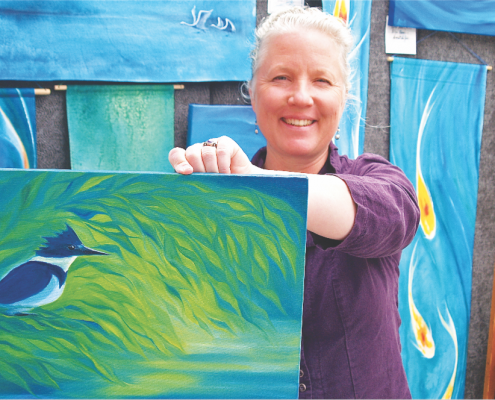 How much money should I bring?
Bring whatever you think you want to spend on gifts, plus a bit more. You just might find something you need for yourself. Most, but not all, of the artisans at this event accept debit and credit cards.

Admission to the event is FREE.
Do you have any last thoughts or comments to share?
I am always excited by new possibilities and stretching one's limits. Bringing our model of gift shopping to Medford feels good. The Lithia Artisans Holiday Market is a great opportunity to come together during the holidays and get to know each other. Peace.
Learn More:
Lithia Artisans Holiday Market
Medford Armory, 1701 South Pacific Highway, Medford, Oregon
www.LithiaArtisansMarket.com