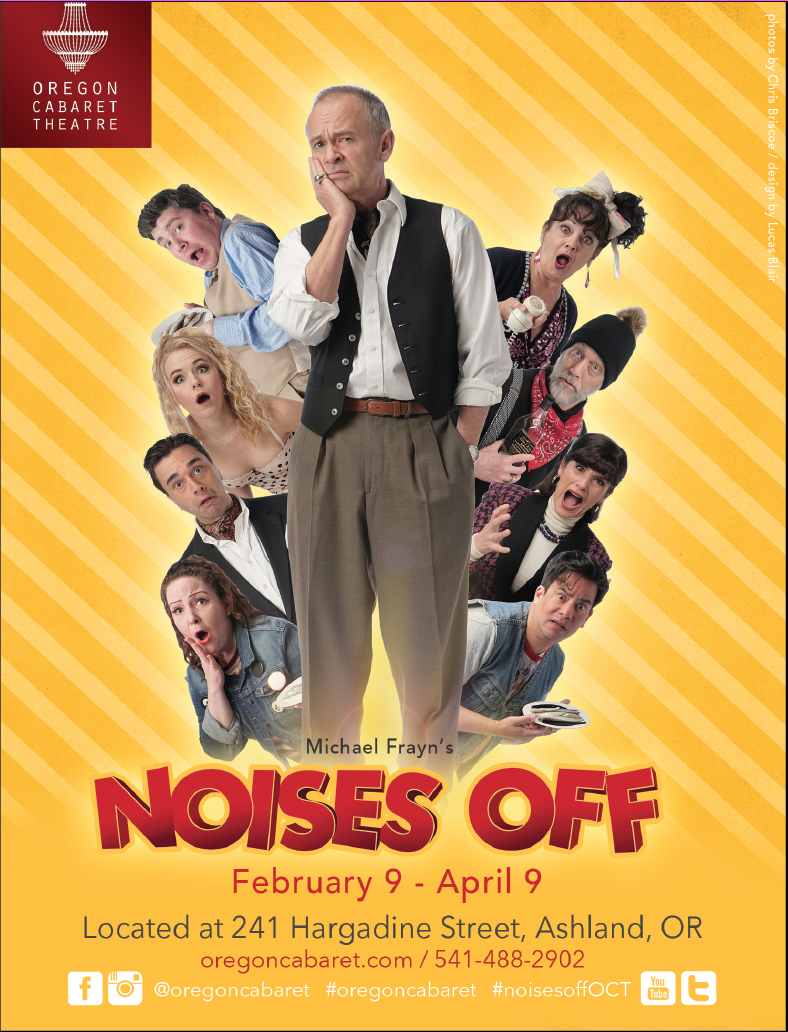 Here's what Southern Oregon critics are saying about Noises Off:
"…a rollercoaster ride of laughs and hilarity." – Klamath Falls Herald & News
"…a funny, funny show with a strong cast." – Medford Mail Tribune
"If the winter doldrums have you by the throat, forget light therapy and happy pills. Go to Noises Off." – The Daily Courier
"…a near-perfect night of robust screwball comedy." – Ashland Daily Tidings
"The relatively intimate Cabaret is also the perfect venue because it connects the audience with the players. Ironically, Noises Off was performed several years ago at the Oregon Shakespeare Festival, but that production never generated the same sense of energy, wit and fun…" – Herald & News
Livia Genise, the longtime artistic director of the Camelot Theatre, has joined a cast that includes Cabaret legend John Stadelman (George in Pine Mountain Lodge), Galloway Stevens (Billy Flynn in Chicago), Jessica Blaszak (Edie in Pine Mountain Lodge), John Leistner (Scrooge in A Christmas Carol), Deanna Ott (Roxie in Chicago) Paul Michael Garcia (Cliff in Cabaret), Leah Kolb (Kost in Cabaret), and cabaret newcomer James Paul Xavier.
Noises Off takes us behind the scenes of the mounting of a new farce, Nothing On. It's a story told in three acts with a rotating set, providing us looks both onstage and off as the ill-fated new farce careens from catastrophic dress rehearsals to historically hilarious failures during its run.
Noises Off opens on February 9th and runs through April 9th.
Reservations are required for pre-show dinner and brunch. Appetizers, beverages and desserts are available without reservations. Preview (2/9) tickets are $22 for all seats. Tickets for other performances are $36 with $22 bistro seating available. The Cabaret offers a 20% discount for groups of ten or more. For additional information, or to purchase tickets, call the Oregon Cabaret Theatre box office at 541-488-2902 or visit www.oregoncabaret.com.
Comments