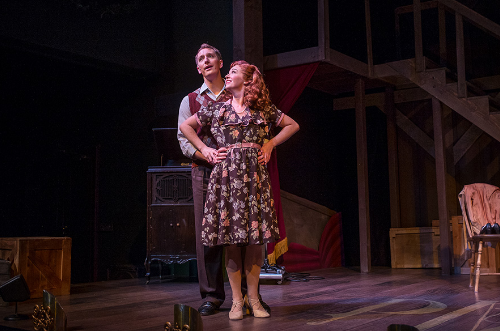 The World Premiere musical The Pine Mountain Lodge, featuring a book by Oregon Cabaret Managing Director Rick Robinson and the classic music of Irving Berlin, plays now through December 31st.
A returning World War II vet who's been tasked with shutting down his late father's flagging upstate New York hotel, discovers that the hotel is haunted by two quarreling ghosts – former lovers and famous dance partners. The ghosts put aside past grievances to convince the young man to put on one last show to save the hotel.
The Pine Mountain Lodge contains thirteen musical numbers, all songs by Irving Berlin, including I've Got My Love to Keep Me Warm, Let's Face the Music and Dance, Shaking the Blues Away, Let Yourself Go, and You're So Easy to Dance With.
The Pine Mountain Lodge brings all Cabaret veterans back to the stage, beginning with John Stadelman and Jessica Blaszak who have performed in more than a dozen shows at the Cab between them. They play George Edwards and Edie Arlen, the old Burns and Allen style vaudeville pair and current ghostly denizens of the lodge. Lucas Blair (Dames at Sea, Bat Boy, Rocky Horror) originates the role of Danny, the World War II vet who's just inherited the hotel, while Natasha Harris (A Cabaret Christmas) and Tony Carter (Musical of Musicals, Bat Boy, Rocky Horror) are the new holiday show act at the lodge. John Lambie (Cabaret) plays Jim, the old friend of Danny's father and the current caretaker of the hotel.
Reservations are required for pre-show dinner and brunch. Appetizers, beverages and desserts are available without reservations. Preview tickets are $21 for all seats. Tickets for other performances are $35 with $21 bistro seating available for all performances. The Cabaret offers a 20% discount for groups of ten or more. $10 student rush tickets are available 30 minutes before curtain, subject to availability. For additional information, or to purchase tickets, call the Oregon Cabaret Theatre box office at 541-488-2902 or visit www.oregoncabaret.com.