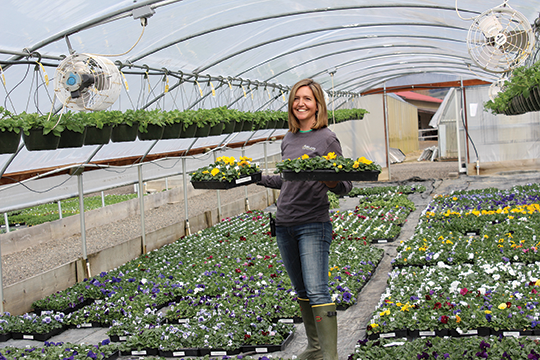 We are often asked many questions this time of year about the many different kinds of begonias we grow. We grow over 40,000 begonias in the spring and it can often be overwhelming to choose the one you want. A few of the best qualities about begonias are their low maintenance, durability, and drought tolerance. To help break it down, the majority of our begonias fall into one of these different varieties:
Fibrous Begonias-They are best known as a pony-pack begonia, widely used in landscape beds. They handle anything from full shade to full sun, including a spot getting shade all day, then full hot sun in the afternoon.
Illumination Begonias-Our most popular choice for hanging baskets and color bowls with large flowers that require no deadheading, and a cascading growth habit. Although they really don't like much sun, they tolerate summer heat.
Non-stop Begonias-A classic begonia that has been around for years, often used in patio pots and beds due to a more upright growth habit. They like full to partial shade and tolerate heat.
Dragonwing Begonias-These are my absolute favorite begonias. Often going unnoticed in the greenhouse, once planted you can really see how phenomenal it becomes. They grow 12" to 15" tall and wide, with an arching growth habit. They're foliage is a beautiful, glossy green or bronze, with prolific large blooms.
Gryphon Begonias-Often referred to as being a very dramatic and tropical foliage plant. Their very large leaves are beautifully variegated green and silver. They are also one of the top pics for indoor use as well as outdoor.
Whopper Begonias-Whoppers grow up to 34" tall and 22" wide. When planted in a mass planting in a landscape they are true showstoppers. They tolerate a decent amount of sun, but would prefer partial shade.
http://ashland.oregon.localsguide.com/wp-content/uploads/2017/03/KEL5.png
360
540
Ashland GreenHouses
http://ashland.oregon.localsguide.com/wp-content/uploads/2018/05/logo-1-300x76.png
Ashland GreenHouses
2018-04-25 09:14:13
2018-04-25 09:14:13
We Beg You to Try a Begonia