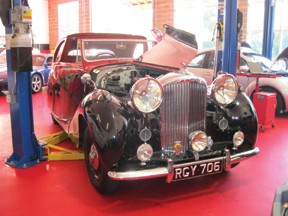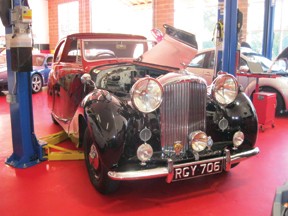 The date is late 1948 and the place is Crewe, Cheshire, England. Two chassis were ordered from Bentley Motors Limited by a then well-known British coach builder Hooper.  Hooper was contracted by a very special customer to build a very special car. Who was Bentley Motors Limited and why was Hooper ordering two un-bodied chassis from them and who was Hooper's special customer? Step into my time machine ladies and gentlemen and twist the dials to a date and time of post war Europe.
Around the beginning of the 20th Century, Walter Owen Bentley or, W.O. as his friends like to call him, was busy building aircraft engines for the famous Sopwith Camel. Don't know what a Sopwith Camel is, ask Snoopy! As WWI came to a close and aircraft engines were no longer needed, Bentley decided to build production cars. In 1924 he entered his car in a race known as the 24 Hours of Le Mans and won. Bentley again won the 24 hour race in 1927 and continued a winning streak for three more years. As far as Europe was concerned if you won Le Man's you had respect as a car designer and builder. But to win it four years in a row was automotive royalty! Well, winning races does not always mean winning in the showroom and the great depression of the Thirties was taking its toll on the now famous automobile mark. The Bentley company was facing bankruptcy.
Around the time Bentley Motors Limited formed as a company, two intelligent gentlemen by the name of Henry Rolls and Charles Royce met to talk shop. Royce was a mechanical genius, who in 1904 built his first two-cylinder powered car the Royce 10.  Rolls was already selling cars out of his own dealership, C.S.Rolls & Co., and was well versed in the marketing aspect of automobiles. When they collaborated, the rest they say, without beating a cliché to death, was history. From that point on, all cars built by Royce and sold by Rolls were badged Rolls-Royce. Probably one of the most, if not the most, famous brand, in automotive history!  Rolls-Royce, like Bentley, also dabbled in the aircraft arena and came to Bentley's rescue in 1931. They purchased the rival company and saved the brand from bankruptcy and extinction.
During this era, Rolls and Bentley were more chassis builders than car builders. They contracted out the body portion of the car to coachbuilders like Hooper. Hooper originally started life as a horse-drawn carriage manufacturer and was known for producing high-end stuff that royalty would swoon over. When the internal combustion engine replaced the horse they did as the Romans did and began building coaches that were installed on quality built chassis from the likes of Rolls-Royce and Bentley. So, when the Uncle of the Regent to the Prince of Iraq wants a one-off coach built for his personal use then no further questions were needed. In late 1948, Hooper built two special coaches that were installed on Bentley chassis, one of which was ordered by Iraqi Royalty. Sixty some odd years later, this very same car is now owned by a Southern Oregon resident who is as charismatic as the car itself. The car is truly amazing and is a historical representation of what hand built craftsmanship of that time was all about.
I won't bother you with specifications and statistics as this Bentley really speaks for itself. So enjoy the photos that were taken by a young man by the name of Brighton who is a true fan of all that is "automobile". Brighton is a self-proclaimed "carparazzi" and loves to take pictures of exotic cars in and around the Rogue Valley. Be forewarned as the Carparazzi may get a candid shot of your beloved car and end up in the back pages of the Locals Guide!
Happy Motoring!!!