Articles
Lamborghini Murciélago LP670-4 SuperVeloce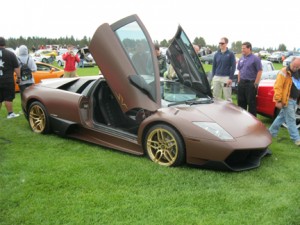 Well if you dig deep into the Car of the Month archives you will discover an article about the Lamborghini Gallardo. In this article we dabbled in the history of Ferruccio Lamborghini and discussed his frustrations as a Ferrari owner. His build a better Ferrari ambition ultimately led to his own automotive creations branding his now very famous last name. This journey began in the early sixties and immediately offered Ferrari consumers another choice when spending their supercar dollars or Lira if you will. It was a bumpy ride for "Lambo" over the decades but ultimately found a financially safe home with Audi in early 2000.
With the Germans at the helm the engineers and designers rolled up their sleeves and produced the Gallardo. A fine example of Italian looks and seductiveness the Gallardo will turn heads anywhere it rolls.  As it turns out this car has become the bread winner for Lamborghini and has sold more units for the make than any other in its stable. It is considered the "accessible" Lamborghini. What this really means is the Gallardo has made Audi a few bucks and it is basically an entry level Italian exotic. If you are serious about Lamborghini ownership then look no further than the Gallardo's bigger, badder sister, the Murciélago.
If a super car purchase was based purely on name sake then Murciélago should have you wiring money directly to Italy. Murciélago, a storied Spanish fighting bull, stoically faced a matador's 28 attempts of destruction was spared to breed his fighting spirit. A rare honor bestowed upon a fighting bull indeed. What better way to say that this car is bad-ass! Originally introduced in 2001 and its second generation produced in 2006, the Murciélago has found its final resting place as the LP670-4 SuperVeloce in 2010. Proudly carrying the flag for Lamborghini for nine short year's plans for its retirement have already been set. Sadly, it is time to say "Chow Bello" to this fine beast but the Murciélago name will live on forever….
To get a little up close and personal with this month's car enjoy the following quote from our teenaged roaming photographer, Brighton, aka "Carparazzi":
"Ahhhh, yes the 2010 Lamborghini Murciélago LP670-4 SuperVeloce, a true sports car in automobile history. It's up there with the big dogs, such as the Bugatti Veyron 16.4 (which makes an amazing 1001 horsepower and does 0-100 in just 5.6 seconds). It produces a whopping 670 horsepower from its V12 engine, and is somehow able to go from a standstill to 62 miles per hour in just 3.1 seconds! May you ask the top speed? Well I'll tell you, it's 212 mph (stock). So get rid of your Subaru's Ashland, because there's a new car in town, and this bad boy is four-wheel drive, but beware only 350 will be created."
Happy Motoring!!!