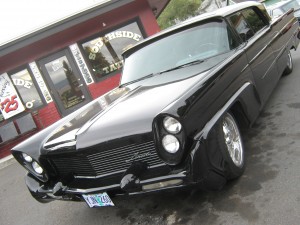 I'm not sure any of you remember the 80's car-cult movie that starred a menacing 1958 Plymouth Fury known as Christine. In the movie, Christine had a very dark past that started early in her life right on the assembly line. One worker was injured when her hood slammed down on his hand and another was crushed to death right in Christine's front seat. The mayhem continues when Christine partners up with a socially incompetent nerd by the name of Arnie. He finds her in complete disrepair and vows to restore the Plymouth and the car/owner love affair begins. Arnie soon finds out that Christine can basically restore herself and as in any Stephen King thriller the bully body count piles up. It was the Exorcist meets Detroit. No matter how hard anyone tried Christine could not be stopped and the movie basically scared the crap out of me.
Christine was beautiful yet evil but had she had the opportunity to meet Ashland's Southside Tattoo's blacked-out 1958 Lincoln Premier she would have run and hid with her tail pipe between her wheels. This Lincoln makes Christine look like a toddler beauty queen and would be right at home as master of ceremony for a hearse car show. This Lincoln has had every bit of chrome painted black, the exterior door handles removed, and the windows so dark that it is hard to tell the glass from the sheet metal. The only bling on this rig are the aluminum wheels which give the car an updated style and the lowered suspension of this land yacht gives it an aggressive stance. This 2 ton plus Lincoln came standard with a massive 6.0L V8 and is about as long as a school bus at 223". Very cool indeed!
Lincoln was conceived in the early twenties and was later picked up by Henry Ford to add a luxury line up to his utilitarian vehicles. The Lincoln brand has done well for Ford over the years and the '58 Premier was no exception. The Premier was entered as a less expensive option to Lincoln's high end Continental and sold for $4600 which equates to close to $40k in today's money. Luxury and girth is what it was all about for Detroit in this era and Lincoln was a trend setter. So, if you are feeling brave go check out the black beast at Southside Tattoo in Ashland. If you are feeling really brave go get yourself a Tattoo while you are there!
Happy Motoring!!!