Ashland's favorite hometown confectioner has been hard at work in her chocolate factory making chocolate delights of all shapes and sizes. With recipes dating back to the late 1800's, Deena Branson keeps traditions alive and Ashland coming back for more. I met with Deena to learn more about her chocolate adventures.
Deena, thanks so much for doing this interview with us today.
Thank you, I love talking about chocolate!
Deena, I'm sure that many in Ashland know of your success story, but I know that some do not. Would you mind taking us back and tell us about your story?
I managed Ashland Fudge Company for almost 10 years. I had been gone almost 3 years when my husband came home one day and said, "Did you know that Ashland Fudge Company closed?" So we bought their equipment and recipes and started Branson's Chocolates from scratch. That was 11 years ago.
Did you ever have any doubt that it might not work?
It never crossed my mind. I just knew it would work one way or another.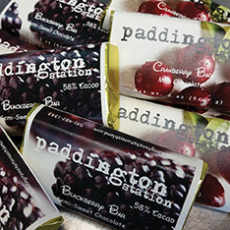 Who were some of your greatest supporters and how did their support help you power through the challenging times?
Besides the help and support that my family has given us, there are also our wholesale customers. Paddington Station was the first customer that I did a custom mold for. They have always believed in us, so when they asked if I could make English Toffee, I figured it out and never looked back, and it's become one of our biggest sellers. The Grange Co-op has also been a huge supporter; it all started with an "It's A Girl!" chocolate bar. They were the ones that gave us the boost we needed to be able to move into our current location and add retail. Those are just two of our many wholesale customers that believe in us and support us.
Please tell us about some of your treasured recipes.
Ashland Fudge Co. started as a franchise. When the second owners purchased it, they bought out the franchise and the rights to the recipes. The recipes we use for creams, caramels, and truffles are based off of those original recipes. The fudge recipes that we use originated in the late 1800's on Mackinac Island, Michigan.
What kind of training do you have?
The first owner of Ashland Fudge Co. knew that I liked to know how things worked, so he would explain how the different machines worked and why he would do things the way he did, not knowing that 9 years later I would be using the same equipment. Other than that, I am self-taught – I've learned by watching, reading, and occasionally from trial and error.
How did you learn to do what it takes to make things work?
I grew up with two self-employed parents; my mom is a hairdresser, and my dad was a mechanic with a service station, tow truck, and the longest running U-Haul dealership in the region. I learned all about hard work from them. Dad worked six days a week at 70-80 hours. Mom worked three days a week and kept the house going with four kids.
Did your parents come from an entrepreneurial family?
My dad did. His father owned a trucking business before opening the service station with my father.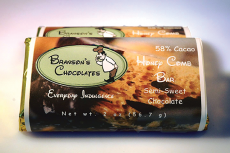 Customers love your chocolate and it's also very affordable.
We have always wanted to make our chocolates affordable enough to be an "Everyday Indulgence."
Deena, you are continually pushing the envelope to try new things. What are some of your new creations and will you have any of these at the Oregon Chocolate Festival?
My husband keeps challenging me to make new creations, but it took me three years to make his first challenge; I didn't think it would sell.  Boy, was I wrong. Six years ago I started making the Tequila Truffle; I use Patron Silver in the ganache, and top it with a sprinkle of lime-flavored white chocolate and sea salt. He also challenged me last year to make a Wasabi Ginger Chocolate. I mix wasabi powder into a dark chocolate ganache center, dip it in milk chocolate, and top it with crystallized ginger. I started making Jasmine Tea Squares last year with jasmine tea infused into the dark chocolate ganache, which is dipped in milk chocolate. The newest one is a Matcha Green Tea Square, made with ceremonial grade Matcha Green Tea powder mixed into a white chocolate ganache, dipped in white chocolate, and topped with a sprinkling of Matcha Green Tea Powder.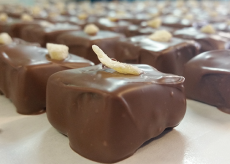 Please tell us about your store's hours and opportunities for the general public to come and visit.
We are open Monday – Friday 10-6pm, Saturdays 11-5pm, and closed Sundays. When you walk in, you can see right over the counter to the production area and watch everything being made. There is no wall between the production and the retail areas. It makes it so we can work and interact with the customers. The packaging room has huge windows, so you can see how we hand wrap and label all the chocolates bars.
What surprises you most about your growth?
How steady of a growth we have had over the years. When we started, it took a year to go through 500 lbs. of chocolate. I now bring in over 500 lbs. a month. We make 200 to 300 bars a day, plus all the hand-dipped chocolate that is made daily.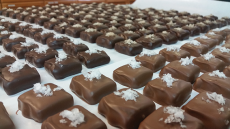 Deena, please tell us about the array of custom products you make.
The first chocolate bar that I made was a Marionberry Dark Chocolate bar, which was requested by Ashland Springs Hotel. We make Lavender Salted Caramels and Lavender chocolate bars for English Lavender Farms using their lavender. And we make chocolates with essential oils for Blue Giraffe, to name a few.
Product sourcing and quality are an important consideration that goes into all of your creations.
I source locally and directly from the farmers and distillers whenever possible. For example, our macadamia nuts and hazelnuts come directly from the farmers. I choose Oregon-produced products and liquors over nationally-produced products.

The mint oil that I use comes directly from a farmer in Clatskanie, Oregon. And we make everything in small batches with care to ensure the quality of our products.
Deena, are there any last thoughts or comments you would like to share with our readers?
We have exciting things to come this year so stay tuned!
Learn More:
Branson's Chocolates
1662 Siskiyou Blvd, Ashland
www.bransonschocolates.com
541-488-7493