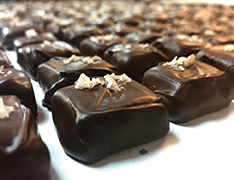 Easter Sunday is April 21st this year, and Branson's Chocolates has been busy filling our shop with delicious chocolate Easter Eggs and Easter Bunnies. Eggs and Bunnies are both available in our sweet Milk Chocolate and rich Semi-Sweet Chocolate. Bunnies are also available in several different sizes and styles—come on down to our store and load up on your favorites to fill all your Easter baskets. (Psst, don't forget about your own basket!)
If you want to catch us out and about in April, here's where we will be:
April 14th, Sunday 2:00-4:00pm, I will be hosting a Chocolate Egg Decorating Class at Paschal Winery in Talent. Come join us as we sip and paint. Best of all, you get to take a beautiful chocolate Easter egg home with you! By reservation only—please call Paschal Winery at 541-535-7957 to reserve your spot.
Your local Easter Chocolate Headquarters is located at 1662 Siskiyou Boulevard, just a block south of 7-11, in the Minute Market shopping center. We're open Monday-Saturday 10-5:30.
Follow Branson's Chocolates on Facebook, Instagram, and YouTube, and find us at bransonschocolates.com for online chocolate shopping.