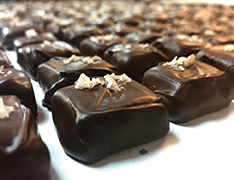 For June, Branson's Chocolates is featuring our Pioneer Whisky Caramels, Pioneer Whisky Caramel Sauce, and Immortal Spirits Whiskey Truffles. Pioneer Whisky Caramels and Immortal Spirits Whiskey Truffles are delicious additions to our Gourmet Chocolate line. Pioneer Whisky Caramel Sauce is a new addition to our Gourmet Sauces, joining Caramel Sauce and Lavender Caramel Sauce, in addition to Chocolate, Lavender Chocolate, and Pinot Noir Chocolate Sauces.
III Spirits Distillery, a local craft distillery located in Talent, "makes Pioneer Whisky the old fashioned way. The way the Scots have been doing it for centuries"—batch distilled and oak-barrel aged. (https://www.pioneerwhisky.com/)
Immortal Spirits Early Whiskey "is available in very limited quantities, and when it's gone, it's gone for good!" (www.immortalspirits.com/spirits)
We've got whiskey caramels, sauce, and truffles just in time for Father's Day at Branson's Chocolates right here in Ashland, at 1662 Siskiyou Boulevard. We're just a block south of 7-11, in the Minute Market shopping center. We won't be out and about in June, so stop by our store and get your dad, or yourself, something delicious. We're open Monday – Saturday 10-5:30.
You can also find Branson's Chocolates on Facebook, Instagram, and YouTube, and at bransonschocolates.com for online chocolate shopping.