Interviews
Ashland's Equamore Foundation provides sanctuary for neglected and abused horses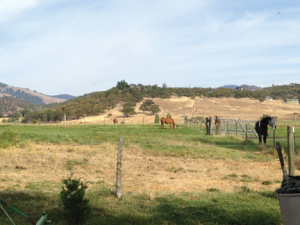 Horse abuse and neglect is a nationwide problem, particularly in a struggling economy when owners frequently abandon their animals. The Unwanted Horse Coalition estimated in 2007 that there were approximately 170,000 unwanted horses in the United States.
Ashland's own Equamore Foundation provides permanent, lifetime care for abused and neglected horses. The Equamore sanctuary receives numerous calls from desperate owners who can no longer care for their horses, as well as from concerned citizens who see cruelty or neglect and are helpless to intervene. I recently spoke with Equamore's executive director Linda Davies and board vice-president Ruth Kennedy about the sanctuary's challenges, success stories, and how the Southern Oregon community can help them continue to do the amazing work they do. 
Linda and Ruth, thanks for talking with us about Equamore. First I have to tell you how much I admire all the good work you do. Seeing the "before" photos of the horses you've rescued and meeting them now has been absolutely amazing—these starved and abused horses have become healthy, happy, and relaxed in your care.
Linda, what inspired the Equamore Foundation, and how did the foundation and sanctuary come into being?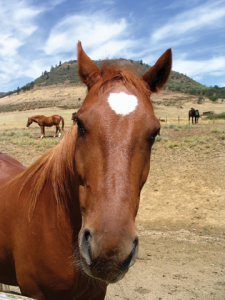 In 1975, Eden Farm began as a horse boarding and training facility, and after sixteen years, seeing the need for horse rescue and sanctuary, the Equamore Foundation was established in 1991. Eden Farm was the facility where many horses found sanctuary from neglect and abuse and in May of 2012 the property was purchased by the Foundation securing the future of sanctuary horses.
So many people love horses, yet often they may not realize just how high-maintenance they are for their owners. Ruth, what are some of the misconceptions people have about horses and the amount of care they need?
Sometimes people assume that the cost of acquiring a horse is the primary expense, and that if they have a field for the horse, they are set! In reality, horses need regular dental, hoof and veterinary care. They may also need special care, feeds, etc. Horses also need shelter, free access to fresh water, and extra feed in the cold weather even in a rich field. Horses are herd animals—they do not thrive living alone. So if people want to own a horse and do not intend to board it with other horses, they should get two or more, and be prepared to both provide an appropriate physical environment and to carry expenses for the lifetime of the horse—which could exceed 30 years!
And what are your biggest challenges right now as a sanctuary?
Our biggest challenges now are all about finances. Horses are expensive! This is especially true for us, as we have many elderly horses and horse with special needs.
Can you tell us about a couple of your favorite success stories?
In 2008, we rescued four Arabs from a horrendous situation—Bader, Finn, Star, and Sara. The fifth horse on the property was already dead. Bader, Finn, and Star were near death from starvation. The fourth, Sara, while having physical problems from neglect and abuse, was adopted out twice in the hopes she would find a forever home. Sara came back to us repeatedly, as she was too traumatized to adjust to new owners and separation from her herd. All four in this family are now thriving and will live the remainder of their lives at the sanctuary.
Linda, do you have a success story to share as well?
In 1999, a two-week-old feral foal was found in the Greensprings mountains, caught in the brush and left by the herd. He was blind with bi-lateral cataracts. A rancher managed to get him into the front seat of his Toyota pickup truck and took him home. The next day the little foal was transported to the sanctuary. Shortly after his arrival he was taken to the University of California at Davis for eye surgery, where he was given the gift of sight. The General (General U (you) C (see) Davis has been given a forever home at Equamore Sanctuary.

The stories about each of the sanctuary horses can be seen at www.equamore.org.
Ruth, what should people do if they suspect a horse is being abused or neglected?
If you think a horse is being neglected or abused, REPORT IT. Get as much information as you can, including photos if possible, and call the Jackson County Sheriff at (541) 776-7208 as soon as possible. Tell the dispatcher at this non-emergency line that you're reporting a possible case of horse neglect/abuse. Write down the case number so that you can reference it later when you follow up. Don't delay—time really matters.
And how can community members get involved?
Community members can become involved in many ways. People can donate funds, which are sorely needed. People can report promptly any suspected cases of neglect or abuse that they may see. Sanctuaries are also organizations that need professional help in fundraising, accounting, web site maintenance, construction … Our needs are many, and many skill sets are helpful.
To learn more about Equamore Foundation and its sanctuary for horses, visit www.equamore.org, where you'll also find information on how volunteer and how to donate—from making a one-time donation, to sponsoring an Equamore horse at $350 per month, to feeding a horse for a week at $12 per month (only 40 cents a day).