Interviews
Fashions for Windows & Interiors – Making Friends One Room At A Time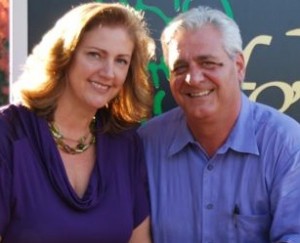 Of the many reasons to shop locally one is often over-looked. We all know that shopping locally keeps money in our local economy, but the other side of the coin is that, shopping locally creates and facilitates great local relationships. These relationships eventually turn into friendships, and these long-term bonds help to facilitate and grow dynamic and prosperous communities. This month I met with Christine and Jerry Molinaro, owners of Fashions for Windows & Interiors in Ashland. I spoke with them about this idea of shopping locally and we also discussed their philosophy of doing business.
Jerry and Christine have gone above and beyond in meeting Ashland's blind and window needs as well as actively volunteering in our community to support such events as the annual 4th of July parade, the AIFF, the Festival of Lights and are faithful members of the Ashland Chamber of Commerce.
I also discovered that Jerry takes customer service to heart and has even been known to hang cuckoo clocks or pictures while on site installing blinds, shades or shutters. In fact one of the services Jerry performs for one of his favorites clients is changing out their shades each season. A particularly wonderful lady has a different set of shades for Spring/Summer vs. Fall/Winter. Each season now Jerry has stopped in to help her change them out. Well wouldn't you if payment was a homemade loaf of zucchini bread? We value the ability to keep in touch with our clients more than just the initial sale.
Local customers working with Fashions for Windows have not only enjoyed their new blinds and shades but found a new friendship with Jerry and Christine Molinaro. According to them, that's what it's all about…..walking down a local street and bumping into a happy customer who can also be called a new friend!
While corporations will spend enormous amounts of money simply to capture and gain your attention, they will fall short on the human relationship side of things. Yet, finding and surrounding yourself with solid people whom you can count on, and knowing that when you need help someone will be there is a key essential to both a great life and a strong community.
 Let us take you into the hearts and hands of Jerry & Christine Molinaro of Fashions for Windows & Interiors.
Jerry & Christine, thanks for talking with us today. Let's talk about community.  You both moved to Ashland from the Bay Area and one of the things Christine pointed out was that you really didn't have a sense of community since you spent so much time  commuting to work that you essentially never had time to volunteer or participate.  Can you tell us more about the gem you have found in Ashland?
Jerry and I met at a small company we both worked for in 1995. That company was acquired by a larger national corporation, and as the years went on that we were together, we experienced almost every company that we worked for become acquired or merged within larger companies. It's the ebb and flow of the corporate life. As we worked for larger and larger companies, the free time we had to spend in our community or volunteer for organizations that gave back to the community become less frequent. Our commutes increased, our travel increased, and our free time decreased. We had many discussions about moving to a smaller city to open and run a small business so that we could work to live more and to give back to the community.  When we ran across the opportunity to continue a 38-year tradition in Ashland, Fashions for Windows & Interiors, we discussed the possible opportunity for several months.  As we met with the prior owner, Joyce, she made us feel so comfortable and confident that this was a chance to fulfill our dream, we happily purchased the business.  Some said we were crazy to buy a business in a troubled economy, but we felt it had no where to go but up. We are now so pleased to have the chance to integrate ourselves and our time into the Ashland community. We first visited Ashland in 1997, and we say it as often as we hear it……Ashland is a magical little town in an amazing valley of beauty, vibrancy and from-the-heart friendships.
Fashions for Windows has been in Ashland now for over 38 years. What were some of the qualities that attracted you to taking over the business when you first met with Joyce, the original owner?
Most important, we wanted a platform of a local business that matched our abilities and values. With Jerry's background in construction sales and project management and Christine's background in accounting and project management in many industries, and a love for decorating and remodeling, we felt the fit was a great opportunity for us to migrate into business together. And a business that has been in the same location for over 30 years must have served the community in some wonderful way, so we knew that was a special opportunity. We focused first on learning the products and gaining our certifications so that we could gain the expertise necessary to advise customers. We have both been successful and well respected in our previous careers, and we felt positive we could make this new venue our own and take the business in some new directions as the third owners of Fashions for Windows & Interiors. Second, by giving back to the community, we also hope at some point to be able to employ one or a few additional employees. We don't want to become the biggest window covering company in the Rogue Valley. We prefer to focus on serving the local Ashland community to the best of our abilities; however, we would love to grow and contribute to the local economy with a few jobs down the road. Finally, since the prior owner was retiring and in a departure mode for the last 2 years, we knew it was a great opportunity to become involved in the community to serve 2 needs: 1-To bring awareness to Ashland again about the offerings of Fashions for Windows & Interiors and 2-To volunteer and sponsor activities in the community and get involved to give back.  Business and life is a circle and the more you give the more you receive. It sounds cliché but it is absolutely our core value.
Christine, what qualities did both you and Jerry bring to the table when taking over Fashions for Windows that helped you both hit the ground running?
Jerry and I both have extensive experience in project management roles. In addition, we were both familiar with good solid financial management and timeline management. We are both very much aligned with the thoughts that good service, communication and follow through are key to customers doing business with you and returning for repeat business. We value commitment and being on time. How many times have we all heard about contacting new service providers who don't call back or show up for their scheduled appointments either on time, or at all? We also don't believe in a high-pressure sales approach. Our slogan of "Making friends one room at a time" is so true in almost all situations we find ourselves emphasizing it almost daily. We can explain more on that later. We also believe it's key to stay current on the latest trends in our product lines and take advantage of as many local seminars and webinars to educate ourselves on the latest product offerings, installation techniques, and upcoming promotions and benefits so that we can provide the best consultative services and outcomes to our existing customer base and new clients.
Jerry, you immediately expanded Fashions for Windows to offer twice as many lines. Can you tell us more about what you have to offer?
Over the years, Fashions for Windows has carried multiple product lines for window coverings.  Since 2007, Joyce decided to simplify the offerings and carry only the Hunter Douglas product line. While we are in agreement that Hunter Douglas products are indeed the highest quality products and offer the best warranty and investment in their product lines in the industry, we recognize that they also can carry the highest price tags. We felt it important to bring in a couple of other lines that offer outstanding quality and warranties, but also offer more value pricing.  We recognize that we are the only window covering business in Ashland and wanted to meet the needs of the entire community, not just a few. We know there are a variety of projects, homeowners and needs when it comes to covering your windows, and we aim to offer enough selection and options for everyone to find something affordable but still of quality that we can stand behind. We firmly believe that all of the product lines we carry will last for a minimum of 10 years, most likely even 20. That means that your purchase from Fashions for Windows creates a potential 20-year relationship. We aim to make that relationship the best experience possible in just one of the many facets of doing business in a local community.
Can you tell us about two of your favorite styles at the moment?
Thanks for asking this question. We absolutely love one of the Hunter Douglas products called the Pirouette.  What is a Pirouette (besides the name of a ballet move!) you ask? It's a window shade that when closed looks a lot like a roman style shade, but when opened, appears like a soft louvered blind backed by a UV protected sheer. It's extremely elegant and not many people have ever seen or heard of it. On the more practical side of window coverings, we really appreciate our Kathy Ireland Cordless Top-Down/Bottom-Up honeycomb shades. The quality is extremely good and the commitment to pricing is so beneficial for our customers, we've recently surpassed other line sales with this offering and it's a great option to take in the views of Grizzly Peak and Mt. Ashland while still maintaining some privacy. There are currently specials going on throughout February and March for both of these styles.
What has it been like for you both to get to know and become involved in the community?
The rewards have been phenomenal. Every day our circle of community friends grows and each new activity we involve ourselves in, we are amazed at how well they are orchestrated, how much fun we have, and how many of the same smiling faces we see at so many events. This tells us that people enjoy being involved in Ashland and aren't afraid to show their spirit, their sponsorships, and their commitment to getting involved.  From the Ashland Independent Film Festival, to the Old Fashioned 4th of July parade, to the Festival of Lights, to the weekly Ashland Chamber Greeters, everyone genuinely touches and cheers you on to get involved and give back to the community so they can enjoy Ashland from many different views throughout the year.
Jerry, you mentioned that your goal is to create "Outrageously Happy Fans". How has this been going for you guys?
We have thoroughly enjoyed the smiles on the faces of our customers when we complete their projects and our network of referral customers is growing.  We love this business. We create smiles and we change the mood of rooms. An investment in window coverings is not a small commitment. Whether you've purchased a new home and have a blank slate, or are remodeling an entire humble abode, or just sprucing up one room, new window coverings involve thought behind color, style and functionality. An outrageously happy fan starts when we enter their home, and continues when they refer a friend. We make friends one room at a time and we're happy with that philosophy.
Christine, the scope of your projects and business is quite vast. Can you give us an overview?
Fashions for Windows began its life as a full service drapery business, supplying a wonderful selection of fabrics for curtains, drapes, upholstery and bedding, in addition to the labor and installation of those products. As the business matured and the market demand changed, the business introduced the sales, installation and service of blinds, shades and shutters.  Today we continue to offer the sales, installation, repair services and cleaning of blinds, shades and shutters. We also offer fabrics for a focus on upholstery projects, and soon we will be adding in some ready made bedding ensembles, beautiful embellished decorative pillows, and a small selection of ready made curtains for those not interested in full custom draperies. The market trends have moved away from the embellished windows that draperies offered in the past to a more cleaner and greener style of window treatments that blinds, shades and shutters offer. And there are so many colors, styles and options to choose from in this area, that we believe we have the right mix currently to provide home or business owners in Ashland with something that will suit their tastes and needs for years to come. We work on new home construction, remodels, room makeovers, city facilities, and business establishments such as bed and breakfasts, restaurants, and places of worship! Almost every structure has windows and almost every window needs a window covering. 
What if someone can only afford to do one room at a time? Can you work with them?
Absolutely! We will work on one shade at a time, whether it's a repair or a replacement.  As previously mentioned, window coverings, if treated well, can last 20 years or longer. That means we have the potential for a 20-year relationship with a client, whether they have a need for one shade, one room, or a whole home. We recognize that sometimes you need to take your time. It might be a budgetary constraint, or it might also be that moving into a new home means you have to see how you will live in the home first to know what your window covering needs will be from a seasonal perspective. How does the light impact each room in Spring vs. Fall? How does the heat or cold impact your comfort? Shades and Shutters have very good insulation qualities that can save homeowners money on their energy bills, but if they don't realize that one room is more drafty than another due to it's orientation, they may not purchase the right shade to get the best savings. It's important to learn about the qualities of a home and match those to the desires of the homeowner and sometimes that can't be achieved until you live in a home for a while. We offer temporary shades to cover your windows until it's the right time to buy. And most often we suggest you first address the most critical windows for privacy and go room by room ensuring a good fit if not absolutely certain of all needs. On the flip side, if you've been putting off getting one shade for years because you thought it was too costly or difficult to match your style, come see us or let us come see you. One recent customer put off getting one blind for her kitchen for several years. After fitting her with a blind that looked like and matched the wood trim in her kitchen promptly said "I can't believe I waited so long to do this! You made it so easy!"
Jerry, as mentioned above you have been known to go above and beyond. Can you share a little bit about your philosophy in doing this?
When I walk into a client's home for the first time, many times the first thing I do is take off my shoes or put painters booties over my shoes. It's a matter of respect, and a lot of folks believe their home is their temple, so I'm going to treat it that way too. We get intimate with almost every room in a home. We are professional and we are licensed and bonded, but we still may need to step into a bathtub, or measure above a big kind sized bed and the last thing I want to do is make someone grumpy that I left a shoe print behind. What I want to leave behind is the experience that they are excited to be getting the most amazing new window coverings for their temple!
Tell us something totally random about yourselves that we might find interesting?
We love to camp in our RV but sometimes we don't always have the time to take a trip away from the business. So, what do we do? Well, we bring our RV over to Emigrant Lake and camp near by the business so that in the evenings and on weekends we can feel like we're "away from home on vacation"! We can cook on the campfire, enjoy the amazing mountains surrounding the lake and evening sunsets, and sip our home-made limoncello all the while being only 8 miles from our store on Ashland Street for work during the week.  We live in a place where other people come to vacation, so why not vacation in our own back yard?
Jerry, help save us from big box stores. How can you help Ashland with all of their window and blind needs?
I think it first starts with addressing the perception that a small store such as Fashions for Windows can't compete with "those bigger stores" or that you always save more at a box store over a small proprietor. It's simply not true.   Just as we've already mentioned that product lines have their place, so do stores, but we carry 3 different product lines that not only give us flexibility to address customer budgets, but also options. Sometimes you go to a box store and all you get are standard sizes that you must then adapt to your windows, not the other way around. Also, you may have to pay extra for measurement or installation services. Those services are included in the pricing of our products, and as much as we take the risk in performing on site measurements during your decision making process, we are confident that we'll earn your business. In addition, it can be very difficult to have a big box store repair or clean your shades over that 20-year relationship. We are just down the street, and if you can't bring your blinds or shades to us, we will pick-up and return them. And one final comment about us vs. them is that if you get a quote from us and we are slightly higher than that box store, just remember that we contribute to and support our town of Ashland through our Chamber events, community events, and donations to organizations that go right back into making our community the great place it is to live. Isn't that worth buying local?
Christine, what's the best part about owning and running your business in Ashland?
Well, as much as I'd love to say it's driving in to the sunshine above the fog line during the winter, the best part about owning and running our business in Ashland is the people we meet.  So many of "us" may not have been born and raised here, but it doesn't mean we appreciate this beautiful city any less, and in fact, I know from my own experience, that I appreciate the opportunity to live and work in this valley so much that we've gone to great lengths to keep working on growing our business and making it sustainable so that we don't ever have to return to a corporate life again or leave this beautiful place.  We do not take this opportunity for granted and we hope to convey that to our customers.  We have met incredibly generous and friendly people in Ashland.  We intend to retire from this business and either turn it over to the next visionary who wants to carry on this tradition, or close it up knowing that we built a dream come true because we cared about our customers!
Would you share a recent success story with us or an interesting project you participated in?
Recently we worked with a couple who renovated their retirement home in Ashland.  We chose different styles and colors for each room and worked through their budget concerns since the project was a large undertaking for them. We chose different cording and cordless systems based upon their ability to reach their shades or where furnishings were placed in the rooms.  After they moved in and unpacked everything, a few of their shades were not able to be operated as smoothly as first anticipated. We sent back one shade to have the manufacturer remake it for a smoother operation and offered to change out another shade from cordless to cordloop if they had any issues at all. They decided things were working fine after they used their shades for a while and have since had smooth sailing, including one remote controlled shade over their kitchen because it was out of reach! When your shades are installed, we provide training and follow-up support until you are completely satisfied that everything is operating to your satisfaction. It's part of wanting you to be one of those outrageous fans!
Jerry, you also are certified in motorized and shades, correct?  Tell us why that's important?
Because of my background in construction and building automation, I was very familiar with electrical requirements and wiring integration. I was granted a nomination to apply for a motorization certification earlier than a normal dealer would be allowed to certify.  This enables me to support and service our customer base in every aspect of what we sell and install providing a full service dealer right here in Ashland. The housing industry is poised to improve over the next 2-5 years and this positions us as a sustainable and qualified window covering supplier early in our business growth.  We can therefore become engaged very early in the building or remodeling process for the purposes of hard-wired control of window shadings or low voltage remote control of window shadings.
Christine, how about any tips you might be able to offer our readers?
We hope soon to engage our customer base and facebook followers with quarterly tips and practices to prolong the useful life of shades, blinds and shutters as well as share makeovers and customer projects. A couple of tips I can suggest for care and cleaning would be a light dusting of any type of blind, shade or shutter at least 3 – 4 times per year; a light vacuuming once per year; and once every 3-5 years, you can bring them in for ultrasonic cleaning. Some blinds and shades can be immersed in a bathtub; however, the head rail in almost every case, should never be immersed.  Any questions regarding cleaning tips can be obtained through us or online via care and cleaning guides.
Finally any last words you would like to share with our audience?
In October at the Ashland Chamber's annual dinner, we were surprised to be awarded with the Retail Business of 2012 by the Ashland Chamber. We were so honored and have had such fun working with the chamber and their team. They so care about this city, it's citizens, and the reputation of Ashland as one of the best places to live in the country. We would like to thank the existing customer base of Fashions for Windows for your loyalty and support in our transition of ownership and would like to be in touch for any of your needs for repairs, cleaning or new window coverings. We look forward to continuing to serve the Ashland community, our customers, and new clients for many years to come! Stop on in some time just to say Hello! We always have bite sized chocolates or a cup of tea at the ready for our Ashland friends, old and new!
Learn More
Fashions for Windows & Interiors
1796 Ashland Street, Ashland, OR  97520
info@fashionsforwindows.com

541-482-9620
www.fashionsforwindows.com

Hours:  M-F 10a-5:30p and Appts always available!