Interviews
Beautifying Skin from the Inside Out and the Outside In
The advanced combination of technological innovation and aesthetic expertise has the power to transform your skin and reverse the appearance of aging.
Enhancing this transformation is the power of organic skin products and a mindful diet promoting longevity and clear, radiant, supple skin. At Illumination Advanced Skincare and Wellness, Rebecca Snyder works to create an aesthetic alchemy in a comfortable, relaxing setting, skillfully collaborating with her clients to accomplish superlative results.
In today's interview, I speak with Rebecca about her life and work as a certified holistic health coach and advanced esthetician.
Hi Rebecca, thanks so much for taking the time to talk with me today. To begin with please introduce us to yourself and your business.
I'm an Advanced Aesthetician and Holistic Health Coach offering esthetic services and nutritional coaching through Illumination Advanced Skincare & Wellness in Ashland and Medford. As a certified health coach, I have studied nutrition extensively and I understand the profound interconnection between diet and skin. The foundation of radiant, supple, and beautiful skin is nutrition. The advanced skin treatments I offer work in synergy with holistic nutritional guidelines to rejuvenate, tone, and refine my clients' skin.
Rebecca, you spent time in Ashland as a child but went out into the world to work as a private chef. Please tell us more about this experience and how it shaped your life.
My childhood in Ashland cultivated my appreciation for the abundant beauty of nature, a healthy lifestyle, and a holistic view of nutrition and wellness.
As an adult, I traveled the world as a private chef on luxury yachts, providing holistic gourmet cuisine for my employers and their guests. Traveling the world expanded my appreciation for the exquisite beauty of this earth. I became aware of the vast differences in people's lifestyles and the need for holistic healthcare and nutrition as a source of wellness.
As an executive chef, I was passionate about vibrant whole foods, and now, as an Advanced Master Esthetician, I am just as grateful for the nourishment of skillfully prepared, customized nutrients to nourish skin vitality. Our skin is a reflection of our diet and health hygiene.
Beautifying skin is the essence of what you do with your business, Illumination Advanced Skincare & Wellness. Please speak more about this.
My life practice is to be present and to be non-judgmental. I've had a feeling of "love all – serve all" since childhood. The gift of intuition allows me to attune to what my client needs and know that our time together in my treatment room is precious. I cherish each opportunity to offer my genuine love and care and to brighten the radiant beauty in others. I see how people begin to "wear" old age as an overcoat, which is not necessary. Aging is natural and beautiful—my passion is to rejuvenate and uplift skin that simply needs more love.
What is collagen and how does it assist the body in maintaining healthy skin?
Collagen is the glue that holds the body together. The word comes from kolla, the Greek word for glue. Collagen is the most abundant protein in the body. There are at least 12 and perhaps as many as 20 types of collagen. Type 1 collagen is found abundantly in the skin. Collagen supports the skin to retain its youthful firmness, suppleness, and elasticity. Its production in the body slows with age and ill health, causing the skin to become drier, less pliant, thinner, and weaker. Collagen forms in the reticular layer of the dermis—deeper than the surface layers of skin. It is this deeper layer of skin that is my primary focus in the treatment room. Many of my treatments are designed to repair and stimulate collagen production. As well, in health-coaching clients, much of our discussion is about what nourishment is needed for collagen growth.
What do you love the most with what you do?
I love giving great results! I love helping people deeply relax and feel nourished and seen.
Rebecca, please tell us about the bone broths and health coaching aspect of your business.
Bone broth is an excellent way to add protein and collagen to your diet, as well as important minerals and other nutrients, and it is especially nourishing for the skin. I always enjoy inspiring my clients to support their skin, health, and well-being with nourishment, and have many delicious recipes and so much knowledge to share.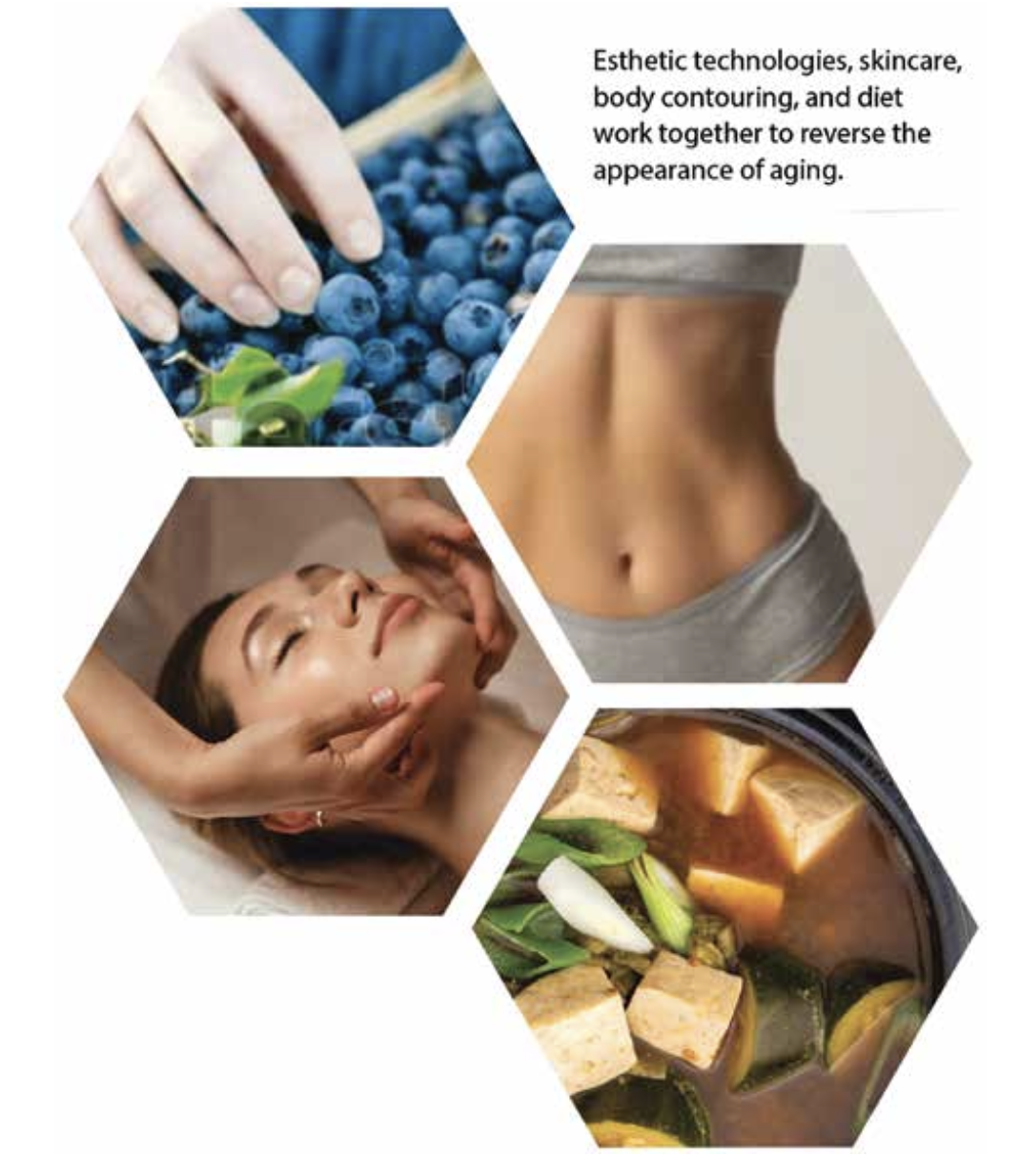 What do your clients enjoy most about the work they do with you?
The feedback I often hear from clients is their appreciation for my expertise and positive, caring attention to their concerns. Of course, what they most enjoy are the results from the variety of treatments I provide—from hydrating facials to advanced corrective treatments using Radiofrequency and Microneedling.
"Rebecca is meticulous, gentle, and skilled, clearly passionate about skin care. I love her calming space and always feel pampered, like I've had a mini vacation. Her facials leave my skin super soft and bright. Highly recommend her!"  CJ, Ashland
Where did you learn to work at the high level you do?
I am a perfectionist in the quality of my work and meticulous with details. During many years as a private chef, I perfected my skill in collaborating with clients to achieve an outcome that will satisfy and uplift. I am most inspired by the exquisite grace of life and the abundance of beauty everywhere and always look to the perfection of the natural world for inspiration.
Rebecca, can you please give us an overview of all the services you are offering?
Of course! I offer a wide variety of advanced skincare treatments starting with relaxing facials that incorporate many therapeutics such as warm stone massage, Gua sha, lymph clearing, acupressure, Marma points foot reflexology, and aromatherapy.
For more advanced treatments I offer Microcurrent Facials to lift and tone muscles of the face and neck; Hydrafacials customized with my signature relaxation therapy; and Intense Pulsed Light (IPL) treatments to reduce redness and broken capillaries, refine pores, and brighten the skin. I also offer IPL Hair Reduction/Removal, and Sublative Skin Resurfacing to improve tone and texture.
Radiofrequency (RF) Microneedling treatments are exceptional for collagen repair. Chemical peels are available to correct melasma and brown spots caused by sun damage, and acne treatments and protocols to clear acne.
Whole body treatments are Body Contouring for reducing inches from the waist, thigh arms etc. Body Toning to tighten and lift desired areas and a Body Detox Wrap for eliminating toxins.
What is your favorite service and why?
My favorite is the Body Toning treatment. It's very relaxing and gives great results. Another favorite is Radiofrequency Microneedling for collagen repair—the visible results are amazing.
Rebecca, what are the next steps for a client who wants to start working with you?
My website:
IlluminationAdvancedSkincare.com has more information about me and the treatments I offer. An  appointment can be made by calling me at 541-690-5476 or by emailing illuminationadvancedskincare@gmail.com. We'll begin with a consultation and proceed from there.
Thanks so much for taking the time to speak with us today. Do you have any last thoughts or comments you might like to share with our readers?
I'd like to remind people that nutrition and skincare go hand in hand and that your body, as part of nature, is incredibly resilient. I'm often amazed at the transformation I see in clients who decide to take control of their health and appearance through nutrition and the advanced skincare technologies that are now widely available.