Interviews
Blue Toba Traditional Indonesian Food Restaurant & Bar
Little Blue Toba has grown up and gone to the NEXT LEVEL. Chef Birong Hutabarat and his wife Leslie Caplan have pulled out all the stops, creating one of North America's finest and most authentic and unique Indonesian food restaurants. Newly located in downtown Ashland, Blue Toba has a deep story of a driving love, passion and dedication to both one's dream and the spirit of community and unity. Occupying more than three thousand square feet of space, Blue Toba is not only a restaurant, but an art gallery honoring the age-old traditions of Indonesian food, culture and lifestyle. In today's interview I speak with Leslie and Birong to learn more… but, you might just want to book your reservation first!
Leslie and Birong, I am so happy for you both to have created this new and amazing space for Blue Toba located in the heart of downtown Ashland!
Thank you so much! It's been a massive endeavor to go from eight years in our tiny 'hole in the wall' on the south end of town to 3000 square feet downtown. This has been something Birong has wanted since the beginning, a bigger space to offer so much more than what he could offer in old Blue Toba. In our new space, we could create, like you said, an Indonesian museum of sorts, with one-of-a-kind handmade ceremonial artistry representing the many different cultures of Indonesia.
A visual experience to accompany the cultural culinary experience of Birong's cooking of hundreds of years of tradition. We risked everything to make this move. It was, and still is, a huge leap of faith and even though it felt too big, too massive, too expensive, too scary, we both kept getting this 'yes' inside ourselves just to go for it. Plus, the community's support, love, and encouragement allowed us to let go of the fear of doing it, and trust in that leap, and trust in each other that the risk was worth the pull of the heart to just go for it!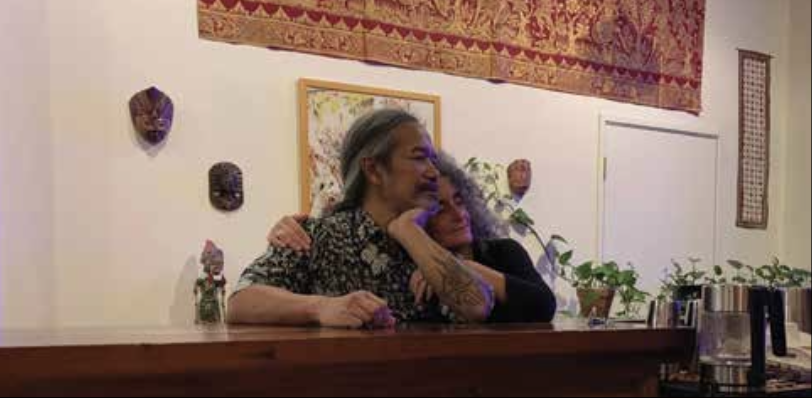 Leslie, so much of what Blue Toba is comes from the story and journey that has created it. When you first came to Ashland, you came on a whim.
Not so much a whim, more like I almost had no choice. It was a difficult time in my life. I had lived in Indonesia for eight years, deeply connected to the culture and way of life. I left Indonesia because at the time, there was some political upheaval and the U.S Consulate was encouraging people to leave because of it. It was time for me to go, though it ached me to leave. I didn't want to leave and yet, somehow I knew it was time. I tried a few different towns in California to land in, but nothing quite felt right to make it long term. I had a friend in Ashland who invited me to come stay, so I did. I liked it. It felt safe, small, and familiar enough for me to stay in that I had a couple friends here. Once people started finding out I'd just lived in Indonesia for years, they kept telling me that I needed to meet this guy, Birong, from Indonesia, who'd been living here a long time. I was so happy to connect with someone who was Indonesian. Somehow it made Ashland feel more like home to me.
You and Birong then created a partnership and the adventure began.
Birong and I became friends. I spoke his language, I understood and loved his culture so much. We never considered being together as a couple, just built a strong friendship. I don't think it dawned on either of us until… (I'm smiling right now) we kind of just woke up one day and saw each other in a different light. Three years of a growing friendship, such loyalty and laughter and kindness, we realized something even deeper was growing. I think we became a couple before either one of us even knew it was happening. I love this. A slow deepening platonic friendship of nearly three years eventually led to marriage and as of today, we've been together for eighteen years.
Birong mentioned to me he wanted to serve Indonesian food, loved to cook it, and found such depth of pride to offer his culture when he'd cook for potlucks he was invited to. He could not understand how there was no Indonesian food in the entire state of Oregon except for a little food truck in Portland at the time. I agreed. Having lived in Indonesia all those years, I knew it was the most unique, labor-intensive, and unlike anything else that I'd ever had.
I loved Little Toba.
We love little Toba, too, but from the day we opened it, we knew that it was not sustainable. Birong had to wake up at 5am, be there by 6am to begin the incredibly labor-intensive alchemy that is inherent in Indonesian cooking, so that we could be open by 11:30am for lunch. Then he'd serve and cook all day and be home by 8pm. The space was so small, there would never be a possibility to ever train someone to learn his cooking. He couldn't offer the many other dishes he wanted to serve, we couldn't even have Indonesian drinks because the space was too small. All we could offer were canned sodas in a tiny refrigerator on the counter. Little Toba became constricting. We are getting older. Birong is in his 60's now. At old Blue Toba, there was no hope of even a possibility for him to even semi-retire one day because the kitchen and the whole space was too small to support hiring and training another chef to replicate and emanate what Birong does. The only possible hope for that would be to get a bigger space. No guarantee, but it was the only logical next move as huge of a risk as it was, and felt, and still feels sometimes. I've never known anyone like Birong. In his 60's, the full-time chef of his own restaurant, 15 hours a day cooking up food that has nineteen spices in one dish, half of which don't even have names in the English language. The labor intensiveness, the heart and love and pride he imbues of himself and his culture into everything. And he's so calm and 'zen-like.' Never gets ruffled no matter if the dining room is packed, tickets lining up with tons of orders and he's cool as a cucumber. Always. I know it sounds like I'm biased, but I'm not. Birong is one of the kindest, most humble and grateful human beings I've ever known. He's never once raised his voice in the kitchen no matter the 'chaos' and stress and pressure there can be in a busy restaurant's kitchen. You can feel that in the food. In the entire space of Blue Toba. It's really something else. Something so rare and special.
I am simply amazed when you talk about the creation of the Blue Toba now. In particular I am moved with your story of how you decorated the space and where all of these amazing items came from to adorn Blue Toba. It looks like an Indonesian temple. Tell us more about that.
Birong and I both had some rare Indonesian pieces in our own collection, but 3000 square feet to decorate? And twelve-foot ceilings? I had no idea how we were going to turn this beautiful downtown historic building into an Indonesian honored feast for the eyes and heart. One day, on a whim, I put a post out to our many Facebook followers on the Blue Toba Facebook page. I said I knew it might be a long shot, but does anyone have any Indonesian art, tapestries, collections perhaps from their travels there? I said we'd buy it, trade food for it, or be happy to be gifted (with a wink emoji next to that part!). I had no expectation or much hope the post would end up with what happened. We were flooded with gifts. People had one-of-a-kind pieces you can't even find there anymore, from their travels there from 30-40 years ago. I woke up one morning and found some on our doorstep, mailed to us in huge parcels from Los Angeles, Washington, Portland, and even directly from friends and family in Indonesia. The most beautiful, unique, divine, traditional one-of-a-kind pieces, the most stunning pieces I'd ever seen. And it just kept coming. Birong's family sent sacred ancestral tapestries that are made and given with only the highest of honor, to adorn Blue Toba with. I had tears in my eyes over and over again from the love and abundance we received. I personally took this as a sign. I was scared to move downtown. The endeavor felt too big of a mountain to climb, and like I said, too big of a risk. We poured our life savings into it, and then some. Yet… the tremendous gift we received, and so many from people we didn't even know personally, felt like the entire universe was saying 'don't worry, you'll be more than fine, just do it, move downtown, take the leap, look at all this love and support from the community and beyond.' Even after we moved, and to this day, people come in with some gorgeous, rare find from Indonesia, and gift it to us. I am moved to tears over and over again and when I get scared of what we've taken on by moving downtown, I remind myself of all this, and it calms me down back to trust again. To the 'yes,' this was absolutely the thing to do. The signs are everywhere in support of it.
Every single piece of artwork in Blue Toba is hung very purposefully, reverently, and with the deepest of intention and reverence. Walking into Blue Toba is like walking into an ancient temple in Indonesia. I can't tell you how many people have tears in their eyes when they walk in, or leave after dining with us. How many folks approach me with their hand over their heart saying how beautiful it is, how it feels like some kind of prayer of the heart that is palpable. How warm and welcoming and special it is. We meet Indonesians who find us in their travels and say they feel like they just walked through the doors of their homeland when they come in. And they thank us for that. This means the world to us. For all these reasons, we are affirmed that moving downtown was worth the felt-sense that it was a huge risk for us. All of that melts away with what I've just shared.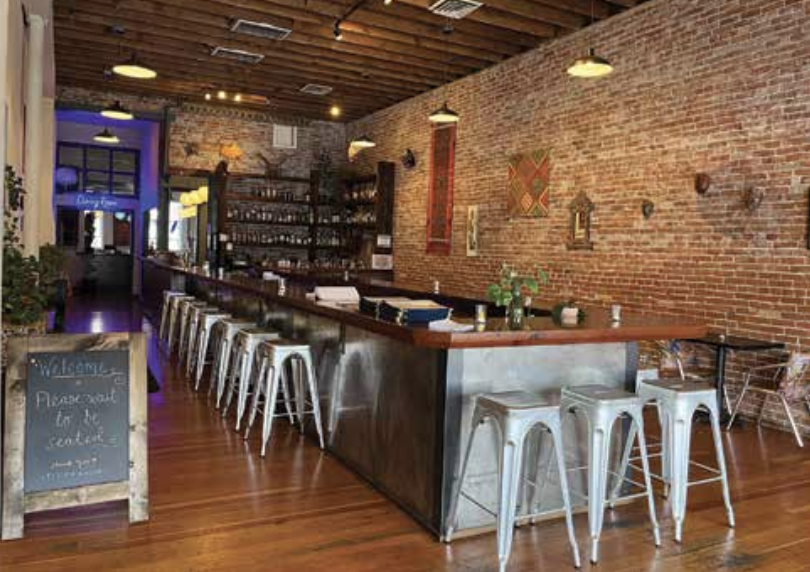 Leslie, this is amazing. I love seeing the partnership between you and Birong.
Thank you Shields, I love how deeply you get it! And get us! Blue Toba is a love story. A gritty, hardworking, 'blood sweat and tears,' beautiful love story. What are the odds I would come back from eight years of living and loving Indonesia, to a small little town in Southern Oregon and meet Birong. I guess you could say it was meant to be. None of this could have ever happened without the other. I remember Guy Fieri, the host of Diners, Drive-ins, and Dives, after our taping, said he thinks Blue Toba ruined him for life in terms of eating any other Indonesian food (which by the way, he'd never even had before), because, he said to Birong, "I can feel the love between you and Leslie in the food." It melted my heart. We hear that often, that people feel so much love in the food. In the entire space when they walk in. They feel something kind of sacred, something deep that sometimes they can't quite name. We've had feedback that being there, eating, being surrounded inside the space, has changed the customers life. I know that might sound 'dramatic' to some, or exaggerated, but I can't tell you how many folks have said it to me as they walk out the door, emailed me privately, or written it in a review. As I sit back and share this with you, I think yes, ok, this is why we moved downtown. This is why. And for that, it's worth the intensity, the fear of it, the magnitude of what it takes to run it, staff it, offer it, work ourselves to the bone. It's a labor of love. No joke. And we are all in!
Leslie, let's talk about the food. Blue Toba is simply next level. In a candid moment during our phone call, you simply said "this guy does not cut corners." Tell us what you mean.
Birong goes all the way with Indonesian food. Here is one example: he could easily buy Thai chilis here. No one would taste the difference, but Thai chilis are not from Indonesia! When he goes to Indonesia, he buys Indonesian chilis from the fresh markets there, dries them in the Indonesian sun, then brings them back here to use with his food. If we run out, his brother in Java does this for us. It would be so much easier to just buy Thai chilis here. It would be cheaper, and again, the flavor would not change, but for him, every single thing has to be 100% from Indonesia, supporting the Indonesians that collect and sell the chilis, things like that. He is so committed to that, that even though it makes it harder, he has no issue with that, and it's not traditional if any of the spices are from another part of the world even though it wouldn't really impact the flavor. All the spices, and there are MANY that Birong uses, come from Indonesia. Many don't have English names. Even the rice he serves with every dish that comes with rice, is Nasi Kuning, meaning 'yellow rice.' In Indonesia, the only time you get yellow rice with a meal is when you are invited to a ceremony such as a temple ceremony, a wedding, a birth, someone's passing (celebration of life ceremony). Other than that, Indonesian food is served with white rice only. Not at Blue Toba. We serve ceremonial rice. It is no small feat to cook it either. Add onto all of that, we serve mostly all organic. The rice, the veggies, the oil we use, the tofu and tempe for our vegan options, many of the spices, all organic. Birong not only doesn't cut corners, he goes in the opposite direction of cutting corners. Here's another example: one of our main dishes, called Rendang, is the most famous dish in Indonesia, and Birong's specialty and best seller. It takes five hours to slow cook and you have to stir it every 15 minutes. It has nineteen different spices in it and you have to know when to add a certain spice and time perfectly when the next spice goes in, and on and on from there. It is a beef dish and he uses grass-fed local beef, the most tender cut. Most Indonesian restaurants in the U.S, and even in Indonesia, use the short version. It's still tasty, but once you try Blue Toba's, you KNOW the difference. It's next level. Everything is next level at Blue Toba. I lived in Indonesia for eight years, ate Indonesian food every day and I still to this day, never had it like Birong's.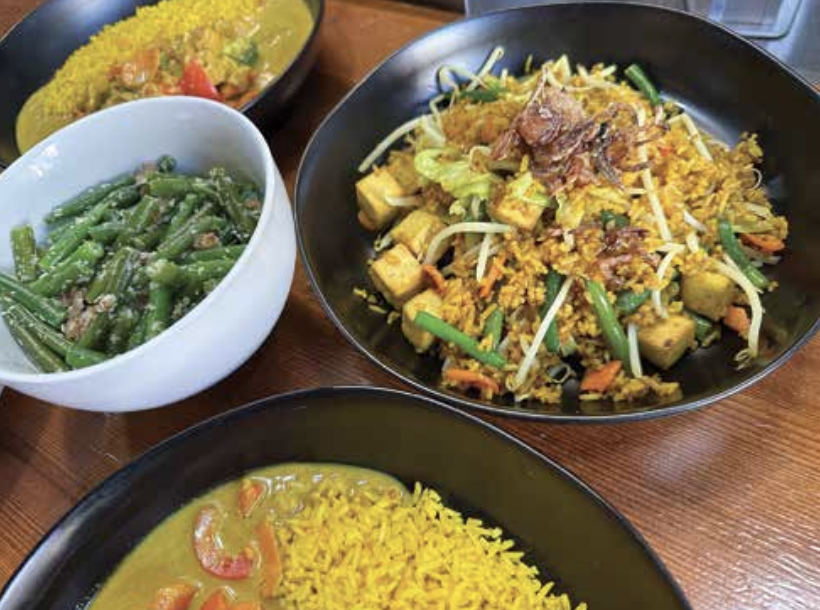 You also have amazing Indonesian-inspired drinks and more.
When you look into Blue Toba from its front window, all you see is this gorgeous, stunning bar area. The dining rooms with a beautiful open kitchen are behind, past the bar, where you can watch Birong cooking. We serve one-of-a-kind, exclusive to Blue Toba cocktails & mocktails, that are Indonesian-inspired and of the highest quality. We make house syrups and tonics of such alchemy that go into these amazing drinks, using Indonesian spices in them, the ones Birong brings back from Indonesia. They are quickly becoming sought out by the community. There is nothing like them anywhere. So fresh, unique, and they pair with the food so beautifully, it enhances the entire experience. We also have exquisite beer and wine choices specifically to pair with our food. People often order drinks at the bar, sit for a while, then go back to the dining room for dinner. You can also eat at the bar instead of in the dining room. The bar menu for Indonesian food is smaller than the more extensive dining room menu, but people love it and choose to sit in the bar space often. We also have Happy Hour where the food and specialty cocktails and mocktails are discounted.
Blue Toba has had fans from Portland drive down to Ashland just for dinner and then go back.
Yes! We have had people come in and tell us they came from Portland just to eat and go home right after. Even at old Little Toba's tiny location, people came from Sacramento to get lunch, then go back to Sacramento after lunch. We see this often. Because we were featured on the Food Network Channel's Diners, Drive-ins and Dives, we get this kind of thing often. People drive hundreds of miles out of the way to come to Blue Toba because they saw us on the show. And then, they come back for more. It's so moving and amazing!
Leslie and Birong, I congratulate you on the great work you have done and will be in to see you shortly.
We look forward to you coming in when you come back to town, Shields! And thank you so much! For hours, all info, menus, our story, and all things Blue Toba, visit www.bluetoba.com
Learn More:
Blue Toba
145 E Main St, downtown Ashland across from the Varsity movie theater
541-708-6214