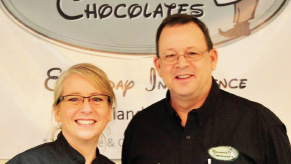 Interviews
Branson's Chocolates –  Locally Owned, Locally Produced
Locally owned and locally produced Branson's Chocolates is located at 1662 Siskiyou Boulevard in Ashland. Owned by Deena and Kevin Branson, the boutique chocolate factory has steadily grown over the past 12 years and is now processing more than 1000 lbs. of chocolate per month. With Valentine's Day just around the corner, Branson's Chocolates has been busy stocking up and getting ready for the holiday rush. In our interview today we speak with Deena to talk about some of her favorite creations and her plans for 2018.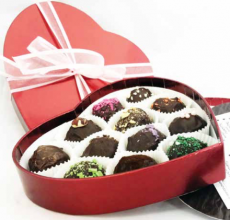 Deena, thank you and welcome back to LocalsGuide. We always enjoy your monthly business column in which you share your latest and greatest creations. 
Thank you, and thank you to all our readers… Having the column helps to keep us pushing to create new chocolates, and we also get to showcase our favorites. 
Just to bring things into context, exactly how much is 1000 lbs. of chocolate per month?
When we moved to our current location we were bringing in about 250 lbs per month, now we are at about 1000—we've quadrupled our chocolate production in less than three years. Let's just say that 12,000 lbs is roughly equivalent to a full size elephant.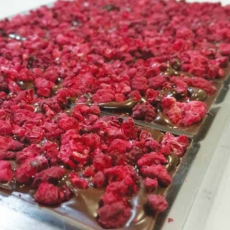 Deena catch us up on how the year went year for Branson's.
It has been a crazy good year.  We decided to take another leap of faith, the third big leap of faith we have taken.  The first was to move the business and open retail, the second to expand our location and take over the adjoining section of the building.  This time we decided that Kevin (my husband) would retire from his job of over 28 years and come work with me.  He has spent the last couple of months learning the systems and getting familiar with the day to day operations at Branson's Chocolates.  Over the past 12 years he has helped with all the events we go to and has spent plenty of his vacation days helping me.
What have been some of the local favorites this year?
Our Marzipan Creams have been a favorite right from the beginning.  The have the wonderful almond flavor that the traditional Marzipan has.  But ours is different than most it is smooth and creamy like a cream and that is why we call it a Marzipan Cream.
Deena, on top of running a chocolate factory you also have a retail space.
Yes, we are continually putting the word out about our retail store. We are located at 1662 Siskiyou Boulevard (the old Mongolian Grill).  This is where you can get our rotating Item of the Month, Oops!'s (discounted, visually imperfect) products, and all the other goodies that we make.  We have quite a few places where you can purchase a variety of our product, but our retail store is the only place you can see everything we make. 
Tell us about some interesting projects you have been involved in recently.
Last March I taught a Truffle Making class in conjunction with the Oregon Chocolate Festival.  It was my second time to teach a class, but my first truffle class.  Every attendee left with a recipe, a set of dipping forks, and truffles that they got to personally dip, so they could go home and make their own truffles.  I will be teaching another Truffle Making class this year, in conjunction with the Oregon Chocolate Festival March 10-11, 2018.
Deena, please tell us about some of your treasured recipes.
When we started, we purchase the equipment and recipes from Ashland Fudge Co. The recipes we use for creams, caramels, and truffles are based off of those original recipes. The fudge recipes that we use originated in the late 1800's on Mackinac Island, Michigan.  And we have the recipes that I have created on my own.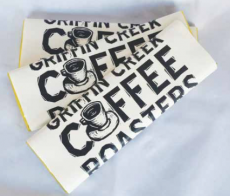 You recently completed a successful mentorship program with a local high school student.

Yes, I had a student from North Medford High School doing her senior project with me.  North Medford requires that the student do their senior project in the area of field they want to go into and they have to volunteer between 20 and 40 hours.  When this student asked if she could do her project with me, my requirement was that she create a product that we could sell, a product that we could potentially make a regular item.  She did, and came up with December's Item of the Month, Port Ganache Square.
Please tell us about your store's hours and opportunities for the general public to come and visit.
We are open Monday – Saturday 10 – 5:30pm and closed Sundays. When you walk in, you can see right over the retail counter to the production area, and watch everything being made. There is no wall between the production and the retail areas so we can work and interact with the customers. Our packaging room has huge windows, so you can see how we hand wrap and label all the chocolates bars.
Deena, please tell us about the array of custom products you make.
There are several ways we customize chocolate for our customers.  One is with custom flavors like our very first chocolate bar, Marion Blackberry Dark Chocolate Bar, which was requested by Ashland Springs Hotel. The Lavender Sea Salt Caramels and Salted Lavender chocolate bars for the English Lavender Farm use their lavender oil, and we make chocolates with essential oils for Blue Giraffe, to name a few.  Another way to customize our products is with a custom label like we do for Paddington Station and Grange Co-Op.  We can add a customer's logo, picture, or artwork to our labels.  Custom molded chocolate is another way to customize chocolates. You can have a chocolate mold made with your logo or artwork.  We do custom molded chocolate for Butler Automotive Group and the Holly Theatre.
Product sourcing and quality are an important consideration that goes into all of your creations.
Yes, it is very important to us.  We source locally, and directly from farmers and distillers whenever possible. For example, our macadamia nuts and hazelnuts come directly from the farmers. Our mint oil comes directly from a farmer up in Clatskanie, Oregon. I choose Oregon-produced products and liquors over nationally-produced products.  I believe in using the best, and supporting local businesses.
Deena, are there any last thoughts or comments you would like to share with our readers?
February's Item of the Month is all about Valentine's Day, Raspberries and Strawberries.  We will be featuring our Raspberry Chambord Truffles, Raspberry and Strawberry Creams and a couple brand new items, a Raspberry Dark Chocolate Bar and a Strawberries and Cream White Chocolate Bar.  We will be doing our Valentine's Day Special again this year of a free Red Rose with the purchase of Valentine's Box of Truffles.  The Valentine's Day Special starts February 12th while supplies last.
Learn More:
Branson's Chocolates
1662 Siskiyou Blvd
Ashland OR 97520
www.bransonschocolates.com
541-488-7493