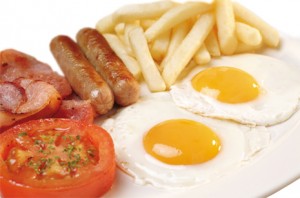 I must have driven past the Breadboard Restaurant about a hundred times over the last twenty years, always wondering what it was like.
Well, Local's Guide asked me to do a review and I gladly accepted. My wife and I recently became vegetarians and we were worried that we wouldn't find any vegetarian fare. Fortunately there were plenty of choices for us.
We arrived Sunday morning about 9:30 and the place was hoppin'. Even though it was very busy we were seated immediately. While perusing the semi-eclectic menu I noticed the decor was humble and the place was extremely clean. The wait staff were operating like a well oiled machine. In less than 3 minutes we ordered our drinks (grapefruit juice and coffee) and received them in about the same amount of time. My wife rated the coffee as "better than most restaurants, almost as good as gourmet coffee". I think my huge glass of grapefruit juice was only $2 and it was great. We both decided to "take one for the team" and decided to allow eggs for this one meal. My wife ordered the Greek omelet and I requested the Veggie Benedict.
The menu offers something for every taste and it was difficult to choose, but I can always try something else next time.
While waiting for our food and enjoying our drinks, we enjoyed the view of the sunny hills. I also noticed that the staff, while busy, were not rushing around. They were chatting casually, always smiling. It was more like a big happy family than a workplace. Maybe that's the secret to their success.
Our food arrived very quickly and nicely presented. The Greek omelet was light and fluffy and stuffed full of olives, fresh spinach and feta cheese (she passed on the bacon) served with toast and Marion Berry jam. My Veggie Benedict was great, also with fresh spinach and sauteed mushrooms. The eggs were poached the old fashioned way, not molded in a steamed cup. Both plates were accompanied by "Homers" which are country potatoes, mildly seasoned and not swimming in grease.
This is my kind of place so I'll definitely be back. Lunch starts serving at 11:00 so next time I will probably try the portabello garden burger, or ???
The Breadboard Restaurant is located at 744 North Main in Ashland and are open every day from 7:00 to 2:30.
So if fresh, healthy and tasty are your thing, I'll see you at the Breadboard restaurant.