What does that mean?!?! Well, the International Congress of Oral Implantologists (ICOI) has been around since 1972 (that's 46 years!) and is the world's largest dental implant organization and the largest provider of continuing dental implant education. "Diplomate" status is the highest level of credentialing the ICOI currently has. To become a diplomate, an implant dentist must complete requirements in education, clinical work, case presentation, and written examinations. Take a look at the back page of this issue of the Locals Guide and you will see my certificate of achievement.
In order to fulfill these requirements I have dedicated a significant amount of time and energy to pursuing advanced education in the fields of implant surgery and implant prosthetics (teeth). I have documented many of the implant surgeries and prosthetics that I have completed and I have submitted these records for review by the ICOI Advanced Credentialing Committee. And finally I have engaged in an oral interview by examiners from the previously mentioned committee and I have taken a written examination covering all topics involved in oral implantology (pharmacology, bone biology, surgical techniques and principles, prosthetics techniques and principles, etc.).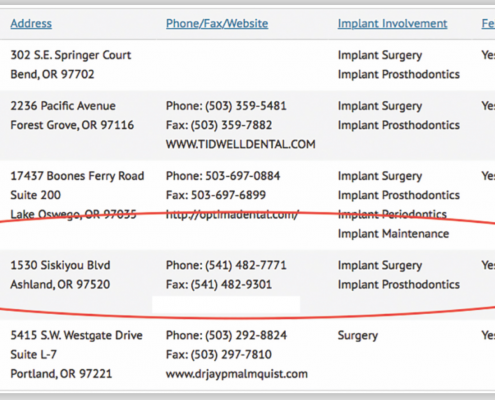 Above is a listing from the ICOI website of all of the diplomates currently practicing in Oregon. There are approximately 1,205 practicing general dentists in Oregon. This means that less than 1% of practicing general dentists have pursued and completed the requirements to be a diplomate in the field of oral implantology. (NOTE – there is another dentist who received his diplomate with me this past September and he will be opening an office in Medford – Riley Clark, DMD. He is very talented and will be a great addition to the Rogue Valley.)
Nine years ago I began my journey in the field of dental implants. I had been putting crowns on implants for years before that and became interested in the surgical placement of implants because I was often frustrated by the poor positioning of the implants and the subsequent difficulty in putting teeth on them. A prevailing philosophy at that time was to put implants where there was plentiful bone and to let the restoring dentist figure out how to put a tooth on it. It is better to plan the ideal position of the tooth being replaced, decide if the available bone is adequate to support an implant in the location that would support the correct tooth position, and, if there is not adequate bone, to bone graft the area first so that everything else can follow with the correct placement. So, in order to control the process from start to finish, I learned the art and science of surgically placing dental implants.
Now, after hundreds of hours of continuing education, hundreds of implants planned, placed, and in function, I am enjoying what I do more than ever. New technologies allow me to evaluate a patient's jawbone in 3-D, digitally plan the final tooth position, virtually place the implant and evaluate the bony support, and then make a surgical guide that enables me to place the implant in the exact position that I planned it on the computer screen. This allows me to reduce surgical time and trauma for my patients while improving implant positioning and the biocompatibility of the final teeth, which is really exciting!!!
If you are considering dental implants, call a Diplomate in the ICOI, someone with the advanced skills and training you want to provide your care. We are happy to discuss your needs, provide consultations and second opinions, and help you achieve your goals for oral health and wellness :^)
Ed Warr DMD