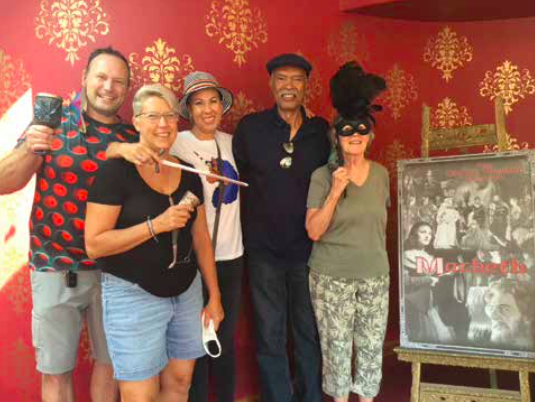 Escape Ashland
Escape Ashland Southern Oregon's Premier Escape Experience
Since 2017, Escape Ashland has been offering one-of-a-kind escape experiences with two that pay homage to Ashland's cultural and historical heritage. Since that time, Escape Ashland has amassed a loyal following of players of all ages and experience levels from Southern Oregon and beyond. 
In today's interview, I speak with local owner Kerri Franklin to learn more about Ashland´s very own escape room.
Hi Kerri, thanks so much for speaking with me today. 
Absolutely, Shields. It's been a few years since we last chatted.
Kerri, please take us back and introduce us to the concept for the escape room. Where does it come from? What does it entail and how does it work?
Escape games, also known as adventure or puzzle rooms, originated in the 2010s in Kyoto, Japan and not long after gained popularity in Europe. Players enter a space and have a set time to explore, find clues, solve puzzles and other challenges in order to "escape" the room. Many people still tell me they've never heard of an escape room before which is understandable since they are relatively new to the U.S.—the first opened in Seattle in 2013—but they are becoming more mainstream and often referenced or even parodied in popular culture. One of my favorites was an episode of Schitt's Creek when Alexis surprised everyone as a savvy and intuitive puzzler. That was hilarious! But I would recommend passing on the escape game horror movie—that is the exact opposite of an escape game experience!
Escape games started out rather simply with padlocks and hidden keys, but as players have become more sophisticated, games have evolved into using more automated technology and immersive design. We have found that the storyline is key, and we work hard to ensure the challenges and end goal align with the theme of the room. I wish I could say more, Shields, but no spoilers in this interview! 
Escape Ashland has been hosting great experiences for the past five years. Tell us about it. 
Yes, we opened our first escape adventure in 2017 called "The Audition," and in hindsight, having a unique, lighthearted theme that suited our locals and tourists was a key to our early success. The next year, we opened "The Ramblin' Rogue Saloon," which is based on an historic event in Southern Oregon in the 1880s. Although the usual lifespan of an escape game theme is three years, we are still going strong at the saloon. Our latest game, "The Scottish Play," is our newest game and is located on Siskiyou Boulevard next to The Stratford Inn. We've hosted visiting families, honeymooners, tourists, school groups, work groups and sports teams. One of our most memorable was hosting the entire SOU men's soccer team when the smoke was a barrier to team building on the field. We played 4 games back to back, and they were not a little bit competitive. 
This last year, rather than the bus loads of student groups, we've been noticing a different type of tourist. Many report they are drawn to Ashland for its natural beauty and climate as well as the charming downtown. 
In fact, just today we hosted a couple who got married in Hawaii but were honeymooning in Ashland!
Currently, you are hosting two rooms: "The Scottish Play" and "The Ramblin' Rogue Saloon." What are some of your favorite aspects of "The Ramblin Rogue?"
Well, the authentic pieces feel like one is stepping back in time. It features antique barn wood from my sister's ranch in Siskiyou County, authentic period locks, a player piano, artwork from the era and more that I'll keep as a surprise. I also love the storyline which is based on historic events. We truly couldn't have contrived a story more interesting than that of our featured character. 
How about "The Scottish Play?"
Once again, we let history guide us. This game is based on the theater lore of a certain "Scottish Play" by Shakespeare being cursed. Legend has it that one should never say "Macbeth" during rehearsal or else risk bringing bad luck to one's self or ensemble. It was a perfect opportunity to marry theatrical elements with Celtic symbols and imagery. No knowledge of Shakespeare or Macbeth required, but those who know the play will find some allusions to it throughout. What I love most about this room are its immersive environments and unique surprises. Once again, Kathy Kane and her electrical wizard son Zack helped with the design and technological elements while wickedly talented artisans from OSF (shout out to Amanda, Seren, Tasia and Ryan) created the scenes and props. It truly was a community effort making this room!
Those sound exciting. Please share some feedback from your customers.
Well, readers can take a look at some of our reviews on TripAdvisor and Google. I think the common themes are how much they enjoyed our hosts (who truly personalize the experience), the variety of puzzles and problem-solving opportunities and just having a lot of fun. We received a Certificate of Excellence Award from TripAdvisor based on the quality of reviews in 2019.
Tell us about your new virtual games.
A number of escape companies created "virtual" escape experiences by allowing players to solve the room via Zoom using a live "avatar" (usually the host). I was not ready to tackle that kind of technology, so I partnered with the largest escape game franchise in the country, "The Escape Game," to offer these high-quality games that you can book right on my website, Escapeashland.com. I have played with friends from NYC, Romania and Seattle. They do a spectacular job making you feel like you are in the room and have an abundance of themes to choose from, such as a museum heist, old west, Mayan ruins, and a new submarine game called "The Depths." The really cool thing is that they can host large groups safely! For those who cannot get enough escape games, this is a perfect option.
You also have a new take-home escape game. Please say more.
"Room 745" (a mystery) will be available in early November. Many of our locals have already played both of our current rooms, so we have purchased this portable murder mystery game from Escape Game NYC. It can be played in our party room where guests are welcome to bring in food and drink or it can be delivered to residences to play in the comfort of their homes. The game host remains available by cell should they need a clue. 
How has Escape Ashland fared during the pandemic?
Well, it has taken some resiliency and innovation, just as it has with most everyone whether at work or personally. We were closed during the restrictions on gatherings, of course, but are back to our seven-days-a-week schedule hosting groups. We were thrilled to see multi-generational families "back in the saddle" at the Ramblin' Rogue Saloon and in the theater at The Scottish Play last December, and people seem even more excited about spending time doing activities together than ever before. We have implemented some changes to our schedule so that there is greater time in between games to allow for ventilation and sanitization. We have always hosted private groups only, so that hasn't changed, and we offer masks free of charge. Our staff are all vaccinated and wear masks throughout, so we feel that our environments are as safe as spending time at home. 
Kerri, can you take us behind the scenes what goes into creating a really great escape room experience?
Well, it takes recruiting all kinds of talent to make the ideas come to life. I let a theme "percolate" for months, and then I seek out local folks who can make it happen. 
I don't recall ever hearing, "Kerri, you cannot do that," but rather the artists and builders always seem to find a way to create it. I'm really indebted to local carpenters, electricians, OSF technicians and artists, robotics wizards and of course my family who always jumps in to help. I also find a lot of my materials on Etsy where you can buy hand-crafted items from all over the world. All in all, it takes approximately four to six months to build an escape room, but the work is never done. We continue to refine the game play over time, such as adding new sound effects or modification of clues when needed.
How should one best prepare for an Escape Ashland experience?
No preparation required. Just come with your special "peeps" and then celebrate your success over a good meal.
Is the experience good for mixed ages?
Absolutely! We love hosting teams of multi-generational groups with grandkids and grandparents. 
Older folks find that they have problem solving or life skills that impress the younger set, such as reading a map or identifying a particular sound of an animal. One of my most memorable events was a gentleman in his 80s declaring, "I could do this every day!" And young people bring oodles of enthusiasm.
Kerri, what are some of your favorite types of hints and clues?
Well, I love that we provide written clues in a shot glass at the Ramblin' Rogue Saloon. Players get a real kick out of that. Plus they can decide whether or not they'd like to "partake" in a clue. Beyond that, the best clues are actually a puzzle in and of themselves and are not directive, if that makes sense. Our clever hosts have arrived at some "tried and true" clues based on guiding hundreds of groups through our rooms. And receiving a hint does not mean you aren't doing well—it's actually part of the fun.
How far in advance should one book an experience for the holidays?
Well, the day after Thanksgiving and days around Christmas tend to book up quickly, so I would say early in the month would be a good idea if folks have specific times they'd like to play.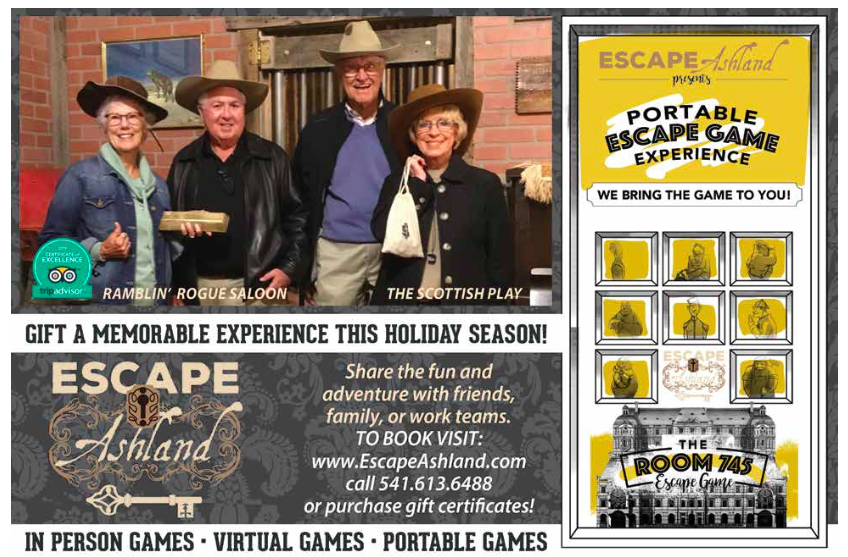 Do you sell gift cards?
Oh, yes! We offer many price increments on our web site under "gift certificates." They can be personalized as well. 
Are escape experiences good for birthdays or anniversaries or celebrations?
I think so. In fact, a good number of our games seem to be birthday celebrations or anniversaries, but it's also just a good excuse to get out and have a laugh. We take a fun souvenir photo at the end which people enjoy sharing or posting. 
This is also a great activity for companies.
Yes, we enjoy hosting corporate team building events. Many come to celebrate their employees over the holidays or just to thank them for all their hard work. We've hosted teams from Harry & David, Asante, First Interstate Bank, Rogue Credit Union, and Today's Dentistry. One dental practice booked two back-to-back games with two different "posses" at the Ramblin' Rogue Saloon. This allowed for a fun competition between the two dental suites. It was a blast seeing these work teams support one another and recognize the contributions of each and every member. Everyone has a chance to shine. 
Kerri, thanks so much for this wonderful experience that you have brought to our community. Do you have any last thoughts or comments you would like to share?
Just that we welcome potential guests to give us a call with any questions or special requests. 
Learn More: 
Escape Ashland
40 N Main St and 509 Siskiyou Blvd, Ashland
escapeashland.com
541-613-6488