After more than 2,000 auditions, Escape Ashland finally cast their stars and moved onto their next production, "The Scottish Play"! Locally owned and curated by Kerri Franklin, Escape Ashland hosts live escape games that have been wildly successful with both tourists and locals in Southern Oregon. What is an escape game you might ask? Read on and learn as I speak with Kerri Franklin.
Hi Kerri, welcome back to LocalsGuide and congratulations on three years of success with your escape games in Ashland. To begin with, will you please tell us what an escape game is?
Sure, I'd be happy to! Escape games are interactive activities set in a themed setting that involve teamwork and communication to solve a series of puzzles in order to "escape" the room. Puzzles can encompass a number of activities, such as making connections, logic, observation, word and number puzzles. An effective room challenges a range of problem-solving skills. Escape games started in Asia and are essentially an evolution of point-and-click games, live action games, and puzzle hunts. Games are timed to provide a sense of urgency that heightens the excitement and most last around 60 minutes.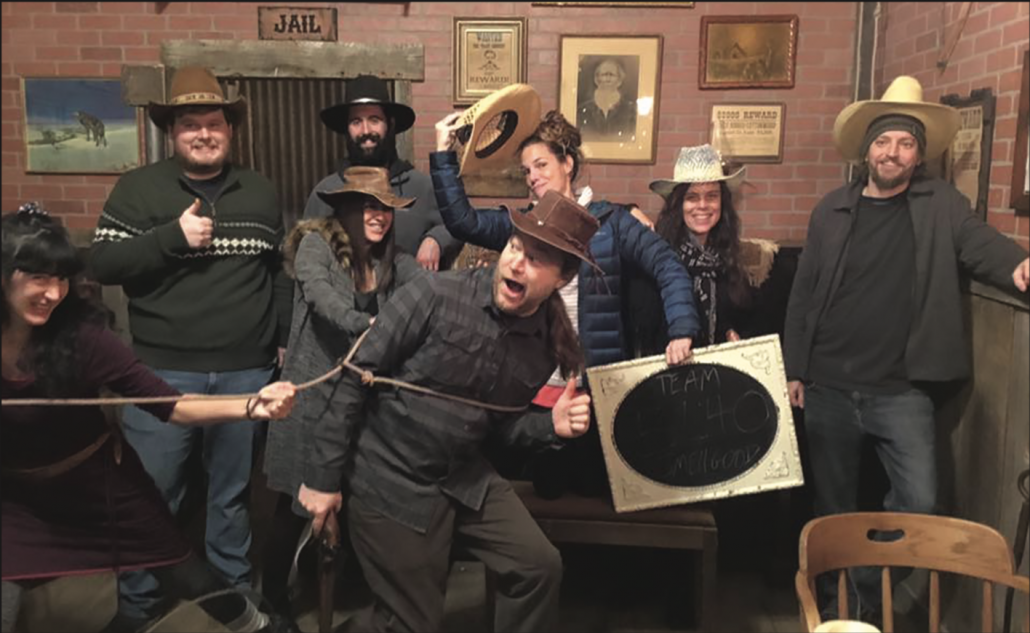 You originally became introduced to escape games when you traveled with your family. Will you tell us more about your experience, and what inspired you to create your own game? 
Yes, I first discovered escape rooms when searching for something to do on a day museums were closed. Then they became our go-to activity when visiting a new town. My two sons, Alex and Aidan, and husband Jeff have escaped from Alcatraz, a pirate ship, a haunted cabin, a stranded gondola, an Egyptian tomb, an art museum and more–with help from the game hosts, of course! The themes are endless, and each experience has brought us closer and taught us something new about one another. We hoped to bring that experience to Ashland, and we have been so pleased that our games are well received by families and groups of all ages.
You have currently run two successful games and are now working on the grand opening of your third called "The Scottish Play." Will you please tell us about each of the games you have created?
Our first game, "The Audition", was my son's idea. We wanted to create something unique that would be appealing to Ashland residents and tourists alike, and I definitely wanted to do something light-hearted and approachable. "The Audition" is premised on an audition for Henry V that is hijacked by an actor who is coveting the role for himself and locks the "actors" in the back-stage green room and has hidden the script. We included iconic images of various Henry V actors at OSF from the 1950s to current and incorporated elements that one would find in a dressing room/prop room and there are, as with most escape rooms, quite a few surprises.

Our second room, "The Ramblin' Rogue Saloon" opened in the spring of 2018, is set in 1880s State of Jefferson and is based on an actual stagecoach robbery. We incorporated period pieces to create the feel of a real saloon, including a player piano and, of course, a poker table. One unusual element that guests love is that we have a "barkeep" behind the bar serving clues and drinks to the guests, just as one would expect in an old western saloon. Guests don cowboy hats and western props for their celebratory photo, which makes a great souvenir!

"The Scottish Play" is based on the curse of MacBeth, well known in theater circles. The setting is an abandoned theater set in the 1920s, as another tragedy has struck a performance of "The Scottish Play." The players must solve the nature of the tragedy (is it the curse or something more sinister?) and must avoid saying the name of "the play that shall not be named." This project involves several immersive "sets" which have been designed and created by a talented and energetic group of OSF production artisans. Again, the game will have broad appeal for many. It has some fantastical elements, but is not grisly or scary.
Kerri, what are some of the thoughts and considerations that go into creating an escape games? I understand that they can be quite elaborate and take months to put together.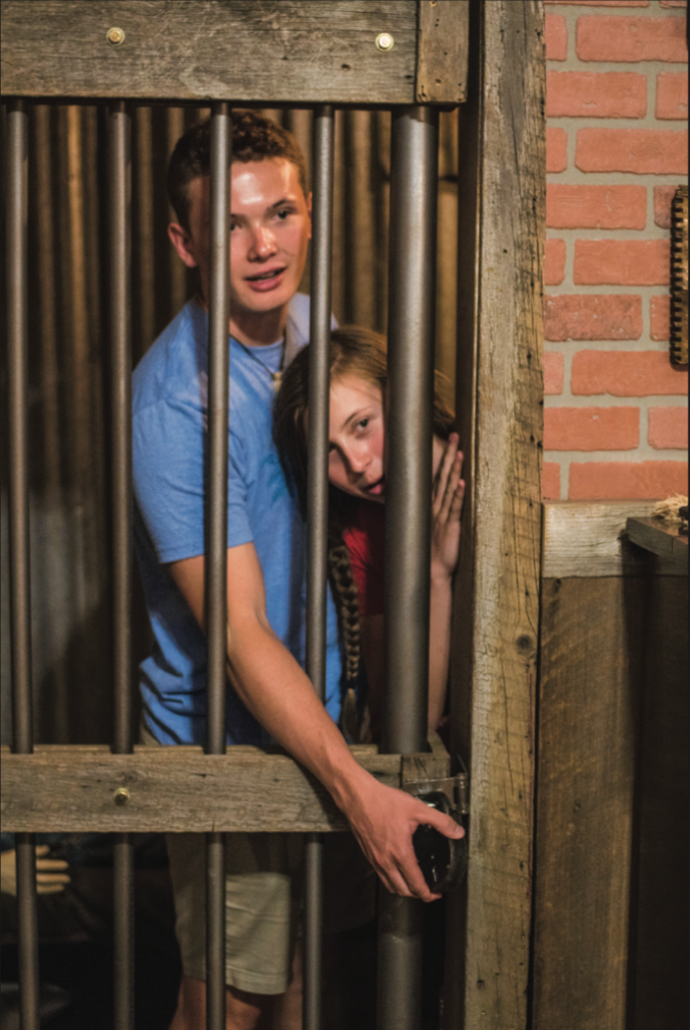 Well, yes, it does take months from the initial concept to opening, and in our case, we have found it takes approximately six months. The problem with this industry is that guests only play the game once and then they're excited to try another, so it is common to start working on your next theme just as you complete your last one! We are fortunate to have Kathy Kane as our construction lead who has built three escape rooms now, and she is great at creating props and scenes within the setting and have an element of surprise. We strive for an underlying narrative that creates an immersive and consistent experience, and we chose themes that are unique to Ashland and our community. The set-up is important (why are we locked in a room and what is our mission?), and then the elements of the room need to be consistent with the theme and setting.
This is a great team-building experience. Please talk more about the positive experience that arises from collaborative problem solving. 
Yes, escape rooms are a popular form of team building for work groups, sports teams and families. Employers are looking for an activity that suits all types of personalities and problem solving skills, and let's face it: not everyone is game for white water rafting or a ropes course! We have had great support from some SOU who bring their teams and Student Life groups and companies like Harry& David and Rogue Credit Union. Some smaller companies have their holiday celebrations with us.
This is great experience for families. Please say more.
We love hosting families – in particular multi-generational groups with grandparents and grandkids. Everyone can contribute and they leave talking about something new they learned about one an other.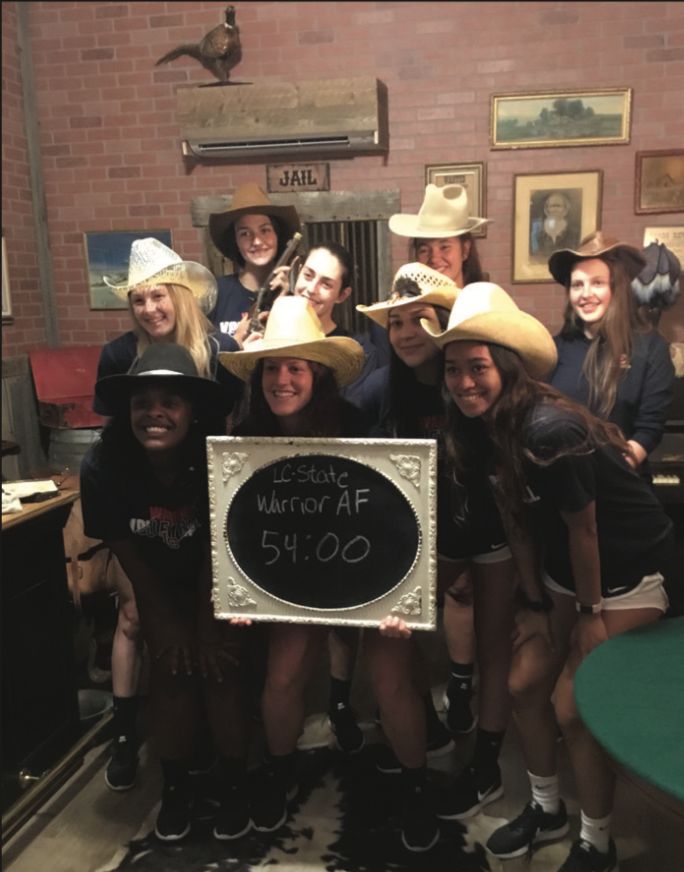 Will you please share some recent testimonials with us. 
Here are a few from Google:

Our host, Kyle, was friendly and inclusive (some of us were nervous). He did a great job of explaining the process and goals – right along with reassuring us that if we needed help he was there for us. Our family members were 18 to 80 years old. We all contributed and enjoyed the time together. The room was carefully decorated with theme appropriate furnishings. We knew Henry V so the references were delightful, but a prior knowledge was not needed to escape the room. There are a variety of puzzles and plenty of rewards for just being observant and nosy! Ashland Escape was an exhilarating hour of family bonding and fun. We can't wait to try "The Scottish Play" or "Rambling Rogue" when we are back in town! Oh yeah, we did escape – VICTORY!

Really Great Fun!
This was our very first experience in an escape room. I'd won a pair of tickets in a story-telling contest, so my husband and I decided to apply them to our Happy December play date. Since we both spend time in Texas, we felt drawn to the Ramblin' Rogue Saloon game. Naturally, I did a little preliminary research about escape rooms, so I knew to expect puzzles and code deciphering. When we arrived, our host, Hannah, dressed in 1880s style, cheerfully explained the process. We were being blamed for a crime we didn't commit, to be locked in a small jail cell and discover clues that would lead us out and eventually clear our names. The saloon is carefully decorated – so well that it felt like we were in a museum. "We're too polite!" we kept saying, somewhat ambivalent about rifling through other peoples' belongings. But ransack, you must! The clues that emerge are a compelling mélange of codes, problem solving, and the delight that comes with figuring things out together. Hannah, as the bartender, softly suggested clues when we got stuck. I can see where a few more "eyes" might have been helpful and in this process, although the experience was refreshingly engaging with just the two of us.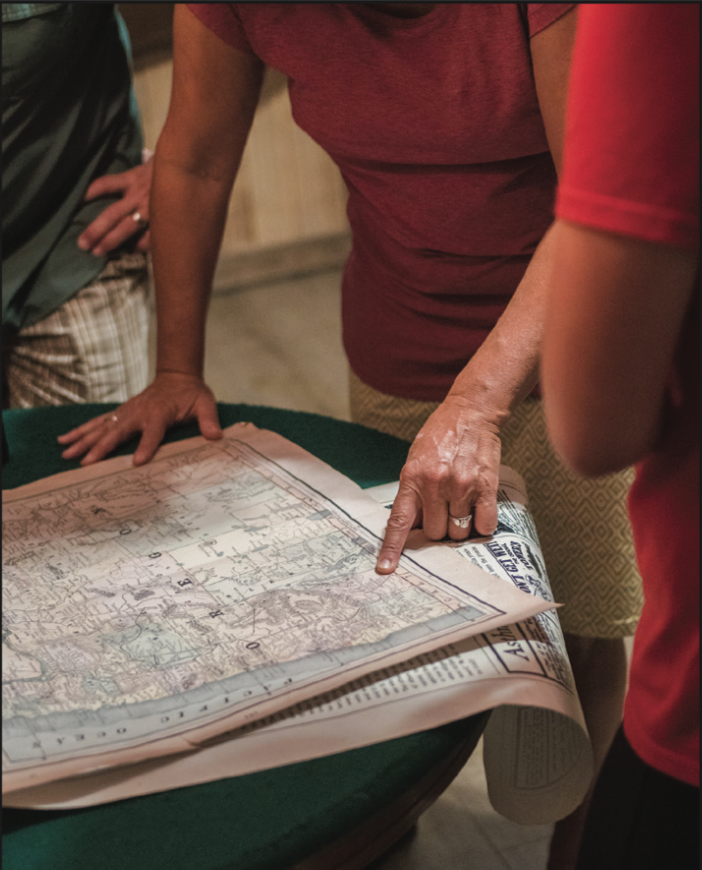 School groups can also choose to come explore the escape rooms.
Yes, we can accommodate larger groups by offering team competitions. Teachers and other chaperones find this an attractive complement to OSF trips as it is interactive and helps form bonds. We offer a scavenger hunt with augmented reality in downtown Ashland while students wait their turn, and they have enjoyed exploring Ashland as a result. We have found that many student groups are starting to add Escape Ashland to their itineraries. And, of course, we offer discounts for students everyday and deeper discounts for large groups.
What is required prior to entering an escape room?
Nothing is required. Just bring your sense of adventure and people you love spending time with.
Learn More:
Escape Ashland
147 N Pioneer St, Ashland
www.EscapeAshland.com
(541) 613-6488