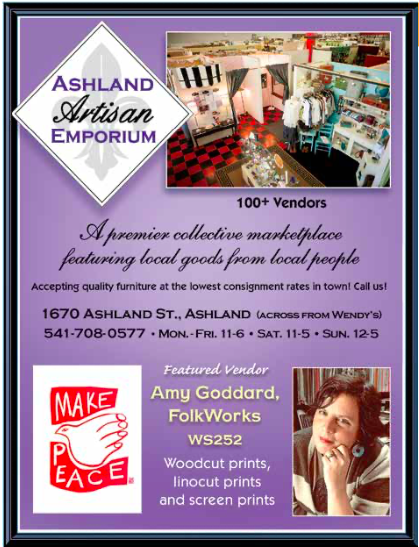 "To me art is a reminder of humanity, continually balancing light and dark in a composition," says Amy Godard as she erases part of her sketch she has been working on for an upcoming show. "I always try to get better at what I am doing. Practice and process are important to me. Making art is a natural impulse that I nurture by living a creative life and a steady artistic practice." While working mainly in the medium of printmaking, Amy makes woodcut prints, linocut prints, and screen prints. "I appreciate the medium of print because of the process of reduction. Hewing down not just the block, but the design as well, simplifying it as I go along."
Amy is a lifelong Ashland local and has lived here on and off for many years. "I was born here and have left several times but the Siskiyou mountains always call me home." While she identifies herself as an artist, she helps out on the family's small Organic farm. She teaches Art and is a youth mentor. "I love sharing what I do with others and watching them grow. Everyone has their own style and way to communicate through art."
Ms.Godard also likes to raise awareness to issues she cares about. "Printmaking has a tradition of being a part of social movements. My work strives to continue this tradition with images and partnerships I make." For example, Amy has partnered with Forests for Monarchs to raise money for reforestation efforts in Michoacan, Mexico. Through sales of her monarch print, 10 trees are planted in the area around the Monarch Biosphere Reserve where millions of monarch butterflies overwinter every year. For more information about this project go to https://forestsmonarchs.org.
Like many people, the pandemic has changed the way she does business. Last year she opened up space at the Ashland Artisan Emporium for her prints. "I found that the Emporium allowed me to have a perfect spot to set up that felt safe during the pandemic. Folks can find my work while shopping in a friendly environment full of all sorts of treasures."
You can also find her with the Lithia Artisans Market of Ashland, and through her website amygodard.com. Follow @Folkworks on Instagram to find out what she is up to.