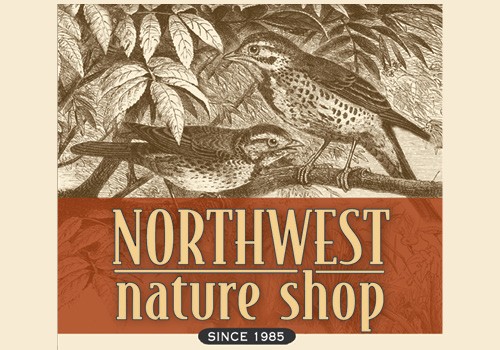 It has been a full and fun and successful summer here at the Northwest Nature Shop.  Thanks to all of you – new and old customers – who choose to shop here.  Summer brings many visitors through our doors.  Just the fact that we have visitors from all over the world reminds us we live in an incredibly special place.  We love the mix of people who visit us and ask us, "Where is the Co-op?" (these are definitely the visitors) or long chats about new birds seen over at Klamath or the fluctuations of goldfinches in your backyard (the locals).  We often comment to each other on the fact that we have the nicest customers ever.  Really, you all make our job fun.  Thank you for your fun stories, interesting questions, smiles, patience and support.
Our sincere goal of the Northwest Nature Shop is to promote the understanding and enjoyment of our natural surroundings.  We want to give you the tools to learn more about the trees, birds, rocks, wildflowers, and wildlife we see and hear.  We want you and your family and friends to spend time outside hiking, birding or simply relaxing outdoors.
Last week as I was opening the shop early one morning a regular customer came in, obviously in a rush, saying he was caught by surprise the day before when over a hundred Lesser goldfinches arrived in his backyard.  We quickly loaded 50 pound bags of thistle and sunflower seed in his car and he hurried back to his house to fill his feeders to keep those stunningly beautiful goldfinches happy.  In the days following, we had a run on all types of bird seed.  Goldfinches can be found at feeders any time of year, but most abundantly during fall and winter.  Just in time, we are offering our annual Bird Seed Sale.  Stock up now on high quality wild bird seed to keep your backyard filled with fascinating and beautiful birds throughout the season.  Pre-order seed starting October 1st.  Pick up seed October 25th-31st.  Come into the Northwest Nature Shop for an order form.
Fall is an exciting time because in addition to more birds in the area, we also have Fall mushrooms popping up.  To celebrate come to the annual Fall Wild Mushroom Show on Saturday October 18th, 12-4 pm.
Fall is the time when you can find chanterelles, amongst many others.  We will have our annual Fall Wild Mushroom Show on the patio in front of the Northwest Nature Shop to show what mushrooms abound in the Fall here in Southern Oregon.  This is THE time to identify what those mushrooms are that pop up in your yard or the ones you see while hiking in the woods.  Bring your sample into the Northwest Nature Shop during the Fall Wild Mushroom Show and Mycologist, John Teem will be here to help you identify it.  We will have a variety of locally collected mushrooms on display as well.
Once again, we are offering 2 Guided Mushroom Hikes on Sundays October 12th and 26th.  To learn more about our local wild mushrooms, join local mushroom expert, John Teem as he offers his expertise and guides a walk in search of mushrooms. The emphasis will be on finding fungi and learning something about identification and the diversity of mushroom species. Edible and poisonous varieties will be discussed.  Typically, mushrooms abound at this time of year.  Meet at The Northwest Nature Shop, 154 Oak St., Ashland at 10:00 am.  Cost is $25 per person per walk. Space is limited so sign up early!