Ashland has developed a reputation for being home to outdoor enthusiasts and nature lovers of all types. If there were a capital of sorts to represent the culture and spirit of this aspect of Ashland, it would have to be the Northwest Nature Shop. Recipient of this year's Ashland Chamber of Commerce Retailer of the Year award, the Northwest Nature Shop is locally owned and is now celebrating its 34th year in Ashland. In today's interview I meet with Marie Caballero Uhtoff who along with her brother Chris, and mother Kathy, run the store here in Ashland.
Hi Marie, thanks for talking with us today, and welcome to LocalsGuide!
Thank you, Shields. I love reading your profiles of fellow local business owners and learning more about them. So thank you for reaching out to us.
Marie, many locals know the story of your store and family, but for those who do not, will you please tell them?
I have a vivid memory of moving to Ashland with my family in a friend's borrowed horse trailer during a snowy Spring Break over 30 years ago. My brothers Chris and Pat, and I complained incessantly about leaving our friends and home in Portland to the unknown of a small rural town in Southern Oregon. Our parents, Mike and Kathy Uhtoff had quit their jobs at Portland Audubon to realize their dream of opening a Nature Shop. All five of us moved into the tiny upstairs apartment while downstairs my parents worked day and night to open a Nature Shop that would be a community gathering spot for those who had a passion and curiosity for the natural surroundings. The Northwest Nature Shop would aim to educate and inspire a love for the natural world. In addition to opening the shop, my Dad led birding and geology field trips all over Southern and Eastern Oregon as well as spearheaded local environmental and conservation organizations. My Dad died 10 years ago after suffering the cruel and devastating effects of Alzheimers.

After those initial adolescent complaints about leaving Portland, I'd say my brothers and I adapted quite well to our new surroundings, maybe too well because 30 plus years later my siblings and I still live here in Ashland, I convinced my husband Smit to leave his native Mexico to raise our 3 kids here and we all couldn't imagine a better place to work and live.
The Northwest Nature Shop has always been a community center for the outdoor enthusiast and nature lover in Ashland. Please say more. 
We feel outdoor education is the foundation of preserving and protecting natural areas. We hope in a small way to contribute to helping our customers learn more about the natural world and thereby being advocates for protecting wild natural areas.
How have you and your family gone above and beyond to design the store to be a friendly and fun experience?
The shop is in a one hundred year-old house with lots of natural light, an outside patio, and a big alley we can use for events. It caters to being a friendly, cozy, and fun place. Kids dart straight back to the toy department where they can swing on our indoor swing, make creations with our building toys, juggle or sit in the indoor hanging chair with a book. Parents and grandparents then browse through our rock and mineral collection, books, and gifts. My brother is a music aficionado so thankfully he spends hours upon hours creating playlists which then all of us at the shop and our customers greatly appreciate. Just yesterday, a customer said he didn't want to leave because he wanted to hear what song came on next. 
The quality of the products and craftsmanship you have in your store is exceptional. Please talk about how you select and curate the store.
Imagine your family sitting around the dinner table and having to come to an agreement over hmm… the best pet to own and the answer must meet an extensive list of criteria. I don't know about your family's dynamics, but for us, we have strong opinions and coming to an agreement can be a painstaking process. Now imagine doing this for every item we sell at the NW Nature Shop. You can rest assured that every single product we sell in our store is the result of a very conscientious decision making process. We go over its virtues, how it fits into our store, how it is made, where it is shipped from, why it is useful, and how it will bring joy to our customers. I know there is an easier way to purchase products for a retail store but we couldn't imagine doing it any other way and an added bonus is my communication skills have improved immensely! I have to sit down with my brother and come to an agreement every day – that's not an easy task. It definitely isn't the most time-efficient, stress-free method of running a business, but it results in a very high standard of products that you feel good about purchasing for yourself or giving as a gift.
I love the reviews that you write and share about many of the different products.
Once we finally find products for the shop I can't wait for our customers to see them. I want to share with them why they are so great, why you need them, and why they'd make the perfect gift.

That's why I write little cards about the absolute best squirrel-proof feeder or the adorable folk art donkey made from recycled metal or the eco-chic hemp wallet that will last for years, or the ultra soft, absorbent dish towels made by refugees in New Mexico. Often the reason I love a product is the back story so we like to share that story with our customers.
You yourself have been able to test many, if not most, of the toys with your own kids. 
My three kids, Lena, Luis, and Leo have grown up in this store. Hey, actually I even grew up in this store! Crazy. We test every toy. My husband has launched the baking soda rocket a thousand times with our kids. They've spent hours upon hours outside on the obstacle course, the Ninjaline. They test the gliders from the second story of the shop, make a huge mess mixing slime from one of our science kits, build elaborate creations with Magnatiles, and create dozens of potholders from the potholder loom. My brother Chris is often the most excited when we get new toys. He tests the yo-yos, kites, and every flying toy. He also has the patience to read all the instructions for the new games and then teaches us how to play them. There's always some toy or game tucked behind the front counter that we play with when we're not helping customers.
First Friday is always a big event at your store. Please say more.
First Fridays have evolved into a community party with food trucks, live music, and local vendors and non-profits selling their goods. With the combination of Bestow and Bloom next door and then Ruby's and Gil's just around the corner, our little part of Ashland has become the liveliest place to be on First Friday.
Do you have any big recommendations for this holiday season?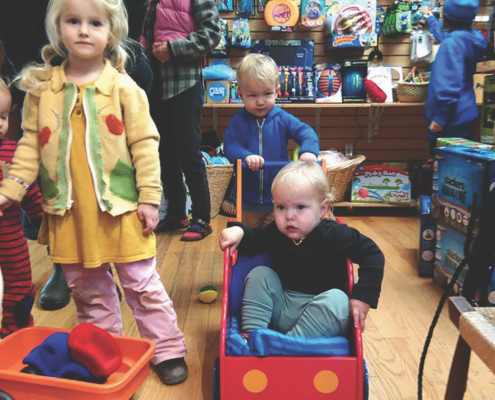 First of all, support our locally owned businesses. The only way we can have a vibrant, thriving downtown is if people choose to purchase their books from Bloomsbury or Book Exchange instead of Amazon, if they buy their running shoes from Rogue Valley Runners, their toys from us, their jewelry from Crown Jewel, their travel goods from Travel Essentials. You get where I'm going right? It really does matter where you spend your money. If you want to support your community, support your local small businesses. Plus it is so much more enjoyable doing your holiday shopping while walking around our beautiful downtown.
Are there any last thoughts or comments you would like to share with our readers?
We know you have a lot of options for where to purchase your books, toys, cards, bird feeders, wind chimes and gifts. We so appreciate our customers who choose the Northwest Nature Shop. We love seeing our customers rush in on Saturday morning for a quick birthday present on the way to the birthday party, or the grandparents who buy all their gifts for their grandchildren from us, or those early morning customers who need birdseed because their feeder is empty and just slip the money under the door because we aren't open yet. Without your support, we couldn't have survived 34 years. Thank you.
Learn More:
Northwest Nature Store
154 Oak St, Ashland
www.NorthwestNatureShop.com
541-482-3241