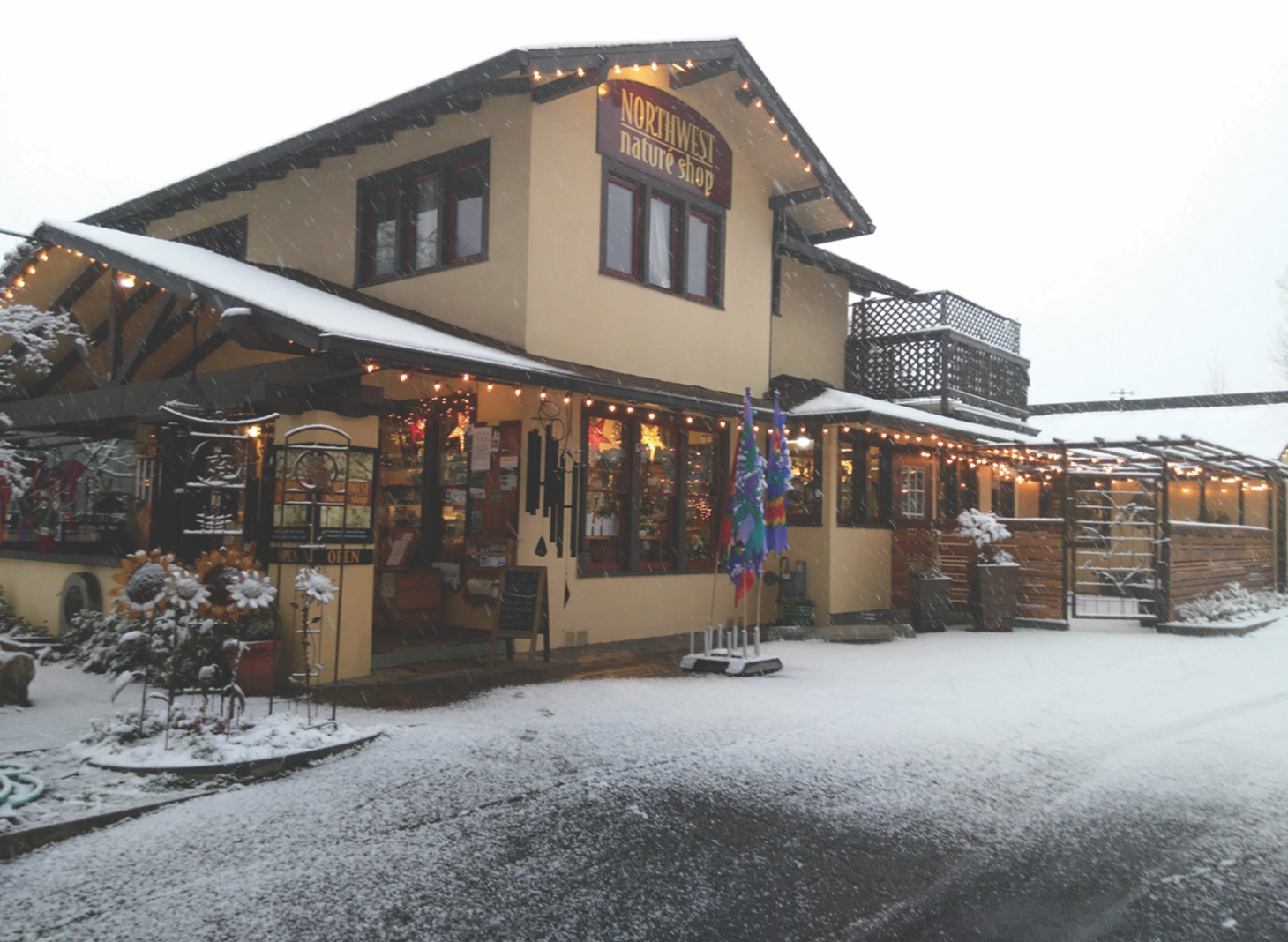 Interviews
Northwest Nature Shop Gifts, Toys and Tools To Inspire A Love & Curiosity For The Natural World
Now celebrating their 33rd year in Ashland, the Northwest Nature Shop is your one stop shop for interesting toys, gifts, bird feeders, guidebooks and more. Founded with the goal to inspire a love and curiosity for the natural world, the Northwest Nature Shop is family owned and run. In today's interview I speak with Marie Caballero Uhtoff about the history and offerings that the Northwest Nature Shop provides our community.
Hi Marie. Thanks so much for speaking with me today. I know I am not alone in saying that I love your store!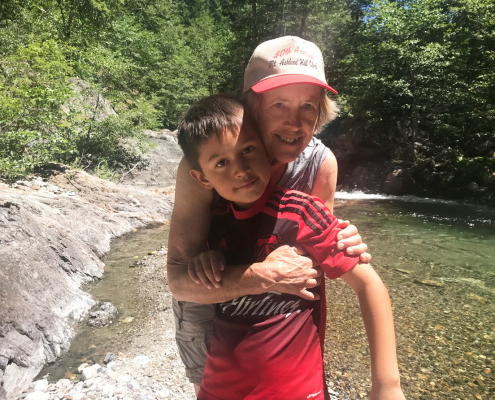 Thank you, Shields. We love LocalsGuide. It's always fun seeing pictures of our friends and neighbors and learning more about what they do.
Marie, something that I love about your store is that you've already done all the hard work for me. I've just got to decide on which items I want!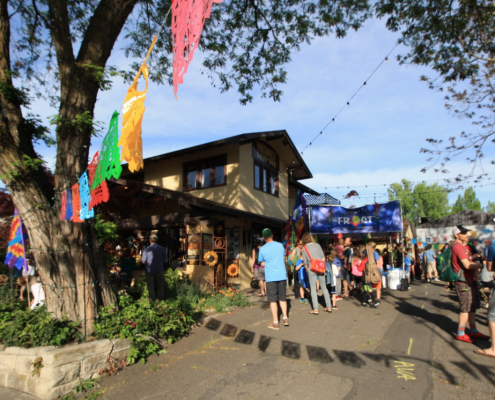 We spend days and days at tradeshows walking up and down aisles looking at products, talking to manufacturers, and deciding what we want to sell at the Nature Shop. Often when we are at trade shows we see a vendor with the newest "hot selling!" item – the salesmen tells us the last store that bought them sold 1000 in a weekend and we think "that looks awesome, we'd sell a ton of those!" But then we put on our discerning 'NW Nature Shop" glasses and we really think about it – how was it made? How long will it last? How is it packaged? How will it benefit the recipient? My Mom, Kathy, my brother Chris and myself discuss everything we sell at the shop. Sometimes I am amazed we can find an entire store-full of toys and gifts that fit our strict criteria of well made, minimally packaged, and have lasting value.
So many of the toys and gifts are simply classics! 
I have 3 kids, Lena 13, Luis 11 and Leo Michael 7 and yes, we've had our share of cheap toys that break immediately. It absolutely pains me to throw those away and see how wasteful that is. As a retailer I don't want to contribute to that waste. For that reason we sell puppets, board games, art supplies, swings, kites, books, marbles, Rubiks cubes, ziplines, slack lines, obstacle courses for your backyard – toys that a child will play with for years and engage their curiosity, imagination and physical development.
Tell us about some of the new toys you have brought in for this season?
My favorite toys are the ones I see my kids and their friends playing with – the Ninja line – a hanging obstacle course that my kids play on for hours, also climbing holds that you put on a tree that turn your tree into a climbing wall, or a platform swing – one that comfortably fits up to 4 kids that they can sit, stand or lie on. I also love our selection of baby toys that are made of natural materials- wooden toys from Germany, natural rubber bath toys, bamboo spill-proof bowls, stainless steel bottles, indestructible baby books.
Exploration and the love for nature has always been a huge part of both your life and your brother Chris's, life. How have you shared this passion with your own children? How have you shared it out into the world via the store?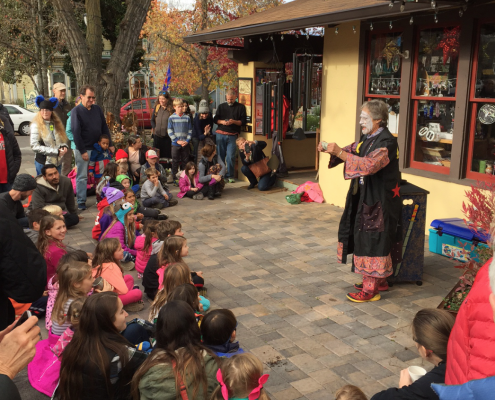 My father was passionate about conservation of natural areas and incredibly curious. He hiked with a 50 pound pack filled with a guidebook for everything – plants, birds, rocks, trees, insects, reptiles, you name it – he was definitely not part of the ultra-light philosophy. It would take him hours to hike one mile because he'd stop so frequently to look just a little closer at the bark of a tree, or the wing of a butterfly, or the formation of a rock. Our parents took us hiking and backpacking ever since I can remember which as an adult I am profoundly grateful for but as a young child, I would complain incessantly about the miles on the trail. Thankfully my parents (and my brothers and everyone else along with us) ignored me and continued to take me into wild areas. My older brothers Pat and Chris are expert naturalists and extreme adventurers. Now as an adult, I am happiest outside in wild areas – we backpack as a family, camp and give our kids the freedom of open space – at this point I don't know who enjoys it more – me or my kids.
In our store we want to inspire people to go outside and explore – and to create homes that are connected to the outside world with bird feeders that attract goldfinches, hummingbirds, woodpeckers and a variety of birds to your backyard and for kids to have swings, binoculars, games and toys to encourage them to be curious about what is outside.
The Northwest Nature Shop is always hosting amazing events and gatherings. Please tell us about some of them.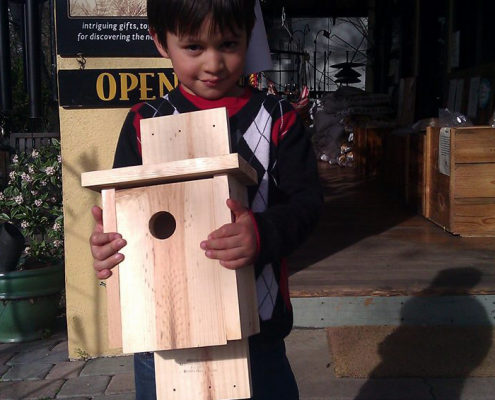 We host events year-round – guided mushroom hikes, presentations by local experts – whether it is someone who hiked the PCT and will share their experiences to inspire others, or local forest ecologists who talk about fire ecology and fire management. Upcoming in the winter we host an outdoor holiday market with Santa Claus, a Holiday Open House on "Black Friday" as an alternative to waiting in lines at absurd hours in Medford – our Black Friday is a day of wine and food tastings, crafts for kids, magic shows and music. We also celebrate Small Business Saturday and First Friday with food carts and local artisans and musicians. Honestly our aim isn't just to be a retail store; we want to create a welcoming community place for gatherings.
Marie, can you share some holiday wish list ideas for our readers?
For adults, everyone in Southern Oregon should have guidebooks of where to go to hike, camp and experience nature. We have an incredible abundance of natural places in Southern Oregon that even those of us who have lived here our entire lives do not know about all of them. We honestly have gifts for anyone you'd possibly buy a gift for – beautiful handmade earrings for your sister, a solar camping light for your uncle, a wind chime for your mom, and the best toy selection around. If you want your kids to spend less time on screens, I guarantee you, you'll find a toy at the NW Nature Shop that will excite and interest them.
Whatever holiday gifts you buy, we hope you choose to buy from local independent stores who work hard to keep your dollars in our community.
Do you have any last thoughts or comments for our readers?
The NW Nature Shop continues to thrive because of our local customers. I hear often from our customers who say "thank you for being here…thank you for having this shop." But I say thank YOU for choosing to shop locally, to make the conscious effort to not shop online, and to allow us to have this business.
Thanks for speaking with us today.
My pleasure. Thank you, Shields.
Learn More:
Northwest Nature Shop
154 Oak St. Ashland
www.NorthwestNatureShop.com
instagram: @northwestnatureshop
541-482-3241