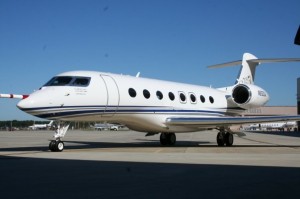 Okay so today's car-of-the-month really isn't a car at all. It is more about transportation. We all know a car in its simplest form is designed to get you from point "A" to point "B" reliably and safely. Some cars will get you there more quickly than others, and some will get you there in style. Most the cars I have written about in LG carry hefty price tags and are more about enjoying the automotive experience as opposed to getting the kids to school and bringing home groceries. Some folks would rather not deal with a car at all! With all the expense of maintenance, insurance and of course that precious rare commodity known as gasoline, I really can't blame them for riding their bike or taking the bus when needed. However, if point "B" is in the next state or better yet, the next country, even the fastest most exotic super car is better left in the garage. It's time to call up the pilots and ready the Gulfstream III.
Still in the dark, don't know what a G-III is? Well it is the third iteration of an executive jet built by Gulfstream Aerospace and specifically designed for corporate air travel. Produced in the early eighties and powered by two Rolls Royce turbojet engines each producing 11,440 pounds of thrust, the G-III was truly the hotrod of its day. With a cruising speed of 528 mph and a range of over 3500 nautical miles flying coast to coast is no problem. Don't like to travel alone, why not bring a dozen of your closest friends with you! You are going to need them to chip in for gas because this aircraft carries over 3000 gallons of very expensive diesel and burns over 500 gallons of it each hour. If you are wealthy enough to own one of these bad boys who cares about fuel consumption and cost? Leave your friends at home and take the dog to New York for a walk in Central Park and dinner at Carnegie Deli. The cabin Interior appointments' rival that of homes debuted in Home Magazine with leather, exotic wood veneer, and gold plating everywhere you look. With couches that turn into beds, chairs that make La-Z-Boy's jealous, a full galley and bathroom this is really the only way to travel.
This G-III spied in an undisclosed location is a little long in the tooth but is still as sexy as the day it first flew. She's had few upgrades over the years including a "hush" kit which is supposed to make it a lot quieter for take-off and landing at noise sensitive airports. It's basically a million dollar muffler for jets. It takes two pilots to control her and there is usually an attendant to tend to the deserving passengers. On longer or overseas flights a technician may fly with the aircraft to take care of any "mechanical" issues that may arise while away from home. This technician is adorned the glorious title of "flight engineer" when traveling on these longer trips. How do I know this you may ask? I flew on an aircraft just like this to Moscow and stayed long enough to see the Kremlin, Red Square, and have dinner. I was the "flight engineer".
Happy motor-uh– flying!!!!