Interviews
Happiness Coaching via Neuro-Linguistics A Modern and Sophisticated Form of Hypnotherapy
"I will guide you how you can choose
happiness for absolutely no reason … rather than upset about it all." Renée Miereanu
—
Founder of The Breathe Center in 1982, Reneé Miereanu began her private practice on the Big Island, Hawaii, living there for 14 years, after studying at university in Los Angeles, CA. She continued her education, personal counseling and coaching in Seattle for another 14 years before moving to Ashland, Oregon. She is a master of Neuro-Linguistics, Clinical Hypnotherapy, self-hypnosis training, self-esteem enhancement, stress management, 12-Step support, weight control and women's issues. Other methods include the use of Interactive Guided Imagery, insomnia prevention, Behavioral Modification, and Advanced Ericksonian Hypnosis, Inner Parts Dialogue, sports performance, retired couples counseling, fears and regrets, cognitive and transpersonal techniques and much, much more. She creates personal counseling with customized approaches for each individual client to transform their problems into strengths. She specializes in Neuro-Linguistics and Advanced Hypnotherapy and she is a Happiness Coach. Her expertise is in writing three programs, creating the successful tobacco cessation method Breathe®© that assists people to easily stop smoking and using chew tobacco. 
Hi Renee, thanks so much for speaking with us today and for being a part of the LocalsGuide!
I am grateful for this opportunity to be recognized in this gorgeous forum. The LocalsGuide is such a wonderful addition to our precious Rogue Valley community. Thank you so much for inviting me to speak with you and your dedicated readers.
Renee, please begin by telling us a little bit about your life and training.
I was born on the East Coast, grew up in Texas, moved to Los Angeles, California and mothered 3 children. My three children are now grown and I have three beautiful grandchildren.
I was nationally certified 30 years ago with the American Council Hypnotist Examiners as a Master Hypnotherapist. I then moved to the Big Island, Kailua-Kona Hawaii, and lived there for 14 years offering NLP, hypnotherapy and counseling services to individuals and groups. I was also licensed by the State of Hawaii Department of Health as a Certified Substance Abuse Counselor. Eventually I also became involved with Hospice and beloved Death and Dying work. Then in 1995, wanting to bring my work to this continent, I moved to Seattle, where I was a Washington State Registered Counselor and State Registered Hypnotherapist in private practice for another 14 years.
I also participated in a two-year certification with Robert A. Masters, Ph.D. in Integral Psychotherapy and Gestalt therapy in British Columbia, Canada.  
While living in Hawaii I traveled abroad and took a myriad of trainings from great teachers including: Tibetan Buddhists, Hindus, Siddha Yogis, Hawaiian Huna, Christian, Native American and Mystical Jewish Tradition Kabbalah. I traveled to countries such as Canada, Egypt, Israel, India, Thailand, and the Caribbean. I could mention details of my studies with Elenore Field, Ph. D., Dr. David Cheek, T. Harv Eker, Satyen and Susanne Raja, Werner Ehrhardt, first generation students of H. Erickson, M.D. I studied Chaplaincy with the beloved Reverend Pandora Canton and Father Joel Maiorano who are here in the Rogue Valley.
What first brought you to Ashland and why did you decide to make this your new home? 
I came to Ashland to attend a Gestalt therapy workshop with Robert A. Masters, Ph.D. I was only in town for several days and fell in love with gorgeous Ashland and the wonderful residents, art, culture and theater. I almost instantly decided to move out of Seattle. I've been living in Ashland now for 9 years and actively running my Master Neuro-Linguistics, Spiritual Counseling, Happiness Coaching and Master of Hypnotherapy practice.
I think being of service is very important so I also began volunteering one day a week as an all-denominational Spiritual Care Chaplain and Spiritual Counselor at Rogue Valley Medical Center for Asante Ashland Community Hospital for 7 years. I also had the opportunity to volunteer at The Rogue Valley Manor as a chaplain there. These have been such precious experiences of opening my heart into unconditional love as I am with the dying or gravely ill patients and their families. This has taught me more about many different religions and beliefs and also many, many people who have no religious affiliation. Most of all it has taught me to appreciate life and be grateful for each moment of our lives and each person I encounter.
Tell us about your experiences in prison. (Wow!)
After I moved to Seattle, I volunteered in a full-security prison for 11 years, while continuing to have my therapy practice on the side. I began my 5-year facilitation of a two-day group Gestalt Seminars entitled Love and Forgiveness. I co-facilitated this group with my mentor Leonard Shaw, M.S.W. I sponsored many volunteers from outside the greater Seattle area who had attended the training and were inspired to help.
This seminar was done in a circle with inmates and their families: parents, wives or girlfriends, and children (if they were over 18) if they chose to invite them. Under our guidance, we did art and other group exercises. One of our exercises was to help inmates experience their crimes through their victim's eyes. There were two chairs in the center of the circle where an inmate would sit and experience their crime, in the now moments and then move to the other chair to think about their own victim's experience. At times, family members would literally do the work with them or other inmates would play roles for the one in the center. Amazing healings and forgiveness occurred.
Most of our students were in prison for life sentences with, or without, the possibility of parole. Their crimes included murderer, gang violence, drug offenses, drug dealers and three strikes offenders. Most of their crimes were done under the influence of alcohol and/or drugs. We also worked closely in cooperation with the prison staff, warden, and correctional officers.
I loved serving these prisoners, assisting them to release their self-punishment so they could become loving contributors in their community, and live more productive lives as they served out their sentences. They loved and respected Leonard and myself and demonstrated that by their work in the seminars.
Renée, over the course of your life you have had the opportunity to meet and work with spiritual teachers. Please say more.
Yes, I have met Tibetan Buddhist Dechen Lama Yeshe Wangmo, Lama Tarchin Rinpoche and young Anam Rinpoche when he was still a young monk. Studied the Vedanta teachings of Nisargadatta and Ramana Maharshi. I now continue to study with my young Dharma teacher and Yogini Paige Cogger who lives and works in Ashland. I met Ram Dass (formerly known as Richard Alpert, Ph. D. former Harvard professor) whom I deeply respect and love with all my heart. I met Mother Amma ~ Mata Amritanandamayi Devi "the hugging saint" in the year 2000 and continue to hold her as my Spiritual Mother.
As a part of your interview today we are curious about your identity as a Happiness Coach. You told us you teach people "How to be Happy … in Spite of It All." Please tell us more.
Anyone with whom this resonates is welcome to call and schedule your first private appointment. If this philosophy interests you I'd love to work with you to explore our lives in many ways. I will assist you in knowing how to practice being unreasonably happy in your now one moment at a time.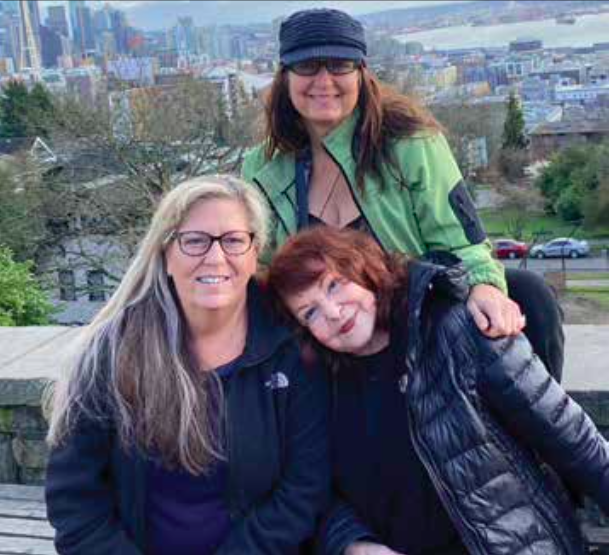 Renée, what do you see as the foundation of happiness?
This philosophy is about becoming unreasonably happy rather than reasonably unhappy. As Amma said, "The Mind is a very effective tool. We can use it to create both hell and heaven, it's about choice." It's a natural instinct for everyone to strive for happiness. However, society has us thinking that if we keep looking for something to make us happy we will find happiness. Including looking for the right person, the right car, the right house, the right dessert, etc. Certainly, if our relationships are not going well, our financial situation is not optimal, or our job is not serving us, we rely on the external things to determine whether we are happy or unhappy. So, I asked myself this question, 'Is that true?'
I thought about it and that when we rely on the external situations we are giving our power away. We tend to create happiness when persons, places and things are going well and unhappiness when they are not. Think of the amazing power we give to our partner, friends or our parents. If they say one little (or big) thing, then our happiness evaporates away in seconds. Everyone who has important input into our lives seems to have control over our happiness.
Not only people, but also random events like the economy changing, harsh weather, smoke, or other occurrences that are completely outside of our internal control. I say, be happy for no reason. Just be happy. Let your internal state be the part of you that determines your mood. 
You cannot control those external factors, but you can control your internal emotions, thoughts and feelings. This does not mean you should push away your emotions or feelings, instead you need to keep in mind that the duration of most of our feelings can change.
I knew someone who said, "I want to live with the intensity of life and not the mediocrity of a boring emotional landscape." There is a place without highs and lows, which is an emotional middle ground. There is a place of peace and happiness. Even though we do not consciously know it, we choose to create our emotions 100%. 
When we are aware of this fact, we are more stable and less likely to be knocked off balance by external forces. Consider not going for extreme emotional intensity but going for stability and lots of fun. It may be time to choose safe and enjoyable adventures such as camping, sailing, hiking, boating, and maybe travel to unusual places.
Over the past 40 years, I have studied with Buddhist, Hindu and Christian teachers and it seems like these people are rarely moved from states of happiness, because they are grounded and strong in themselves. They have the knowing that external circumstances do not shake them. Their lives are full of sincere, peaceful laughter and smiles. It is a fact that cannot be disputed; there is stability in the eternal NOW moment. We all are capable of practicing joy no matter what is happening around us! Be unreasonably happy, choose to be happy for absolutely no reason at all. It does not take years of sitting in meditation to do that with my Breathe Methods of Eastern Philosophy for the Western Mind that I have been learning and sharing for many, many years.
Renee, please talk about the transformations that you observe in your thousands of clients.
This is the biggest thrill to observe in my business and my life. It is a daily practice, not necessarily to sit in meditation for 10 to 30 minutes, but being sure your thought process is intentionally loving and accepting of your Self. It is about the teaching of being comfortably aware of your moment-by-moment thoughts and re-directing them towards acceptance. I love this quote by Bill Wilson, "Acceptance is the answer to all of our problems today. Unless I accept my life completely on life's terms, I cannot be happy."
Renee, you are also working with organizations to have more connection rather than competition.
Many people do not realize they are following a pattern of what their parents did, and this happens in all kinds of relationships. When there is intimacy with couples they unconsciously regress into a sort of sibling rivalry or mother/father issues. 
When I work with couples I want to bring them into awareness of these unconscious patterns so they can be more grounded and stronger within themselves. I help them to become more giving, without becoming doormats or bullies. A lot of this is about learning how to move into the moment rather than being stuck in the past or being fearful of the future.
"The past has disappeared forever and the future is imaginary, all that exists is this now moment." Please explain this statement.
In our brain we make up all sorts of fantastical stories that create stress.
Stress is such a generic word, but when we work through the thoughts and incidents from our past that cause the stress, we can find more ways to be calm and peaceful. This is where unreasonable happiness is found.
Stress is suffering; when we feel suffering we miss the beauty of Life. We all have the right to be happy no matter what is going on in our lives, in our country, in our work, the planet, the government, etc. One of the keys to unreasonable happiness is to be entertained by your mind's thoughts instead of getting caught up in its made-up stories. This work is gently re-parenting and retraining the mind to be happy. Yet, it's important to feel everything and not suppress your feelings. In this work you will be surprised to see, feel, and hear yourself suffer less so that more unreasonable happiness occurs.
Renee, please tell us more about your tobacco cessation programs and how you discovered the Breathe®© method.
I am happy to tell you all about the Breathe®© method because over the years, thousands of my private counseling clients have taught me how to teach my future clients how to stop using tobacco in the easiest and most gentle ways possible. First, you will be thrilled to know that you get to continue to use tobacco to quit smoking or chew or snuff tobacco! I believe that tobacco use, as in any drug addiction, is an emotional, as well as physical, addiction. So, I assist you in gently adjusting your physical addiction and then we work specifically, and kindly with your emotional addiction. My private practice clients usually buy a one-month series of sessions so I can support them in stopping and staying stopped for good and for life.
I am collaborating closely with my contemporary as my editor, Nancy Walsch (C. Ht. who specializes in EFT tapping therapy) on three illustrated, fun, books I have researched, authored, and toiled over for several years. I'm happy and excited to announce that these three individual programs will be offered for sale before Christmas, on the Internet, to several English-speaking countries. They are entitled "Breathe, The Easy Way to Stop Smoking Especially For Women," "Breathe, The Easy Way to Stop Smoking Especially For Men" and "Quittin' Spittin' The EASIEST Way To Stop Chew Tobacco." They will each include two audio MP3 self-hypnosis meditations that I have recorded in studio for each program, as well as an application for the phone and a few videos that are in progress as we speak. I am, of course, offering specifically designed, in-person, private sessions as well.
Will you share some recent client's testimonials about your work with us?
"Renée surprised me with logic that helped me to overcome and improve issues that I've had for 20, 40 and 50 years … and for good! She explained in easy-to-grasp ways that my issues did not magically appear and to understand they don't just magically disappear by trying to do this work by myself. 
Again, I want to emphasize that although her techniques are called hypnotherapy ~~ they are not magic or hocus-pocus … although sometimes they felt magical." ~Doug F ~ Ashland
"I have always been a gal with a rather pessimistic view of life … Easily agitated, excitable and prone to worry and depression. I have utilized talk therapy many times over the years with no major or lasting improvement. I am happy to say that Renée Miereanu's unique trainings; knowledge and personal insights have been a gift – one that is changing my life for the better.  I am especially impressed with her recorded guided meditation CD entitled I Love MySelf Always. Listening to her melodic voice, calming words and detailed verbal imagery has allowed me to begin my day with a much-improved attitude and converts a negative outlook into a more positive one. Best of all, I fall back asleep quickly if I awaken in the middle of the night!
I am very grateful for Renée's experience and counseling expertise." ~K. R., Medford
"I have worked with many therapists, in a variety of circumstances over the years and frankly I have to say that I have not held most in high regard. That is, until I had the opportunity to work with Renée Miereanu. Renée's methods were nothing less than impeccable and extraordinarily effective. Her sensitivity and precision in getting to the roots of my issues were simply masterful and her ability to keep me on track and in integrity in the process was also extraordinary. If you're having problems or looking for a therapist who can gracefully assist you in uncovering and addressing your core issues I highly recommend Renée. She is a rare gift in this field and I'm profoundly grateful to have found her and to have had the opportunity of working with her." ~Merrill W., Ashland
"To say that my time together with Renée has changed my life would be an understatement. Truly, I haven't been quite the same since but in the best and most welcomed of ways. For many years I stood upon the precept of myself looking across the vastness completely bewildered. I could not make heads or tails of what I seemed to be looking at. She has greatly helped me make sense of it all and gave me tools that I continue to make use of every single day. Thank you for showing me the light through your love, patience and understanding. I am extremely grateful!"  ~Jessica K., Medford
"My time spent with Renée was life changing, she helped me find new inner strength and confidence, and she taught me how to live in the moment. I feel like a new person. I have a clear mind and I am thriving both in my personal and professional life. People tell me, 'I can see it in your eyes… Whatever you are doing, keep it up!' Renée was a gift to me and I am so thankful to have found her. I highly recommend her!" ~Stephanie R. former Director of Nursing Asante Rogue Regional Medical Center ~ Medford
"I often thank The Universe that sent us to you for retired couples counseling, Renée." S. E. Smith, Oregon
"I am a true believer! Renée has helped to restore my sense of self-worth and confidence. She has taught me to recognize my negative, self-defeating behaviors, rearrange my thinking, and pursue the things I want in my life. I now feel more positive and empowered. Thank you, Renée," Hilary E., Medford
Renee, you have a specialty in working with addictions. Please say more.
I work with all types of addictions from drugs and alcohol, to internet, drama, and misery addiction. Healing these addictions is about learning how to move through emotions and accept our precious human self. 
I also have created a beautiful 30-minute guided meditation CD available for FREE entitled "I Love Myself All Ways and Always."
You also work with newly retired couples. What does this look like?
When folks are no longer working they are usually not accustomed to being with each other 100% of the time. They have been busy working, raising children and have gotten used to being "the boss' of their individual lives and coming home in the evenings to gather with each other and their family; all of this changes when retirement comes into the picture. Sometimes the working partner doesn't know what to do with him or herself so they try to live vicariously through their spouse. Some couples just need a few sessions of coaching to make new agreements and learn new and easy communication techniques to create more harmony in their relationship. I love helping them get more enjoyment out of their lives and blossom into retirement together.
Renée, it appears to me you have a deep dedication to your work in being able to assist your clients to change their lives forever and for good.
Yes – I have been practicing unreasonable happiness in my work and in my life. It is important that my clients have a sincere desire to change and grow; our work together goes much smoother and is very successful with that in mind.
Please talk about what "real love" is and how you came to learn this for yourself?
There are hundreds, maybe even thousands, of definitions of love. Here are two of my favorites: 
"When I am with you, I get in touch with the beautiful, capable, lovable parts of me." Ken Keyes, Jr.
"Lust is about getting (and that of course is completely fine) and Love is about giving when you love an imperfect person perfectly." Tony Robbins
I learned so much about unconditional love from the late and beloved Reverend Laurence Blight when he was the Lead Chaplain at Asante Rogue Valley Medical Center. He said, "… real love is about GIVING not getting. 
When you work with gravely ill or dying patients and their families, it is never about you. Do not visit them with your agendas regarding spirituality… I trust you will always be present and loving with whom you do your work."
I have so much gratitude for the precious experiences in my three years and over 800 hours of volunteering in the all-denominational chaplaincy there. Because of my experiences with my own addictions in the past, I am also dedicated to assisting folks with all sorts of addictions.
I realize that behind everyone's eyes is the purity of life without including the stories I told myself about them. That is unconditional acceptance in this here and now moment. Doing selfless service with many people has been one of the necessary avenues to unreasonable happiness for me and I suspect for countless others.
Renée, are there any last thoughts or comments you would like to share with our readers?
I promise to witness your process and your advancement, and create a safe, supportive environment for you to hear your truths. I will lovingly challenge you to take responsibility (not blame) for your experiences and your actions. I promise to encourage you to release the held emotions that are no longer serving your personal growth. I will help assist you in transforming negative beliefs about yourself into positive beliefs and actions. I will also instruct you with inner parts-work, the utilization of self-hypnosis and daily self-talk. I always encourage unconditional love of yourself and others in your life.
We all have access to vast inner resources that can be utilized to transform our problems into strengths. Unconditional love of the self is a true door to positive change. Supporting people to make those changes is one of the greatest joys of my life! I invite you to call for appointments and come to my class. I promise deep learning and lots of fun!
Sending love and blessings,
Renée
Learn More:
The Breathe Center
Ashland, Oregon
by appointment only 
541-778-4380
www.Smokingends.com
Breathe.Counseling.NLP@gmail.com