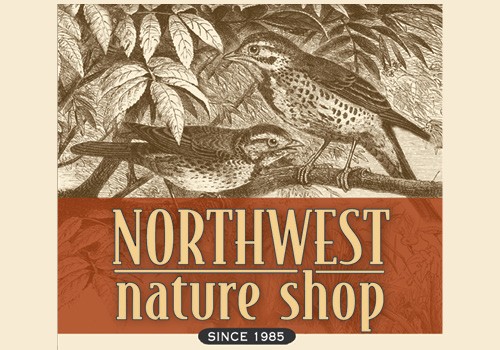 The New Year is the perfect time to rededicate yourself to enjoying nature. Here is a list of New Year's resolutions to encourage you to connect with your natural surroundings:
1. Put up a bird feeder. Place feeders in ideal spots for observation.  Have binoculars and a field guide close-by.
2. Go Native. Native plants adapt much easier to periods of stressful weather, such as droughts or bitter winter cold snaps. They also help sustain beneficial insect and bird populations because they attract native pollinators and birds that might not be drawn to non-natives.
3.  Learn nature's names.  When you know the name of birds, plants and animals, recognition is easier. Field guides such as Birds of Oregon, Mushrooms of the Pacific Northwest or Mammals of the Pacific Northwest can help you with identification.
4.  Join a guided walk.  Naturalists love to show people the intricacies of local habitats. Join the Northwest Nature Shop on a botany hike or bird walk.
5.  Go snowshoeing or cross country skiing at Crater Lake.  Crater Lake National Park receives an average of 44 feet of snow every year. During the winter, trails and unplowed roads provide skiers and snowshoers with access to open slopes, dense forests, and breathtaking views, making Crater Lake ideal for both day-trippers and backcountry visitors.
6.  View the night sky. Use a planisphere to identify 5 new constellations.
Northwest Nature Shop Upcoming Events:
January 10th:  9-11am Free Ashland Pond Bird Walk
Join the Northwest Nature Shop's expert birder, Terence Philippe as we visit Ashland Pond, an Ashland birding hotspot. Meet at 9:00am at the Northwest Nature Shop. Reserve a space now!
January 10th: 3-5pm Science Saturday
Join the Northwest Nature Shop for fun, free, hands-on science projects. We will make slimy worms, slime goo and more.  Experience science that will captivate kids and teach basic chemistry reactions. No sign up necessary.
January 17th: 9am-3pm Rough and Ready Botanical Area Hike, co-sponsored by KS Wild $20/person
The beautiful Rough and Ready Creek is home to some of the most diverse plant life in the region. We will carpool from the Northwest Nature Shop, dress in layers and sturdy shoes, and bring water and lunch.
Saturday, January 24th: 2-4 pm Kids Herbal Gift Making Class $15/person
Join us for a cozy afternoon of making lip balm, bath salts and herbal massage oil.  Great gifts for Valentine's Day!  For ages 6+