Articles
Implant Dentistry & Tooth Replacement
We hope you have been enjoying the photo essays we have been producing.  Our goal is to help educate you regarding "today's" dentistry.  We don't focus on the outdated dentistry of yesterday, or the unproven, experimental dentistry of tomorrow.  We focus on contemporary, evidence-based dentistry that has been proven to provide great, long-lasting solutions for our patient's dental needs.
This radiograph shows two failing teeth.  The dark outlines around the tooth roots reveal bone loss.  The patient's stated chief concern was that her teeth were loose.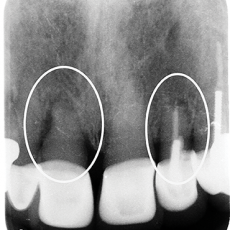 The patient did not like the idea of having a large dental bridge placed across multiple front teeth and so she decided to have dental implants as her tooth replacements of choice.  Her failing teeth were removed and implants were placed "immediately" at the time of tooth removal.  Here is an image showing the newly placed implants.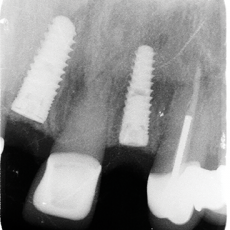 After an appropriate healing time (typically 3 months), crowns were fabricated and placed on the implants.  This radiograph shows the implants with the crowns in place.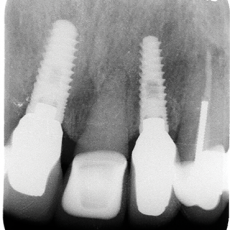 A photograph of the crowns demonstrates the excellent esthetics that can be accomplished with implant dentistry.  Notice the pink, healthy appearance of the gum tissues and the natural gum tissue contours that can be achieved with implant dentistry.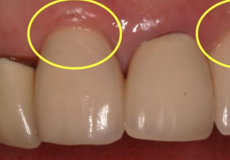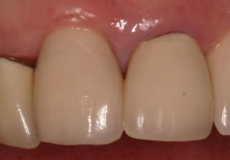 Today's Dentistry
1530 Siskiyou Blvd.
Ashland, OR 97520
(541) 482-7771
Check out their website here