Last month we were introduced to Dr. James Burneson, the new owner of Today's Dentistry. In today's interview Dr. Burneson and I discuss his transition into the practice and his commitment to continue the outstanding level of service and excellence of his predecessor Dr. Ed Warr. We share a few jokes and we gain a deeper understanding of Dr. Burneson's approach to listening and working with all of his patients. 
Dr. Burneson, thanks and welcome to the LocalsGuide! 
Thanks Shields! I'm happy to be a part of the LocalsGuide.
To begin with, congratulations on the acquisition of Today's Dentistry!
Thank you! Acquiring my own dental practice has been a goal for a long time. I'm overjoyed that I was blessed to find an amazing office, in an even more beautiful place. It's been humbling to be so warmly welcomed by our patients and into the Ashland community. I've been able to meet new people each day, and everyone has been tremendously kind and friendly. I love it here.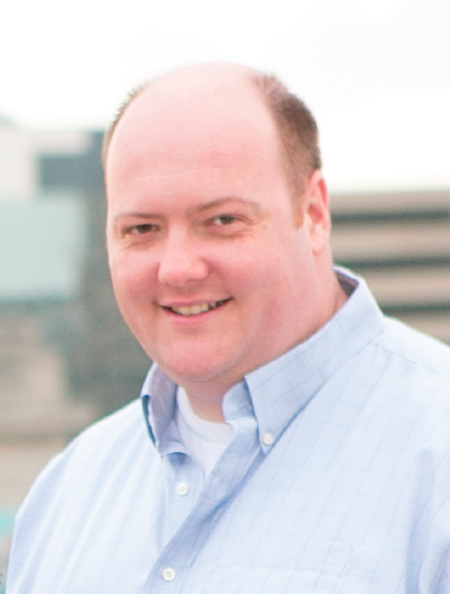 I'd love for you to talk about your process of looking for a practice and what you discovered in Today's Dentistry.
Absolutely! Before I even knew where we would land, my son Dallin (14) had asked me what I thought a perfect office would look like. We sat on the couch of our home and talked about things like how many chairs, how many employees, what technology was being used, how up-to-date the practice was, how many days the office was open per year, and many other factors. However the conversation quickly turned from the physical aspects of the office to the heart of the office. Let me explain. The "heart" of an office is really what keeps it beating, what keeps the office fresh and vibrant and maintaining a good character within the community. I was looking for an office that focused on truly serving its patients. I try to practice dentistry by living with these three rules: Do what's right; Do your best; and Show people that you care. I wanted to find an office that would help me live those basic principles.

Then we started researching locations. I told my wife Emily that I didn't want to work in a large metropolitan area. I think that's because I truly enjoy the smaller town feel and creating real, lasting relationships with my patients. She Googled, "Best Small Towns in America" and Ashland, Oregon was at the top of the list. As she read the description I was immediately interested, even though I had no idea if any practices were for sale in Ashland. We do have some extended family in Medford, and friends in Central Point, and Bend so Oregon was on our radar so to speak. I was willing to see what was out there. I called a practice broker and said I was interested in Southern Oregon. I'll never forget the moment when the practice broker said, "Actually, I have an office for sale in a little town called Ashland, and it sounds like what you're looking for." I was incredibly excited! He said he'd email the information in a day or two.

I immediately began researching ALL the dentists practicing in Ashland. I had maps with gridlines and points where all the offices were. I had visited every website of every dentist in the whole town. There was an air of excitement in our home. It was all I could think about. One practice stood out, Today's Dentistry! I thought, wow, this office is going to be hard to compete with. They have a terrific doctor with years of continuing education, up to date procedures, stable staff, and a large office. They even offered an in-house dental plan for patients that didn't have dental insurance. The broker emailed, and I was totally surprised to find out it was Today's Dentistry! When the broker said, "He wants to meet you", we scheduled a trip to come and see the office.
You and your wife then traveled to Ashland and you met with Dr. Warr and his team. 
Right, so we flew from Santa Fe to Medford around the end of September last year. It was just about the end of the fire season as I recall. We met Dr. Warr at the practice on a Saturday, and he gave us a quick tour. It was terrific! It had 6 chairs, with room for more! There were 3 hygienists and their schedules were full 6 months out! When we talked about staff Dr. Warr would always say, "He's amazing", or "she's fantastic", "she's the best", etc. etc. Some members of the staff had been there over 15 years! Since we weren't flying out until Monday, he invited us to come and meet the staff Monday morning. When Monday came, we saw first-hand how well everyone worked together. He encouraged the staff to ask me questions: What did I like to do? What was my family like? It was a fun and memorable visit. We then took a walk through Lithia Park and I think that's the moment my wife and I really felt that the Rogue Valley was going to be our new home.
What were you and your wife looking for in making Southern Oregon your new home?
My wife and I both grew up in St. Louis, Missouri, but parts of both of our families had moved away and we had spent 10 years in Kansas City, Missouri, and 3 years in Santa Fe. We found that we loved the mountains and climate in Santa Fe, but knowing that we had an opportunity to make a big change gave us the courage to look everywhere. Schools were a big concern for us, and we wanted our kids to have a good educational experience. When you ask any of them now, they will tell you they love their schools a lot more than Santa Fe. We also wanted them to have nature as a backyard with opportunities to explore the forests, mountains, and coast. Most of all we just wanted to finally settle down. And when we visited, it just felt right.
Dr. Warr also had his own ideas of whom he wanted to sell his practice to. Please say more.
It's definitely NOT typical for sellers and buyers to have much interaction one-on-one. The broker and lawyers usually handle that. Dr. Warr and I were introduced through a phone call, he was at his home, and I was driving somewhere in the middle of New Mexico. We found quickly that we had several things in common, including our faith. However, he didn't just make a decision on that fact alone. He told me that he wanted me to provide evidence of my work, my care to patients, and my skills as a dentist. Nobody ever asks for this! I spent some time putting together a portfolio of some of the cases I'd worked on and sent it over. I think he was impressed I'd put it in PowerPoint. Haha!

I've learned that even though Dr. Warr is a researcher, his faith plays a central role in making life decisions. He makes decisions based on very solid evidence, and often with the faith to move forward trusting in God. He had already turned down multiple offers to buy his practice and he was content to wait until he felt it was going to be the right doctor for his team and his patients. Although I had offered to buy his practice in early October, he was waiting for a personal confirmation through prayer and inspiration that I was the correct choice. During this time I was also praying hard that it was indeed the correct choice for our family as well!
You then came to an agreement with Dr. Warr to buy the practice. One of the big considerations you both gave a lot of attention to was the client transition.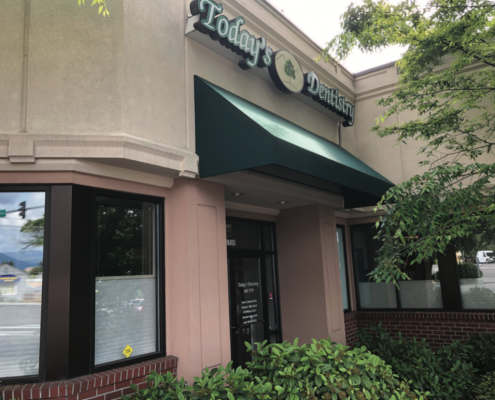 Exactly! We wanted a seamless transition. We both felt that the patients and the staff were the two most valuable parts to the office. Some transitions have the selling doctor ending abruptly with the new doctor taking over everything, while others have a multi-year transition that can be a strain on the new doctor and have patients and staff constantly questioning and worrying about what's going to happen next. We both didn't want either of those options. We decided ultimately to have Dr. Warr continue with the patients he had already started treatment with, while I would start seeing the patients for exams, and as well as patients new to the office. We each sent out letters to existing patients notifying them of the change and what they could expect at their next visit.

I think the most important thing for many patients was to find out that everyone on the team has stayed the same, so patients can see the same friendly faces they've come to love.  
Now you are one month into the transition. How are things going?
I think things are going even better than expected! As I mentioned earlier, the patients are so kind and welcoming. Dr. Warr is finishing cases and introducing me to patients, and the office really hasn't felt the bump of any transition. I've enjoyed how wonderful the team has been in making me feel comfortable. The hygienists and assistants have been very patient with teaching me how they like things done and I'm happy to help them.

I think the goal of a seamless transition has really been realized. Other brokers told me that it just couldn't be done and you'll lose a lot of patients no matter what, but I haven't seen that happening here. I've been pleasantly surprised with how the office has been able to maintain its momentum. I owe it 100% to Dr. Warr, our team, and the patients.
Dr. Burneson, I would love for you to share a little bit about your style and approach to dentistry.
Oh, I really love dentistry. I'm a dental geek. I suppose like most things there is a spectrum of philosophies related to dentistry. This is really where having a foundation built on core values gives you the stability to be consistent and have integrity. Here are some of my core values: 1. Clinical, evidence-based dentistry. 2. Lifetime care. 3. Humor. 4. Compassion.
I always want the procedures I'm doing to be evidence-based. I feel that we live in a time where the research develops new procedures and materials almost daily. I don't want patients to have to worry about whether or not a procedure or a material we use is questionable or can stand the test of time. I consistently read and stay up to date with dental literature and objective clinical sources that help me provide excellent care.

Lifetime care means providing the most predictable treatment with the most long lasting results that save the patient time and expense in the office. Let's face it, not many people enjoy a trip to the dentist. I get that! I'm going to help you minimize how many times you have to come in by doing the right thing first.

Humor. My assistants could probably tell you my entire repertoire of corny dental jokes. I have fun, and I want the patients to be at ease. Humor helps that happen. I feel that a lot of the anxiety that patients experience is because they're too focused on the negative "what-if's" of dentistry. That comes easily for me, and I try to make my patients laugh all the time.

Compassion is what motivates me to present all treatment plans to a patient. I just can't be the kind of dentist that only presents what I think the patient is going to want. I want my patients to know what I would do if my mother, or father, or brother, or kids, were sitting in that chair. Compassion means, no prejudices, no politics, just love and a genuine desire to serve.
Humor seems to be an important part of your personality; I've heard that you liked to have a good laugh with your patients.
Oh I really have to keep things light. For example, this just happened last week, so it's still fresh, but what a lasting impact! Rachelle, one of the hygienists, called me in for an exam on her patient. I met a very reserved patient, very quiet in the chair. But I decided to try my German scientist accent as I did her exam without telling her. "Vell, vee have za mohlers here, ya?" She cracked up. I did some other silly accents as I was working on her. Then at the end of the exam she pulls out a book of sketches (and by the way, they were amazingly good – animals and fantasy creatures – super cool!) and she asks, "How would this guy talk?" I mean, aside from being blown away that she's opening up to this super weird dentist guy, who she's never met before, I get the opportunity to really connect with that patient and be a part of her world now. Humor can make that happen.
Please talk more about your pragmatic approach to find the best solutions for your patients on an individualized basis.
Well, patients come in all shapes and sizes. Two patients with the same problem may need different solutions. As I stated a little earlier, I will present all the options to a patient. But the option that has the most predictable outcome is, without question, the one I'm going to lean towards. I think some of that is just my life philosophy as well. For example, I buy cars that last a long time. I was raised in a lower middle class home and finances and the cost of care don't escape my attention. I don't want to trade a dental problem for a financial problem, so wherever that balance lies there's usually a great option for a patient.
Dr. Burneson, please introduce us to your family.
My wonderful wife Emily and I have been married for 18 years. She and I met when we were about 14-15 years old, but we didn't date until we were in our early 20's. However, I did propose after only 6 days of dating her. When you know, you know. Daniel is 17 and will be a senior next year at South Medford High, and is really into theater. He's super excited OSF is so close. Dallin is 14, and will be a freshman next year at South also. He loves coding and computers, but also has a big love for the outdoors, and mountain biking. Darren is 10 and is going into fifth grade at Hoover Elementary in Medford. He's into anything, and everything. He's our sports guy and keeps us going from soccer to snowboarding. They are a great bunch, and we have a lot of fun together.
Working with kids must be a specialty for you.
While I'm not a pediatric dental specialist, I think it takes a special person to be able to work with kids. I think having kids gets you started, but really being a kid at heart, and taking interest in what children have to say, is important. Sometimes you get the work done, and sometimes you build trust with a child. Both are important. Too many adults have had bad experiences as a child that has led to poor dental health. I spent a lot of time learning best practices with pediatric patients, and because of this, working with them comes pretty easy to me.
So I am guessing you also work on your own kids?
Ahh… the old tale of the cobbler's children. Haha. When I have to! Yes, my kids have had cavities as well, and Darren even got to the point where he'd rather me put some "sleepy juice" (regular anesthetic) to numb up his tooth before he'd wiggle it out. Can you imagine a child asking for a shot? I didn't say it was a shot, I said it was a really small straw with some sleepy juice to make the tooth go to sleep. You have to use what kids understand. No child wants to be told, "well this is a 27 gauge needle that will allow me to place 2% lidocaine anesthetic…" Just keep it simple.
Where did you learn to listen and pay attention to your clients?
I owe a huge debt to my sweet wife. We were married for 12 years before I graduated dental school and started seeing patients. She has taught me how to listen and continue to ask questions until I can repeat back to her exactly what she's trying to tell me. You'll see me do this with patients as well. I will ask more and more questions, repeating back what I heard until I know what they said. "Seek first to understand, then be understood," is a Stephen R. Covey phrase, and it has a lot of merit.

I also think the sciences taught at undergraduate and graduate level, at least for me, required a great deal of communication about specific higher level concepts. I had to be able to articulate what I didn't understand and then listen carefully to the answer given. I then had to manifest that given answer on a test in the future. That ability to "retain the material" from all those classes manifests itself now remembering why a patient chooses to have a specific treatment or procedure.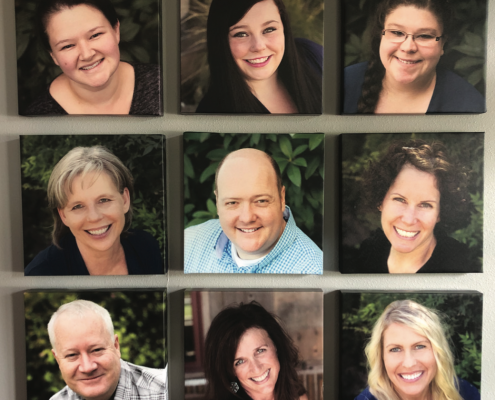 Some dentists just see teeth when they look at a patient you see people. How do you do that?
I think that truly comes from wanting to have a relationship with my patients. Patients are my extended family. I share in the joys and sorrows they relate. I love running into patients outside the office to catch up, or tell me how things have been. Rarely do patients ever mention the procedure they had done. They instead seem to remember how wonderful the experience was and how we treated them while they were in our care.
Dr. Warr was very much a man of faith and he shared his convictions and walked his talk through his monthly columns in the newspaper and service to his patients. Please talk about the role that faith plays in your own life and hopes for the practice moving forward.
Dr. Warr has certainly set a standard for members of our faith. I plan on following in his footsteps. We both believe that faith is a principle of action and belief. We both feel that we can receive inspiration to live our lives in harmony with the teachings of Jesus Christ. I'm excited to see what the future holds for Dr. Warr, and I plan on keeping everyone in the loop, as much as he will let me, as to his endeavors. Right now, I feel impressed to keep the course that has been set by this great person. There will be measured, and regular improvements to the office on track with current standards, such as technology and equipment upgrades. Patients will probably not notice much of a difference in the office from when Dr. Warr was practicing.
What are some of your favorite quotes and or life lessons you like to reflect upon?
When I was 18, my Sunday School teacher, Jon, was neighbors with Stan Musial, a great baseball player of the St. Louis Cardinals. One chilly Saturday morning Jon took the class to meet Stan Musial and Jack Buck at a restaurant called Bush's Grove just outside St. Louis. Before Stan the Man would sign any autographs, he made us sing "Jingle Bells" while he played the harmonica. If there was ever a time he was good at the harmonica, it wasn't that morning. Many of the kids didn't know who he was, but they knew that he was a good person. They could feel his kindness and joy. I have always remembered that moment and thought how a person, who could be considered a legend, took his time to be kind to others. Being kind, no matter what, is always the correct choice. I hope that my family, friends, team, and patients say that about me as well. I keep a picture of Stan Musial in my office to help me remember that.
Dr. Burneson you are inviting patients that have any concerns or questions to reach out and connect with you. Please say more.
For sure! Change can be difficult. Meeting new people comes easy for some, and it can be challenging for others. I'm happy to meet with anyone that has concerns or questions, or just wants to see who I am. I'm available for consultations and emergency exams as well. Like I've said, Dr. Warr and I both hope for an easy and seamless transition. I hope patients feel my genuine desire to continue providing the excellent care that they've come to expect at Today's Dentistry.
Dr. Burneson I know that you are just getting started with the practice here in Ashland, but will you please share one or two customer testimonials that exemplify your work?
We always encourage reviews on our website at ashlanddentist.com or on Google reviews, here are some of those:

While Dr. Warr is transitioning, I believe, to other pursuits, etc. The new dentist seems competent and welcoming. He replaced a veneer for me in a very short time and it looks and feels perfect. All the office and professional staff are very nice to interact with for whatever you need.

– Joseph B. 4/18/2019

First dentist I have been to that seems to actually care about how I am feeling. They also do a great job answering any questions and showing you things you may or may not have experienced Dr. Burneson and the staff are the best I've experienced in my 24 years of life. TODAYS DENTISTRY, THANK YOU, FROM MIKE

– Mike C. 5/16/2019
Thank you very much for speaking with us today. Are there any last thoughts or comments you would like to share with our readers?
Shields, I just want to say thank you for allowing me to speak with you and to be able to reach out to the Ashland community. It's good to be here, and I'm excited for the future. Thanks again.
Learn More:
Today's Dentistry
1530 Siskiyou Blvd. Ashland, OR 97520
AshlandDentist.com
(541) 482-7771