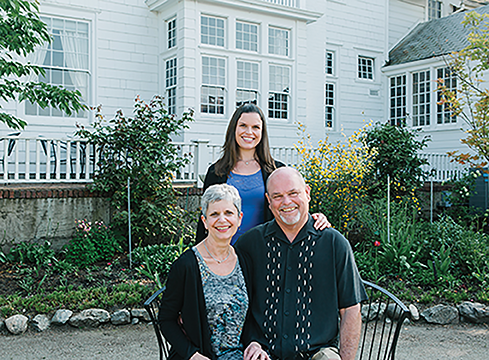 Interviews
MorningLight Properties Friendship, Family, Home
David and Gina Heckley, along with their daughter Kristin McKean, offer unparalleled real estate service to all their clients here in Southern, Oregon. Over the past 30+ years they have built their business upon a strong word of mouth referral system that has turned many clients into life-long customers and friends. With a strong focus on Ashland and the surrounding communities, the MorningLight team knows this area inside and out so you can rest assured that they would help you make your next real estate transaction your best yet!  In this interview I follow up with David and Kristin to learn more about what differentiates their business and keeps them going strong year after year. 
Hi David and Kristin, welcome back to LocalsGuide!
Thanks Shields! We are excited for another interview in the LocalsGuide! We have been so busy the last couple of years since our last interview. We are a small team but continue to have big impact with over $15 million in sales in the last two years.
In our last interview we introduced you to the community and told a little bit of your backstory. I would love to continue learning more about what differentiates your business and sets you apart from the pack.
Honestly, we love what we do! And that translates to the driving force being: our commitment to our clients. Our success can be directly attributed to our hands-on approach and our accessibility 24/7/365. The two of us have direct control of every aspect of the transaction, and our clients are never directed to assistants. We also keep that direct communication with all the other "players" involved in a transaction. It translates to timely decisions and direct accountability. We are particularly strong negotiating and winning in multiple offer situations. All those years in an aggressive California real estate market are a huge asset to our clients. Furthermore, we are solution driven! When challenges arise, we never take "no" for an answer. We surround ourselves with an amazing team of professionals (mortgage brokers, escrow officers, home inspectors and contractors) who are like-minded and go the extra mile. You've heard the saying, "It takes a village to raise a child"? Well it takes "a village" to close a real estate transaction!
You both really love cultivating and forming long-term relationships with your clients and, in fact, you oftentimes end up working with entire families. Please say more.
We are always thrilled when clients refer us to their family members. It's a real testament to their happiness with our service, and we are always grateful that they want to support our family business. Last year we worked with a number of family referred clients! One example: we have sold five homes on behalf of four members of the same family, in a spectrum ranging from a mini-farm, to investment properties, to first-time home buyers.
David, I loved hearing some of your stories of forming relationships with your clientele from the golf course to the swimming pool.
I have always found more success in developing client relationships in a more organic way. Whether I was on the tennis court, on the golf course, or in the swimming pool, the personal touch communicates the passion for what I do. I talk a lot about real estate and the simple act of speaking with the people around me develops relationships and forms new clients. It just happens in a natural way.
Kristin, recently you have been competing in multiple offer situations that have ended up with successful results for your clients. How did you approach these situations and what helped lead to positive outcomes for your clients?
With the lack of inventory we are seeing multiple offer situations on listings that are priced well. In the last five multiple offer situations where I have represented the buyer, we have been the winner each time! I take a lot of pride in this. Well, without giving away all my secrets… First of all you have to be quick, quick to see the property, and quick to make a decision to write the offer. Then there are several ways in which to write an offer that puts the buyer in the most positive light. It's not always about being the highest bidder. It's about knowing what's important to the buyer and what's important to the seller. Over the last 18 years I have been able to fine tune these strategies, and they continue to work.
You both are known for getting deals done that normally don't get done. How do you do this?
Straight answer: we just don't take "NO" for an answer. There are many instances where a property or a buyer doesn't fit into the nice, neat little box that lenders require. This is when we need to step in and be resourceful. We have mortgage brokers who work hard and push back on underwriters. We can anticipate problems before they arise, so they can be corrected early. We can investigate and tackle issues with city agencies. There are resources out there to accommodate different situations, and our past experience is invaluable when this happens. Last year, we sold an interesting set of adjoining properties to a mother and daughter relocating from the Bay Area. One of the properties was an old dairy barn, which had been partially converted without permits. It was impossible to get a conventional loan on it. Fortunately, we were able to tap into multiple resources to enable the buyer to purchase the property, as well as begin a major remodel to preserve the property, bring everything up to code, and live next door to her family. Everybody wins!
You both really enjoy working with first-time buyers. Please talk more about the joy this brings you.
It's an honor to help someone take their first step into home ownership and open up that new chapter in life. Although first-time buyers may not purchase the most expensive house, and they tend to have the most questions and need the most handholding, we absolutely love working with first-time buyers! The gratitude and appreciation they have at the end of the transaction is priceless. As a family, we have quite a few rentals in Southern Oregon, and we love our tenants. We also love helping our tenants achieve the dream of homeownership when possible. And although this means losing a great tenant, we are happy to help them realize their dreams. With Kristin being part of the local school community, with her daughter Kaya in first grade, she has been very successful in working with young families who are buying their first home. It's been especially rewarding recently helping a single mom navigate through the loan qualification, home search, and final closing of her first home. We find great pleasure knowing that family has security in homeownership.
I am curious to hear how you are overcoming the lack of inventory we have here in the valley.
The lack of inventory continues to be a challenge for Realtors and their buyers. Over the past couple of years, we have formed relationships with builders, getting information about development and new construction prior to properties coming on the market. This has helped dozens of our clients purchase homes during this time. Not having to compete on the open market is quite a blessing. The lack of inventory can be particularly tricky when your client needs to be in a certain school district or geographical area. Recently, we had a buyer who needed to be very close to her son's school for medical reasons. We sent a letter out to residents in one particular neighborhood that she really liked asking if anyone had interest in selling. From that one letter sent to 55 residents, we received five phone calls from potential sellers and were able to provide five options to our buyer of houses that were not even on the market. In addition to advance knowledge of properties going on the market, and as previously mentioned…you have to be on top of new listings as they happen and you have to educate buyers to be ready to make a decision.
David, over the course of your career you have been very focused on investment properties both for yourself and your clients. Please say more.
Investment properties have always been a winner for me. Where I have lost money in the stock market, I have always been successful with residential investment properties. Because of my personal success, I have been able to educate family, friends, and clients with personal experiences. Many have had the same stock market experiences in the past and want to find new investment opportunities. We have been able to show many clients how to include real estate investment as part of their retirement portfolios.
What inspires you both in the work that you do?
Well it's probably fairly obvious to see that we both really love what we do! Sometimes I equate it to being the conductor of an orchestra. There are so many moving parts to a real estate transaction and to get them all to move together seamlessly (at least in the eyes of your client) is truly an art form. It is never boring, and we really love the whole process. For most people buying a home is the largest purchase they will ever make, and we take that very seriously. It is an honor and a privilege to assist in that endeavor.
Kristin what do you enjoy most about working with your father (and mother) on a day-to-day basis?
Oh, this one could get me in trouble if I don't answer it correctly! Of course I love working with my father…and mother on occasion. We are a very close family and working together is really seamless. If we are not talking about real estate, we are probably talking about food. We all share the same interests, although my dad doesn't like wine (good thing my mom does), we can all agree on good food! We know each other so well that we can almost anticipate each other's next move or what needs to happen next. Our strengths complement each other and that gives us a really good foundation in business. Not to mention…my dad gives me an unbeatable commission split. We have fun!
Dave, what do you enjoy most about working with your daughter on a day-to-day basis?
She keeps me on my toes! No idle time for me! It's wonderful to be able to share my experience with her and watch her grow in this business. It's gratifying that she has the same passion for real estate and for the same reasons that I have had a passion for it over the last 35 years. Our different circles of friends and spheres of influence keep our client base very diverse, which keeps things interesting. We have developed wonderful relationships with many of Kristin's friends and clients, and visa versa. She brings an infectious energy that really keeps me engaged in the business. There have been other brokers who have tried to recruit her in the past, which I consider to be a big compliment…so I need to offer her an unbeatable commission split.
Can you please share some recent testimonials with us?
 2-2-18 – My daughter, her family and I decided to relocate to Ashland from the Bay Area and wanted a living situation where we lived in close proximity–ideally a house with a second home on the property.

Kristin, and the family team at MorningLight Properties, was invaluable in their ability to meet all obstacles, find the right people to work through the issues, and ensure that I was confident and comfortable at every step. They met every challenge head-on and communicated with me every step of the way. Their guidance and knowledge was invaluable and as a result everything worked out seamlessly as we went through our escrow process. Kristin and MorningLight Properties have supported us from the beginning, and since we moved here in November they have continued to help us as we integrate into our new homes and community. We feel truly blessed to have met this new friend who has helped us through this incredible journey to our new home. ~Lucy Moore (Buyers – November 2017)

2-6-18 – It has been my pleasure to have Morninglight Properties of Ashland, Oregon, represent my family in four real estate transactions during the last three years. This representation resulted in a home purchase for my wife and me, a home purchase for my daughter, a home purchase for my son, and a sale of a home for my wife and me. Although each of these transactions had their challenges, the Morninglight team charted a course that produced more than satisfactory results in each case. Our experience has been very positive with Morninglight. Informed, responsive, engaged, high integrity and most importantly, very communicative. We wouldn't hesitate to use them again. ~ John and Ramona Karns (Buyers/Sellers – 2015-2018)
David and Kristin, I can see that you both are very committed to the long-term planning and relationship with your clients. Can you talk about some of these relationships?
You know clients come in all "shapes and sizes". Buyers and sellers have different circumstances, requirements, and goals. It's our job to sort all that out, and sometimes special circumstances require long term planning. At times we work with buyers who need to clean up credit due to past history…or even establish credit as a first-time buyer…this can take several months or even years to accomplish. Many times, we work with sellers who need to get their home in shape in order to get the most value…and this can take a while to accomplish. On some occasions, we have worked with buyers for months, or sometimes years, in order to find them just the right home. But we're in it for the long haul. Whatever the time commitment might be, we keep at it…coaching, educating, turning over all the rocks, delivering a result that meets those initial goals.
What is your best advice for current buyers and sellers?
For buyers: Clean up your credit!
For Sellers: Clean up your house!
Call us and we'll help you through it all!
Learn More:
MorningLight Properties
P.O. Box 3176
Ashland, OR 97520
(541) 488-9717