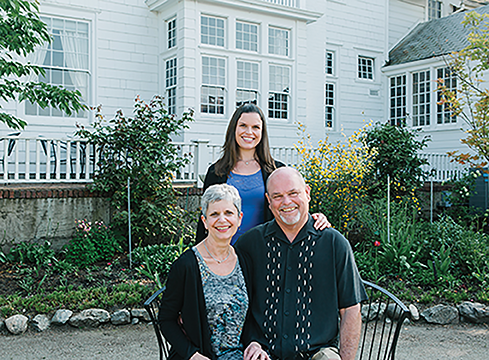 Interviews
MorningLight Properties – Real Estate…It's a Family Affair
David and Gina Heckley along with their daughter Kristin McKean, offer unparalleled real estate service to all their clients here in Southern, Oregon. Over the past 30+ years they have built their business upon a strong word of mouth referral that has turned many a client into life long customers and friends. With a strong focus on Ashland and the surrounding communities the MorningLight team knows this area inside and out so you can rest assured that they will help you make your next real estate transaction your best yet!
David, Gina and Kristin, thank you for doing your interview with us today.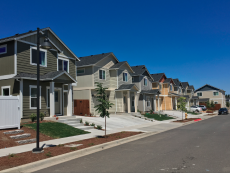 Thank you, we are excited about the opportunity to share our story with the Ashland community. It is also an opportunity for us to say hi and thank you to many of our long term clients. 
David, you originally started your real estate career here in Ashland, Oregon in 1990. Please introduce us to your company and give us a little bit of background and history.
I was originally licensed in California in 1983 and became a broker/owner of Los Gatos Properties in the south Bay Area (now known as Silicon Valley).  I still hold both a California and Oregon real estate license and continue to work with a client base from California.  I obtained my Oregon license in 1990 when we first visited Ashland and fell in love with the place.  We moved here full-time in 2000, built a home and never looked back.  

Well, we look back a little… back to a day when real estate transactions were done without computers and cell phones… when the MLS listings were printed in a book and delivered to your office once a week… when new listings were faxed on thermal paper that faded in your car if you left them in the sun… when you found homes on a grid on a map in a 3-ring binder…when the first cell phone I had weighed about 10 pounds and was as big as laptop computer.  Thank goodness those days are gone!!

Gina and I worked as a team in real estate for many years in California.  It gave us a great family life and an opportunity to be very present in our daughter's life.  So many parents in Silicon Valley had to travel the world for business, which took them away from everyday family life.  We were fortunate that our career enabled us to live and work in our own community.  Kristin became part of the real estate team at a very early age… showing property with Daddy or stuffing envelopes with Mommy.  Although real estate is a 24/7 commitment, when you do it together as a family, it's really not so bad.

Moving to Ashland in 2000 gave us an opportunity to slow down… for a bit.  Becoming disabled in 2005 with a spinal cord injury was a life changing moment.  But, once a real estate broker, always a real estate broker!  Same career, different mode of transportation… wonderful support from my family, friends and community.  Showing property in a wheelchair is a challenge… unfortunately, homes just aren't built wheelchair-friendly.  Gina obtained her Oregon broker's license to keep the business going and be "my legs."  Technology has played a huge role in keeping me actively involved… digital photos and videos allow me to see inside, and my devices alert me to new listings and keep me apprised of sales, comps and other real estate trends, and allows me to communicate with clients effectively and efficiently.  But having Kristin join us here in 2014 has been a real boost to the business and we make a great team! I love to work each day with my wife and daughter. We help each other to achieve our goals, and we help our clients achieve their real estate desires and dreams.
Kristin, you often share that your own real estate career started when you were five years old. Tell us a little about your own story. 
As mentioned above, I started working in real estate around the age of five, cheap labor for my broker parents. And now I am training my own five-year-old daughter to follow in my footsteps. I obtained my California Real Estate license in 2000 working for agents in Chico, CA while attending college at California State University, Chico. I graduated Magna Cum Laude in 2004 with a degree in Marketing and International Business. I then practiced real estate in the Bay Area for almost a decade. During my time in California, I represented a diverse group of buyers and sellers and developed a depth of knowledge in the high-end market, investment properties, first time buyers, as well as short sales and bank owned properties (REOs).

In 2014 my husband and I made the decision to leave the craziness of the Bay Area and move our family to Ashland to be closer to my parents and grow the family business. It was the best decision we have ever made! We are in awe of the natural beauty that surrounds us, and the personal connections we have made in a short amount of time speak to the welcoming nature of the community. It's truly a pleasure to do business here! It feels good to leave behind the cutthroat nature of the big city. The only thing we all miss is being close to the beach… but we make up for this by spending a couple weeks a year at Seascape!

On a personal note…The McKean Family is active in the local community. My husband, Chris, is very active in the local baseball scene and has coached the SOU women's softball team, the Ashland High School baseball team and Little League. Our beautiful daughter, Kaya, starts kindergarten at Bellview Elementary in the fall and we couldn't be more excited to dig our roots in a little deeper here in Ashland.
Gina, you also have worked as a realtor for many years but are now focused on the design side of the business. Please tell a little bit about the roles you play at MorningLight Properties.
My focus during the last 15 years has been on material selections for new construction and remodels. As you might guess, buying and selling properties usually means a house needs some sort of transformation to become "a home."  For buyers looking at existing homes, I can give them ideas to overcome problem areas and then find them resources or help them get the work done.  When selling, I help with staging a home for the best showing during the listing period.  Last year, we were involved in a new project in Talent that involved the sale of several homes constructed on a single block.  I was able to work with the builder to make the necessary material selections for the builder's budget, give options to the buyers, and help coordinate the process.  I also work with homeowners and builders in new custom home construction.  We have a wonderful collection of local suppliers and contractors that can take care of just about any project… large or small.
Up until this interview your business has been mostly based on word-of-mouth referral. Please say more.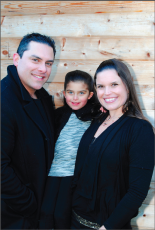 David: In our business we have the ability to choose and form great relationships. Oddly enough, most of our best friends in life have started out as real estate clients.  Even those relationships that started 30 years ago continue today. This year, we sold some rental property in Talent to a friend who started buying real estate from us in San Jose, CA, more than 30 years ago… our kids grew up together, are now married and have kids of their own. We were counting the number of transactions with this one client and came up with nine!  

Kristin: Since moving to Ashland in 2014, I am now building a new client base, which has already resulted in multiple transactions from the same clients.  Many of my new clients are also a great source of referrals, not to mention new wonderful friends on a social level. Many of my California clients continue to work with me to facilitate their real estate needs. Thank goodness for technology!
David and Kristin, what do you consider are your key strengths as Realtors?

David: I am very loyal to my clients, and I work hard for them to put them in the right property. Sometimes it takes years of searching for just the right property for our buyers. Doing the "right thing" always matters the most. Communication with all the parties in a transaction in a timely fashion is a key element and so important to making a transaction run smoothly. My clients know I am available any time to talk them through issues that arise and give them the best advice I can based on my 30+ years of experience.

Kristin:  I "live" each transaction with my clients. Whether it is a $70,000 or $2M sale, I put my heart and soul, and sometimes tears, into my work. I listen to my clients and execute based on their needs and goals. I pride myself on being available when my clients need me. I have been in their shoes and understand the emotional roller coaster ride. Even after 16 years in the business, just when you think you've seen it all, a new challenge arises. And I'm always up for the challenge!

Kristin, please talk to us about the advantages of having a small brokerage and the advantage of a strong referral network.

My dad has always been an independent broker (mostly because he really hates going to meetings and wearing long pants). Personally, I have worked in small, medium and large brokerages. While I am not opposed to going to meetings, I enjoy the freedom and autonomy that comes with working in the small, independent office. We have all the tools available to us that a large brokerage would have. And we have the highest level of personal responsibility. Technology has allowed us to meet the needs of our clients locally as well as globally, completing transactions with clients as close as next door and as far away as India. We really do care about our clients getting the best deal and the best service. We can negotiate the best terms one-on-one. Our past success speaks for itself. We are small, but we have the full package. 
Please share some recent testimonials with us.
"My wife Yvonne and I have been so blessed to have worked with Kristin Mckean and MorningLight Properties for our real estate needs.   She was not only very professional in every aspect of the process, her personal touch was so greatly needed and appreciated.   She was always pleasant, very knowledgeable, available at the shortest notice and helped us through a difficult transition.   She is more than our real estate agent, she has become a close friend.   We would highly recommend her to anyone needing help with their housing needs.   It was an honor to have her on our side."
~ Mike Decker (July 2016 – buyer)

"Dave and Gina Heckley have been my "go to" for many real estate related issues over the last 12 years.  Gina was instrumental in the building of one home, while Dave was on top of every detail in a recent property sale and purchase.  The recent addition of Kristin to this team ensures you could not be in better hands! You guys are amazing!"
~ Julie Nelson & Gina Wyble (2003/2014/2015 – seller and buyer)

"We had a complicated real estate transaction that involved a time sensitive sale/purchase exchange, but the family team at MorningLight Properties made everything go smoothly and trouble free. They took the time to educate us on the real estate market specific to the Rogue Valley, and even helped us with professional design selections for our new home. We always recommend Dave, Gina, and Kristin to friends who are considering buying or selling property."
~ Linda Von Hanneken (May 2015/July2016 – seller and buyer)

"MorningLight Properties is a brilliant team.  Dave has the wisdom and contacts gained from years of brokering, Gina the real estate background as well as extensive technical knowledge of construction/design/renovation, and Kristin brings to the team years of real estate experience and an irresistible enthusiasm.   In under two weeks we had a purchase and two sales in escrow and it has been a pleasure working with people whose integrity I could count on."
~ Ann Rizzolo (2012/2015/2016 – seller and buyer)
MorningLight Properties excels at working with all sorts of buyers and sellers. Please tell us more.

We work a lot with income property buyers. We have had great success investing in income-producing properties, and are always looking for the best return for the investor while meeting their specific goals, solid properties with good rental history or potential.

We also love working with first-time buyers. It is so gratifying to see young people investing in their first home. We are excited to meet young families moving into Ashland, as well as the surrounding areas. We are from the Bay Area where prices are just crazy. Real estate in this area is still relatively attainable.  

Another growing portion of our business is the client who is looking to downsize. Those empty-nesters wanting less responsibility or ones requiring single-level homes so they can stay in the community and live independently as they age.
Any last comments you'd like to share with our readers?
We are so blessed to live in this beautiful valley. And we are so thankful for the wonderful business and personal relationships we have built here. We feel a keen responsibility to this community.  Thank you to all of the people who have worked with us in the past. We look forward to working with you in the future. We know there are a lot of real estate brokers to choose from, but know if you choose us, we will give you great service and the benefit of many years of experience.  Please call us if we can help.
Learn More:
MorningLight Properties
www.morninglight-properties.com
Office: 541.488.9717
Dave Cell: 541.890.0729
Kristin Cell: 925.895.3321