Articles
Music of Fats Waller at Oregon Cabaret This Summer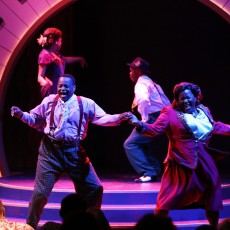 Thomas "Fats" Waller was a one-of-a-kind entertainer and a major part of the Harlem Renaissance in the 1920s, '30s and early '40s. Exuberant and larger than life, he was a distinctive figure with his derby hat, broad smile and impish eyes, perched at the piano pounding out his trademark stride-piano rhythms.
He was a natural musician and the son of a preacher who began by playing organ in his father's church. This soon led to a career that took him into much less solemn places. He was an organist in movie theatres, accompanist in vaudeville houses, an in-demand pianist in nightclubs and at Harlem rent parties, and a prolific recording artist. He also toured the U.S. and Europe extensively with his band Fats Waller & His Rhythm. All this was accomplished in a short 39 year life-span which ended prematurely in 1943.
Directed by Jim Giancarlo with choreography by Giancarlo and Christopher George Patterson, AIN'T MISBEHAVIN' is a revue of songs either written by or made popular by Fats Waller. It premiered at the Manhattan Theatre Club in 1978 and was an immediate hit. It won numerous awards including a Tony for Best Musical. The show is not particularly biographical but what it does is to capture the exuberant and playful spirit of the man with his mischievous personality and penchant for word-play which he would often interject as commentary into his songs. Named after his best-known composition Ain't Misbehavin', the show features 30 more songs, including Honeysuckle Rose, The Jitterbug Waltz, The Joint Is Jumpin', Spreadin' Rhythm Around, Lounging At The Waldorf, Your Feet's Too Big, Keepin' Out of Mischief Now, Two Sleepy People and I Can't Give You Anything But Love.
• June 6 through August 31; low-priced Previews June 4 & 5
• Evening performances @ 8:00 pm Wednesday-Monday; also Sunday matinees @ 1:00 pm
• Box Office at First St and Hargadine. Phone 541 488 2902. Online ordering at www.oregoncabaret.com
Dinner and brunch available (reservations, please); also starters and small plates, beverages & desserts (no reservations required). Food and beverage not included in ticket price.
Group rates: 20% OFF for 10 or more