Interviews
Natalie Wetenhall – Attorney at Law – Evergreen Law Group LLC
Based in Ashland, Oregon, Natalie Wetenhall is a local attorney with a colorful background, consisting of both extensive world travel and big-city legal experience. Having grown up in several countries as a child, Natalie spent her early years in such places as Australia, New Guinea, and Italy, as well as traveling throughout Indonesia and western Europe with her parents, prior to settling down in British Columbia, Canada, at the age of 8, where she completed her elementary and high school education. After graduating Magna cum laude with a Bachelor's Degree in Honors English from McGill University in Montreal, Quebec, in 1997, Natalie decided to go to law school, obtaining two law degrees in both French Civil Law, as well as English Common Law (Juris Doctorate), from McGill's Law School's preeminent "National Program." Natalie went on to be admitted to the New York Bar Association, and to pursue a highly successful legal career in New York City for nearly a decade. This was obviously no easy accomplishment and is testimony to Natalie´s unique and seasoned approach to the practice of law; it also explains her unrelenting commitment to going above and beyond to serve her clients and their legal needs. In today´s interview, I speak with Natalie about her life and law practice here in the Rogue Valley.
Hi Natalie, thanks for taking the time to speak with me today.
Thank you, Shields. I'm excited to have this opportunity to speak with you and share my story.
To begin with, will you please introduce yourself to us and tell us a little bit about your background of being a big city attorney, now located in Southern Oregon?
Certainly. I am the founder and owner of Evergreen Law Group, LLC, here in Ashland, and have been practicing in the area since 2015. Prior to starting my law firm, I practiced law as a business transactional attorney in New York City. During my time in New York, spanning nearly a decade, I worked at: 1) The worldwide headquarters of JPMorgan Chase Bank, N.A., in its Investment Banking Division on Park Avenue; 2) Credit Suisse, N.A., in its legal department, located in New York's Clocktower – kitty corner to the famous Flatiron Building; and 3) I was also fortunate enough to be part of the legal team hired to oversee and direct documentation consolidation and transfer, following the historic merger between Bank of America, N.A., and Merrill Lynch in 2008, at the height of the subprime mortgage crisis. In these positions, I reviewed, drafted, and negotiated institutional-level commercial loan agreements, as well as a wide range of derivative trading agreements for prime brokerage and other corporate clients of these "powerhouse" investment banks.
I also practiced in the Capital Markets group of 'Biglaw' firm Davis Polk and Wardwell, LLP, in its multi-floor office above Grand Central Station, where I led a team of associate attorneys on a major restructuring project for a prestigious hedge fund client, in addition to drafting and negotiating the full suite of prime brokerage client contracts and business transactional agreements for both hedge fund and investment bank clients alike.
Natalie, you have had a very interesting life so far, growing up all around the world. Speaking both French and English, you even have law degrees in both French and English. Please say more.
Yes, I guess it's been a pretty interesting ride thus far :-) I have been very fortunate to have gained exposure to many different cultures in my life from an early age, with parents who clearly suffered from what can best be described as the "travel bug." I was born in the Blue Mountains of New South Wales, Australia, and spent my early years in Papua, New Guinea, Davenport, Iowa (where my dad went to chiropractic college), and then Reggio Calabria in Southern Italy, as well as traveling extensively throughout western Europe and Indonesia with my parents, who are both Canadian by birth. Raised by a Quebecoise mother, who spoke only French when she first met my father in the mid '60s, I grew up speaking both French and English at home. Being bilingual helped me immensely when I moved to Montreal, a predominantly French-speaking city, to live and attend university. It also proved invaluable when I started law school, as my first year was taught almost entirely in French! I went on to graduate from law school with two law degrees, one in French Civil Law (similar to the law they practice in Louisiana and France), and the other in English Common Law (aka a J.D.). While I admittedly do not call on my French law degree much in my practice these days, I firmly believe that speaking two languages, as well as having extensive knowledge of two legal systems, only serves to makes me that much more adaptable and adept at problem solving, two skills that are invaluable to any successful attorney.
What inspired you to become a lawyer?
That's a great question, Shields. My passion in undergrad was English literature. I have always been fascinated by the English language, both in its spoken and written form, throughout history. I actually wrote my Honors English thesis on "The Three Faces of Femininity in Anglo Saxon Literature." Upon graduating, I was intent on pursuing a Master's Degree in medieval English literature and was admitted to both Oxford University and St. Andrews University in Scotland.
Unfortunately, I did not have the necessary funding in place to attend immediately, and it was at this time that I started reflecting on what it was that I really wanted to do with my life and how I could make a real difference in the world, while staying true to what I loved. That is when I started thinking about law as a career choice. I had been the president of my Amnesty International club in high school and have always been passionate about the protection of human rights and helping people in need. Law represented a way for me to fulfil my desire to make a difference for people, while still being able to focus on my passion for writing. Making the decision to go to law school, and to forego pursuing a Master's Degree in English, radically changed the course of my life – and for the better, I am proud to say – it is a decision that I've never looked back on and regretted.
What was it like working in New York City as a young attorney?
Working in New York City was both an invaluable and highly demanding experience for me as a young lawyer. Everyone knows N.Y.C. as the "city that never sleeps," and that could not be more true than for an associate attorney climbing the partnership ladder in the corporate world of the "Big Apple!" When I worked for JPMorgan Chase Bank, N.A., I was put in charge of covering a sector of the investment bank's European clients for a period of time, and my workday was expected to mirror the hours of the bank's London office, with me starting at 4:30 a.m. every single day. I still left work each night at 6 p.m. and ate my lunch at my desk, despite this early start time. When I worked for "Biglaw" firm Davis, Polk and Wardwell, LLP, I would typically not leave the office on weeknights (and most weekends, sadly) before midnight. Actually, it was such a common occurrence for attorneys to leave the office this late, and to stay as long as needed for the completion of a client matter (regardless of the time, or how long they'd been at work for) that the firm literally had town cars lined up down the street throughout the night, waiting to take you home safely – if only to shower, change, and go directly back to the office for another full work day! They even had beds and showers on a designated floor of the firm, if/as needed. While I admittedly do not miss this aspect of working as a young attorney in New York City, it certainly helped to shape the solid work ethic and dedication that I pride myself on having today, vis-à-vis the representation of my clients and their legal matters.
Natalie, please talk to us about your legal skills and what you are particularly good at.
Through the invaluable experience I gained in my various legal roles during my time working in New York, I have been able to finely hone the important skills of reviewing, drafting, precision, efficiency, and negotiation. Working in such fast-paced, high pressure environments for demanding corporate clients with tight deadlines across various time zones, I had to be very responsive and efficient, learning to both review and meticulously draft/turn around agreements very quickly, when needed, with no allowable margin for error. I also became exceedingly skilled at the art of negotiation, remaining ever cordial with opposing counsel, while fiercely representing my clients' best interests; knowing which points to concede and which to push forward on, whether it was negotiating with attorneys from other big firms or with internal counsel for Fortune 500 companies – understanding the delicate balance of being hard-nosed and tough in representing your client, while maintaining a level of decorum with opposing counsel throughout the negotiation process. I am able to bring this unique set of fine-tuned legal skills and the accompanying work ethic I have developed through the years, as well as the wealth of experience that I possess, to my clients in the Rogue Valley, while maintaining the small-town service they both expect and deserve.
Natalie, why did you choose to move to Ashland? What attracted you to this area? What do you like to do in your free time?
I first moved to Ashland in 2013 with my young family from New York City, after a brief period in Portland where my son, Nate, was born. I immediately fell in love with Ashland when I first saw it on a trip, with its beautiful, fluid landscape. Having grown up for several years of my childhood in northern British Columbia, Canada, in a close-knit community akin to Ashland's, the culture here immediately resonated with me and it felt like home. Since I grew up participating in winter sports and activities, I am delighted to have the opportunity to share my passion for skiing and outdoor exploration with my young son. I love how accessible Mount Ashland is, as well as the amazing trail system that Ashland boasts. We have a large white Husky-Akita Inu dog named Nanook, whom we take on hikes several times a week (he also doubles as my firm mascot, often greeting clients in my office). My son, who is now in Grade 3, attends Bellview Elementary and is highly involved in community sports and activities. Reflecting upon my move back to the west coast and to Ashland, specifically, I know in my heart that this is where my family and I are meant to be. We are very happy here.
Natalie, can you give us an overview of the services you offer in your firm?
I'd be happy to, Shields. I focus my practice on providing detailed estate planning services, advice and assistance regarding real property investments and real estate transactions, establishing and maintaining corporations, LLC's and other business entities, as well as structuring, re-structuring and investment advice vis-à-vis SEC regulatory guidelines and constraints, compliance concerns, day-to-day operations as they relate to business, intellectual property protection, as well as counseling and representing clients in general contract negotiations, dispute resolution/mediation and a variety of other business transactional and ancillary matters. My firm represents individuals, couples, entrepreneurs, investors, and companies of all sizes throughout the state of Oregon. I also provide legal consulting services to a prominent San Francisco firm. I am admitted to practice law in Oregon, Washington, New York, and the District of Columbia. For a complete list of my practice areas, please feel free to visit my firm's website at www.evergreenlawgroup.net.
What is some common feedback you hear from your clients?
I would say the four qualities that my clients most frequently espouse about my firm and the quality of my legal services, in particular, are:
1. Responsiveness
2. Knowledgeability
3. Efficiency and
4. Honesty
This is invaluable feedback for me, as I constantly strive to provide this level and quality of service to each and every one of my clients on a daily basis.
Let's talk about wills and estates. Why this is now more important than ever?
That is a great question, Shields. With COVID-19 and the resulting deaths among the older members of our population, there has never been a more important time for people to ensure that they have a solid estate plan in place, so their assets are properly safeguarded for their loved ones in the event of their untimely passing. Having an advanced directive, in particular, is critical to have in place and on file with your local hospital, as it addresses your medical wishes and tells your doctor which treatments you do/do not want if you should become incapacitated and unable to communicate these preferences directly.
Contrary to popular belief, estate planning is not just for the wealthy, it is for everyone. My firm helps individuals and couples to determine which type of estate plan is the right fit for them and their family/loved ones. I offer a variety of comprehensive and competitively-priced estate planning packages to suit everyone's specific needs and budget.
Among other among other benefits, a solid estate plan can help you to: 1) Avoid lengthy probate and costly probate fees; 2) minimize family discord that can be exacerbated from dying intestate; 3) arrange for the guardianship of your minor children in the event of your death; 4) preserve wealth throughout generations; plan for your incapacity; 5) protect assets from creditors, divorces, and lawsuits; 6) provide for loved ones with special needs while preserving eligibility for government-sponsored programs; 7) provide for orderly family business succession; 8) promote a charitable cause; 9) promote your values throughout generations; and 10) potentially help to minimize estate taxes.
Natalie, how has your firm adjusted to the current crisis?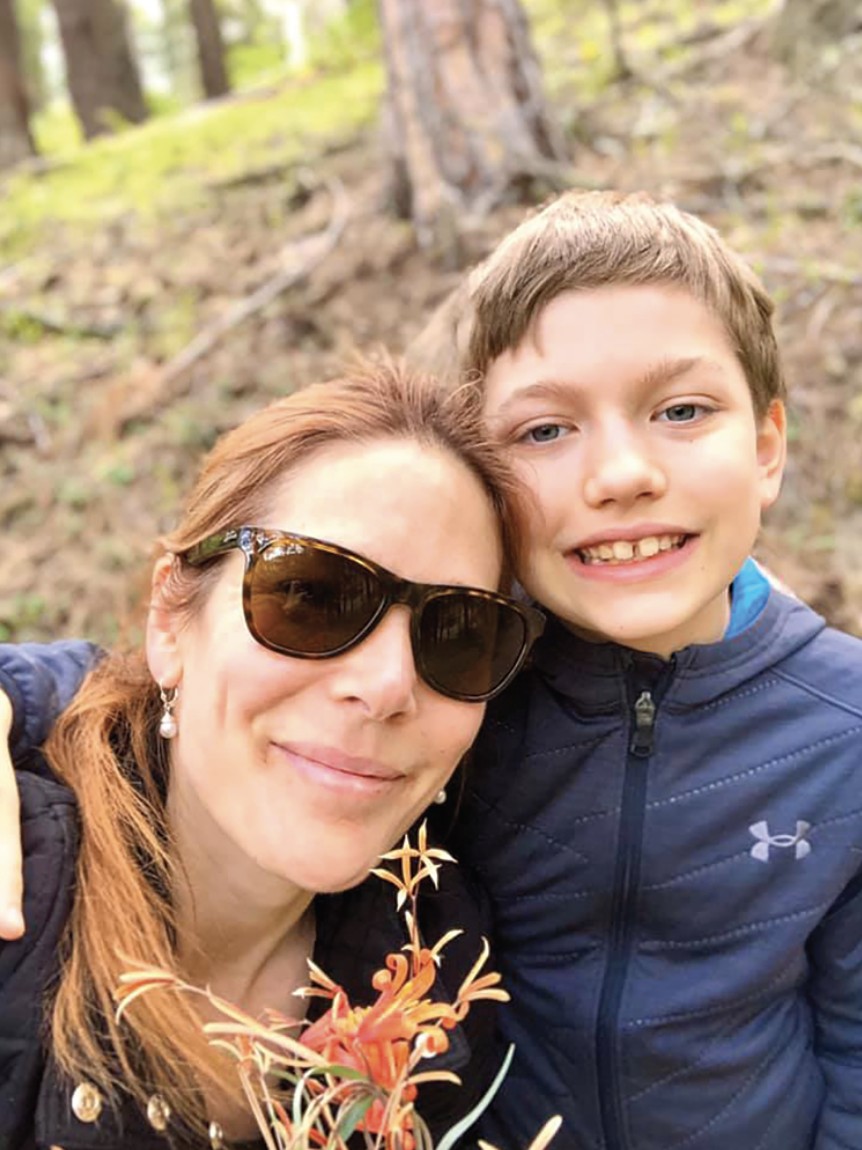 In light of the current health concerns posed by COVID-19, and resulting limits on social interaction imposed by Governor Brown and the CDC, my firm has been proud to offer both teleconference and videoconference consultation/meeting options, to ensure that my clients remain safe and healthy while having their legal needs addressed efficiently. With an existing on-line case management system, as well as a shared drive between my office, home office computers, and my laptop, my firm infrastructure was already set up to enable access to client information and documentation from anywhere. Working remotely from my home office during the stay at home order has been a seamless process for me as a result, with little to no effect on my clients, regarding both the range and quality of legal services that I have continued to be able to provide them.