With over 27 years of experience, Patie Millen stands out as one of the long-term names in the Southern Oregon Real Estate industry. Now with inventory at historic lows, it is more important than ever to work with a great agent and real estate team with strong expertise behind them. In today's interview, I speak with Patie about the new reality of Covid, the essentials of buying in this unique market, and who after 27 years remains at the top of her game. 
Hi Patie, Thanks so much for taking the time to speak with me today.
Hi Shields! I always love doing this interview. It creates a great time for me to reflect as you pose your interesting questions. You could create a whole separate business of interviewing people for their own self-awareness and to move them along in their journey.
Patie, to begin with, catch us up to speed on how the industry and your business have changed post-Covid.
My business changed a lot in 2020 and it is apparent now that all of the changes we put in place enhanced our business, our lives, and the lives of our clients. It was an interesting process for me. The creation that happens inside of my business is one of my favorite aspects. When I got word in February from allies in the medical world that Covid was circulating and I needed to pay attention I really did. With almost 3 decades in real estate experience, I thought I had pretty much seen it all. I am someone that has always been at ease and good at finding solutions. For this situation, I had none. I did not want to get flat-footed so I went to work researching and trying to plan the best moves, but I had no idea what I was planning for. I was watching BBC News and listening to the world's top economist, as well as the head of Daimler in Europe, and when the journalist asked what their plan was they both looked like a deer in the headlights. Both responded separately that they had no plan, that at the most they could only plan out 2 weeks. They had no idea how this was to play out or what to do. The economist commented that as the leading financial planner in the world with 40 years of experience, that if he didn't know what to do, no one did. Gulp.
That was actually good info for me and I decided the only thing that made sense was to plan for the worst and then if the worst did not manifest, I could have additional plans in place to step into that would be less draconian, as over time we returned to normalcy. We are still walking that road.
I honed back our budget. I knew others would not choose to respond how I was responding and so I decided to go my own way, start my own brokerage, and to no longer be under the umbrella of a large company. It was important to me to be nimble and able to make needed adjustments quickly. That saved us tons of money and was the best thing I could have done. After a few short slower months in March and April, as the public figured out how to navigate Covid, our business began to thrive. Of course all technological applications and sanitization standards were put in place to allow us to serve our clients and the public while staying safe in all ways.
Patie, what were some of the biggest changes you saw come into play in continuing in working with buyers and sellers in the midst of a pandemic?
We have always had our buyers pre-qualified and have worked efficiently while making sure our buyer clients had all of the time they needed to make solid decisions. We stopped traveling in the same vehicles when we are looking at properties, so that distance is better maintained. All agents keep sanitized products in their listings and at the door so that masks, gloves, booties, and sanitizers are available and utilized. People are really respectful of the seller's homes. Virtual open houses were utilized, of course. For many, we began offering 3D virtual tours. We are seeing a lot of buyers out of the more populated locations wanting to relocate, now that they can work remotely. That is a big change, they are no longer needing to wait until retirement, that will change our demographic, it already is.
Patie, you have an awesome team working with you. Please introduce us.
Thank you and I do. I love our team, they are so warm, well educated, savvy, kind and love making our clients dreams become reality. It inspires them to see our clients so happy and grateful. It means everything.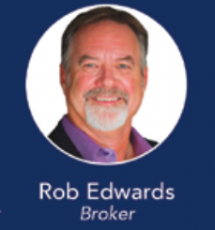 My husband Rob Edwards is a broker and shows property. Rob grew up in Southern Oregon and Central Oregon. He is from a ranching family who raised Herefords. He was a radio personality for many years in Southern Oregon and he knows a lot of people in the area. He is also a drag racer and loves his cars. We met on Match.com 17 years ago and I am the luckiest woman in the world. We work hard and we laugh heartily daily. During Covid we have spent a lot more time together than we ever had and it really deepened our love for each other…sweet silver linings.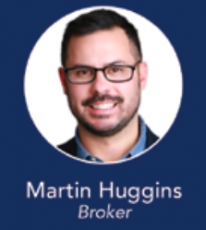 Martin Huggins is a broker and treats our clients like family. Our clients love him and tell me so repeatedly and I am so grateful he joined our team about 1 ½ years ago. Martin is astute, savvy, disciplined, with great humor and is warm-hearted. He was an Elite Airborne Ranger for 12 years, learned to speak Arabic fluently, has owned and sold several businesses, and is a great dad to his son Brennan. You could not ask for a better human being.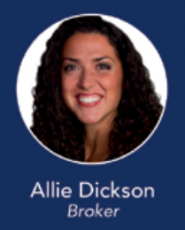 Allie Dickson has been with us for about 7 years, is a broker and also like family. Allie is a shining star, our clients love her positive bright energy and her skilled approach to contracts and negotiations. Allie is very industrious and an entrepreneur like Martin. She has digital businesses, online stores, and in addition to the residential market, she also is experienced in other market segments such as the hemp, distressed, and wholesale real estate markets. Allie also manages our lead department. We have several systems utilized by thousands of buyers as they search for their perfect property. Our lead team services these potential buyers, keeps them up-to-date with market reports, and apart from our automated search systems, they can the daily hot sheet for new listings and bring them to their attention right away.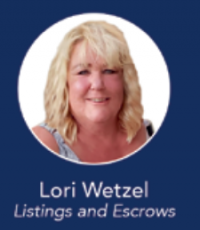 Lori Wetzel started with our company as a virtual assistant many years ago. She first helped me out at an open house back in 2001. She knows our business inside and out and is a great resource. Lori manages our escrows and listings and does a fantastic job. She is highly skilled, absolutely hilarious, and holds hands and allays anxiety for our clients as we move through the escrow process. I am never surprised when I find out that even after a year she is still talking with some of our clients she befriended during the process. The other day she said "I was on the phone with that gal Alice who we sold a home to last spring." I asked why, thinking maybe Alice needed help or had a problem. "Oh ever since then she calls me every few weeks to check in." That is Lori, people love her and always comment on how much they appreciate Lori.
Kathy Nable is our virtual assistant who has been with us just over a year and brings a great work ethic to all that she does. Kathy was previously a customer service rep for United Airlines and ATT. She assists in many capacities bringing order to our systems and making sure all is cared for. She has been a huge asset to us and any project given to Kathy is done quickly and at a high level. She loves working with our team as much as we love joining with her to create a better client experience. During the disaster of the Almeda Fire, we found that there was no single place to search for rentals in Southern Oregon. The property managers are not organized to provide that and it makes finding a rental more difficult than it already is. This non-system means that anyone looking for a rental has to visit each property manager website which is inefficient and confusing, takes a massive amount of research to even determine who they are and a tremendous amount of time to visit each site. I asked Kathy to create a Google document of all of the rentals offered on the individual property management sites and to update it daily Monday through Friday. Two days later it was done and has been a huge asset to the community. If you need the link let us know.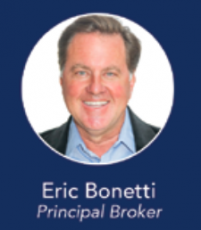 Eric Bonetti joined our brokerage as an independent broker. I have a long alliance with Eric and he provides our team tremendous support in new construction and development. He is kind, savvy, very smart and experienced, and represents the beautiful work and construction of Gil Livni of Magnolia Fine Homes as well as the interests of his large client base.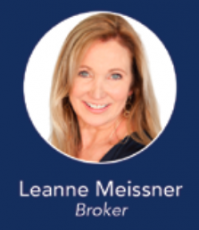 Leanne Meissner is a broker and newest member of our team. Leanne brings deep experience in commercial leasing and marketing. She is a wonderful liaison to our clients considering moving to Southern Oregon. Her natural caring nature, bright intelligence, capable research and love of people make Leanne a perfect fit for nurturing our clients as they make life-changing decisions. We are really happy to have her as a team member.
And if a global pandemic was not enough, the devastating Almeda fire created an entirely new level of change for both yourself and the market. 
Wow, 2020! The havoc unleashed during 2020 was mind blowing. One thing after another kept us hopping to adjust, pivot, and change. 
This was one year where "Same as it ever was" did not apply. The pandemic caused massive change to so many people's lives and now with 500,000 dead, families devastated, livelihoods disrupted or damaged there is a lot that needs to recover, be rebuilt, individually, as a country and a globe. With the fires came a more intimate heartbreak. So many losing everything. Communities physically destroyed in a way that the mind cannot take in all at once. You cannot possibly know all of the ramifications an event like that will have. As someone who is solution-driven, to have that amount of housing, much of it affordable, gone within a 2-day period is… there are no words.
Patie, you were then instrumental in launching Heart Rising to assist victims of this fire. Can you give us an update on this initiative?
I was inspired to form Heart Rising as a solution to find a way to support the fire survivors for the long-term recovery ahead. I knew it could take 1-2 years. I also knew that various large assistance organizations would be able to offer the quick shorter-term solutions, but that after things stabilized they could leave our area. I wanted to make sure that the families and individuals that would need long-term support in the way of friendship, kindness, financial assistance, transportation, education, clothing, household items and housing, would have an intimate team who would be there for them and uplift them. We wanted a larger base of organized teams to each support one to a few families. That model allowed the assistance offered to the fire survivors to be sustained over a long period of time. It formed a model of the many helping one, rather than the burdensome model of one individual trying to help many families. It worked and volunteers started joining. Families and individuals who lost their homes began to reach out and were matched with a team. The results have been amazing and the relationships between the teams and fire survivors have created a deep bond among people who had previously been invisible to one another for the most part.
We had wonderful early assistance from you Shields. You graciously and open heartedly offered space for our cause in the LocalsGuide and you have continued to do so monthly as well as brainstormed with me and created our website. You are such a good and cherished friend. Julie Wiley spent many hours talking with the families and volunteers matching them up, forming teams and found outside assistance for essential items and funds when needed. Heart Rising hired Lucie Scheuer as Associate Director two months ago and she has done a fabulous job of administering our organization. I am so grateful, she has great expertise in non-profits and in directing organizations. Finally the Thalden Foundation made the generous offering to match the first $10,000 in donations, which we have received. They also offered their organization to receive donations on our behalf since we were not yet a nonprofit. Thank you to all of you who have been such great help and to the teams and families.
Our families have been wondrous to work with. After all they have been through during the past year they are so gracious, kind, and their beautiful hearts shine. 
Our teams are made up of capable, generous people that do good works daily. Over the past few months the teams have been joining as full intact teams from book clubs, athletic clubs, classrooms and as coworkers from business organizations. Initially volunteers joined as individuals and as we evaluated their skills and offerings teams were created. We welcome all to join as individuals if you would like to join a team. 
In summary of 2020, how did the year end for your company?
2020 in a business sense was a year of great change and from a financial view, it was very successful. Even with March and April being impacted by Covid and movement restricted, changing our business model and starting our own brokerage, our final sales volume was virtually the same compared to what we sold in 2019, which was a very strong year for us. We are continuing to streamline and enhance our systems and customer experience, and within the next 30 days our sales volume for 2021 will be at 40% of our 2020 volume. It is very rewarding to know the changes we put in place were the right decisions and effective.
Patie, moving back to the real estate market of 2021 here in Southern Oregon, we are at historic lows in inventory. What exactly does mean and why is it occurring?
This is the lowest inventory in history. When I checked the Ashland inventory a few days ago, we were at 40% of the inventory we had at this time last year. We experienced lower housing inventory levels over the past several years but the new low levels are game changers and something I have not seen before. It also creates its own cycle. With low inventory some sellers are cautious to put their homes on the market as they are afraid they will not be able to find their replacement property. We know how to address this, so if this is a concern for you, reach out to us to discover strategies that can make this work for you. We just had two situations in the past week where we made this work for two sellers. Part of why the low inventory is happening is because movement has been restricted by Covid-19. Some buyers are not comfortable being out in other people's homes. Sellers are not sure how to move across country or state to state with the current Covid-19 situation. I believe that as things ease up we are going to see massive activity. Many have put life on hold for the past year. I also think that with the distraction of the election behind us that people are now starting to feel their true feelings of what we have all been through in the past year. Some are even feeling an edge of depression now that they are not so distracted or feeling a bit lost. They are having hard looks at how they want their life to be, how they want to live, and many are calling us to have fact-finding conversations. Information is knowledge and talking to a housing expert is a good first step if you are considering all options. We are happy to give our time and brainstorm with you as you determine how you want your life to look. Many are retiring early, some are making different plans to work remotely in new areas or moving closer to family since they have not been able to see each other for a long time. 
There are new areas of importance in people's lives and they are not going to delay the past when they have to. I believe they are going to take massive action.
What are you telling to both buyers and sellers at this time?
We are telling both buyers and sellers to reach out to us. Just call us and let us know what you are thinking about or even say, I feel completely lost but think I might want to make a change. We can find solutions that will lift a huge weight off of you. Do not be shy, you can call me at anytime at 541-301-3435. Evenings are fine if that is what works for you. We are telling Sellers to tell us their needs and we are telling them how they need to approach things. We are telling buyers to get their loan pre-approval in place, call us if you need a lender recommendation, and that we have strategies that will make them successful if they encounter multiple offers on a property they like. If you are moving to another area let us know so we can make a recommendation for a great Realtor in your new area so you know you are in great hands. We are here as a resource for you and that information is always free of charge to you.
Patie, are there any personal reflections or thoughts you would like to share with our readers before we go?
I would like to share that the prolonged focus and effort to create a highly professional team, who work in unison for our clients, has been a wonderful creative act and I am so proud of the results. We accomplish a huge amount in a day and we make people's lives better. That takes timing, communication, and skilled capability. Sometimes it takes patience on the part of the client, especially for buyers in a low-inventory market, but we wake up and go to work for you each and every day. For our sellers we are always considering your market position. We always tell people the truth, which is not always easy but it is essential. We will never tell you just what you want to hear, you cannot make decisions based on that. We give every buyer the downside as well as the upsides of every property. We do not let our clients make a real estate mistake and I feel we have been 100% successful in that over the past 27 years. That is why a huge portion of our business is repeat clients or referrals from past clients. We just sold a home to the 3rd generation of a family. That does not happen if you don't take care of people. My team has allowed me to have a more balanced enriched life where I feel gratitude for so much, daily. They take great intentional care of me and we will take good care of you.
Everyone have a great year, and I hope that each of you enhance your lives this year and that amidst the changes that will surely come, that your hearts shine.
Patie, thanks so much for speaking with us today.
Learn More:
Patie Millen, Broker/Owner
Patie Millen Group, Inc.
545 A Street, Suites 2 & 3, Ashland
541-301-3435
AshlandOregon.com