In a small town word spreads quickly and I have no doubt that the interview I am about to share with you is going to keep Patrick Marcus busy for months to come. Up until now you may have only heard of him from his small ad in the LocalsGuide or through a word-of-mouth referral. Today I get to change that with a LocalsGuide featured interview.
 Introducing Patrick Marcus of the Fix it Factor LLC. Patrick is licensed, bonded, and insured and specializes in major appliance repair and he is good at what he does. Being an independent service provider, he's not invested in selling you a new appliance, so he's not beholden to any brand or manufacturer. His primary goal is to empower his customers to make good decisions about their appliances. Should you repair or replace that refrigerator or washing machine? Before showing up at your door, he prefers to research your appliance issue by talking to you on the phone to trouble shoot the problem. This will help you save time and money by lessening or omitting multiple service calls for the same issue. For example, a customer calls to say that the clothes dryer doesn't work. Depending on the symptoms, Patrick might advise to check the circuit breaker to see if the power is on or if the dryer door is closed completely. He'll help you help yourself to save money and avoid a service call just to come flip a circuit breaker in the electrical panel.
At Christmas time I called him from outside the area where I was spending the holidays when he promptly walked me through fixing the family garbage disposal – over the phone! Patrick has spent his life understanding how people, technology, and the processes through which they work. He's been a corporate trainer manager, electrician, landscaper, and contractor, and understands the in's and outs of how thing works. On top of that he is continually evolving and learning and will do the prep work ahead of time before he shows up at your house to get things fixed! Could you ask for anything more?
Patrick, hello and thanks for being a part of the LocalsGuide!
Thank Shields; it's a pleasure to speak with you. I've always appreciated the LocalsGuide as a resource for home and business. I am pleased to be included.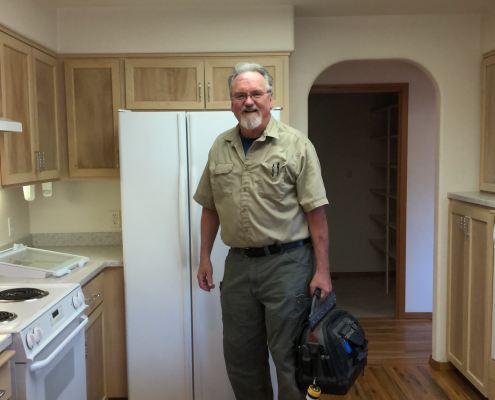 To begin with, please tell us a little bit about your background. Have you always had an interest in fixing things?
In the earlier part of my career I've been a building manager, handyman and electrician. As time progressed I realized that climbing power poles, and working in attics and crawl spaces was work that I was not going to physically sustain so I went back to school where I earned a Bachelor's Degree in Religious Studies and Communications, and later a Master's Degree in Instructional Technology; that's a combination of learning theory, media productions, and psychology. For about 25 years I worked in the corporate world as a training manager and as a consultant developing technical training for telecom, energy and software companies.

The economic downturn in 2008 and a divorce forced me out of retirement and back into the job market. Unfortunately, corporate culture had evolved to the point where being middle aged made it very difficult to re-enter the corporate world so I had to reinvent myself. In 2010 I took a job in the Beaverton area as a training manager for a call center but realized that my heart was still in the Rogue Valley so in 2011 I came back to Ashland. Reinvention has always been a part of my life style and I have always been interested in how people relate to nature and technology. I started a couple self-employment opportunities.

Realizing that I needed a bit more of a niche, I became a certified electronic technician and appliance repair tech through Fred's Appliance Repair Academy in Madison Ohio in 2014. That training was comprised of a three-week residency program in a physical lab environment. A year later I met Warren Willis of Courtesy Appliances of Ashland, Warren and I have similar values when it comes to customer service and we developed a friendship while he was facing medical issues. Warren has been a guiding hand and mentor as I started my appliance repair business.

In 2015 I obtained my residential contractor's license and offered handyman services.
Over the course of your career, what are some of the most challenging projects you have taken on?
Projects present themselves in three different domains: life, work, and self. None of these are mutually exclusive because they all overlap. In the work domain, and a previous occupation, I once had a client who was a large brick-and-mortar computer hardware retailer that was making its own transition from selling hardware to managing Information Technology services (I.T.) The challenge was to transform the sales force from one that sold hardware to one that sold IT services that managed a company's IT infrastructure. This project was a team effort and it involved training over 400 sales reps across the country with a consistent message about the company's evolution while increasing the sales force's technical knowledge and doing it in short time frame. The end result was a series of live satellite broadcasts that featured a specific topic that was bookended with an X-Files parody in the beginning of each broadcast and a contest challenge at the end. The winner was announced at the next broadcast and was awarded a significant prize.
Patrick you have defined three passions in your life which you have really been able to explore and live by. Please tell us about them.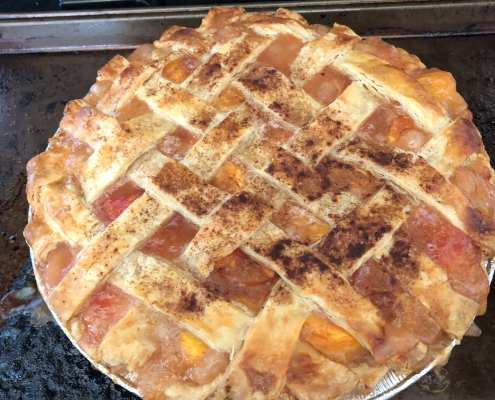 My three passions in life are cooking, gardening and fixing things. Ever since I was knee high to a pumpkin I've had my hands and heart in the soil, soup pot and the toolbox. When we moved to Ashland in 2002, I had semi-retired and became certified as a OSU Master Gardener where I taught various classes in pest management and organic gardening. Fellow Master Gardeners, Carol Kale and Carol Carlson introduced me to an initiative of starting a community garden on Ashland Parks' property at Hersey and Oak Streets, so I had a hand in helping bring community gardening into the Ashland Parks system. I was a volunteer garden manager there for a number of years.
In 2014 you create Fix it Factor here in Ashland. What were your goals for the company?
My goals are pretty simple; generate a self-sufficient income while providing customers with quality service at an affordable price. Appliance repair can be very technical but it is not rocket science or high finance. My goal is to relieve a customer of a problem that's interfering with their normal household functioning. Therefore I need to present a high level of trust and competency whenever I enter someone's home or place of business.
Patrick you are specifically serving Ashland and the surrounding nearby areas. Please say more.
I'm a one-man show so I've limited my service area to Ashland, Talent, Phoenix, sometimes Medford and parts of southern Jackson County. Some of my clients are in the Green Springs and up Old Hwy 99 as well.
Patrick, please give us an overview of your services.
My primary service offering is residential appliance diagnostics and repair. That's laundry washers and dryers, kitchen ranges, wall ovens, refrigerators, dishwashers, disposers and compactors. Another service I provide is Repair versus Replace consulting. Manufacturers have perfected the art of designed obsolescence so in some situations a repair may not be the best economic option. And, because I am not a retailer I don't have a vested interest in selling customers a new appliance so I have nothing to gain by advising replacement. My service calls include the first 30 minutes of a visit as well as any research I do prior to coming to your home. After the first half hour, I charge an hourly rate.
What do you not do?
When I started this business I was doing general handyman type work. As time progressed, I acquired certification in appliance electronic diagnostics and I migrated towards working exclusively to repair of major appliances. This means that even though I am skilled in many repair areas I phased out general household repairs such as painting, fencing or remodeling, I leave that to the younger folks. I frequently get calls to repair counter top appliances such as toasters, microwave ovens vacuums and so forth. Unfortunately the costs of parts, in many cases, are more expensive than simply replacing the unit. Finally, I don't do commercial or HVAC.
What do you see has helped you succeed with what you do?
Responding to customer needs is crucial. When customers call they usually have an equipment crisis such as their refrigerator is not cooling or its leaking water. My customers are looking for trustworthy responsive service and technical accuracy at a reasonable price. I am sensitive to some customer's ability to afford a repair so I'll work with them to make it affordable.
You oftentimes like to inform your clients of the hidden cost and hassle factor of having to replace an appliance.
I want to help my customers avoid the hassle of replacing something unnecessarily and save them money by fixing it. I will recommend the repair. The landfills are full of the bones of our affluence. If I can repair something cost effectively for them, then I will recommend the repair. However if the appliance has had multiple repairs, and I see the risk of more repairs in the future, I might recommend replacement. When replacing an appliance, one has to consider the hassle factor of purchasing a new or used appliance, the cost of deliver and installation, and then taking the old one away.

Patrick please tell us about your diagnostic services that you do on the phone before you even go out to a customer's house. Why do you do this?
When a customer calls, I like to do as much trouble shooting over the phone as possible before coming out to their home. I request the make and model number of the appliance so I can review manufacturers service bulletins, part availability and other factors. For example, someone might call and say their washer does not work; by trouble shooting over the phone I can determine if it's a user issue or part failure. Please keep in mind that when I am on a service call, I may not answer the phone because the customer on-site has my priority. Just leave a message with the make and model number of the appliance, and your contact information. The best time to reach me is in the morning before 10:00 or later in the afternoon. Power outages are somewhat frequent in our area. These outages cause the electronics on some appliances to malfunction. Sometimes the unit just needs to be rebooted. Do you remember the natural gas supply problem in Ashland a couple months ago? I got a bunch of calls one morning from people reporting their kitchen ranges were not working and their clothes dryers were not heating. I set a lot of customers at ease that day by letting them know it was a natural gas outage and that their appliance did not need repair. My data gathering and research prior to the visit is all part of my service call.
Some repair companies are showing up totally unpaired to deal with the challenges on hand.
Yes I hear about this occasionally. But I'd say this is more of an anomaly than regular occurrence. The problem happens when a customer's main hiring factor is price and they hire an unlicensed repair person who has watched a YouTube video. Customers can end up paying for them to learn how to fix your product. As a professional I expect that technicians come well informed. I put the time in to come prepared. Do it once. Do it right. However, if I'm not familiar with your equipment, I tell you so before coming out and may recommend someone who has the needed expertise with a particular product.
Please talk about the preconceived notions that clients often come in with.
One of the greatest preconceived notions clients have is that their appliances should have a 20-year life span. Older units definitely last a long time but manufacturers have made many newer appliances almost disposable. In some cases the cost of parts has gotten totally out of hand. The recent trade tariff spat with China has caused prices to jump considerably. Some companies that do not have tariff restrictions are raising their prices to match those of the imports so we are seeing an increasing price trend for new appliances and parts. Unfortunately people experience a bit of sticker shock. For example, a five year-old dishwasher may have a circulation pump failure. By the time a technician diagnoses the problem using the prescribed protocol, uninstalls the dishwasher to get to the part, makes the repair and then reinstalls the unit, the customer may be better off to replace the appliance. I use a metric that if the service/repair costs exceeds 50% of the replacement costs, I recommend replacement rather than repair. You can bet that an older dishwasher is going to have more problems.
Patrick many of your customers continue to work with you time and time again and I guess that says it all.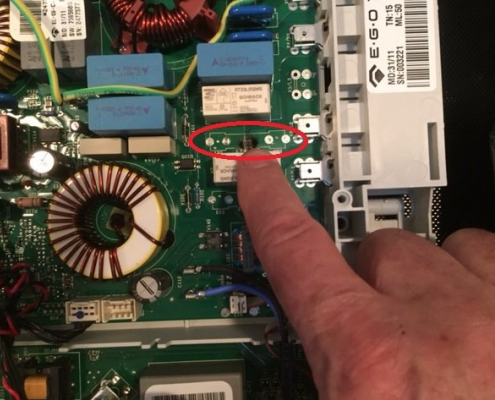 Yes, that's true; I'd say that a significant portion of my business comes from repeat customers. Many are realtors and property managers. Once trust has been established, they call me whenever an appliance issue arises. So far, most of my business comes from word of mouth. However, to stay relevant, one needs a digital presence so I'm currently developing my website that should be up by the time this edition is published. You can find me at www.fixitfactor.com.
What types of projects do you like the most and what are the goals in working with your clients?
The projects I enjoy the most are the ones where I can make the repair using the most cost effective solution. For example, many washing machines stop working because of a lid switch failure, sometimes I can make a minor repair that fixes the switch without replacing it thereby saving the customer money on a new part. Other times the part may have significant damage and needs to be replaced.
Patrick you are also looking into helping DIY clientele with their projects. How does this work?
I frequently get customers who attempt to do their own appliance repair. They watch a YouTube video and get a general idea, more power to them. The problem is that the "how to" videos rarely cover diagnosing the problem. Some customers order a part online and get it shipped to their home. However, after they attempt the repair and the appliance does not work, they call me. I have had some cases where I come to the customer's home and found the appliance disassembled on the garage floor with parts and screws scattered everywhere. Now that's a challenge! If someone wants DYI assistance, I suggest they do their homework first and evaluate if this is something they can tackle successfully. For a modest fee, I can provide service manuals, tech guides and advise on how to complete the repair. The one thing I caution DIYers is that sometimes getting into an appliance is like breaking in to King Tuts tomb.
Patrick it sounds like you really enjoy what you do.
My greatest satisfaction comes when a customer says, "I'm glad you came, thank you." I like interacting with customers. Plus, I get the satisfaction of practicing handyman yoga every day. It keeps me young.
Can you share some recent testimonials with us?
Patrick "Fix-It Factor" is an exceptional fixer of washing machines and refrigerators. His high level technical background makes repairs quicker and less expensive. He help you find your appliance model number so he can pick up parts on his way – no extra cost and time wasting trip to the parts store. He is very knowledgeable about the quirks and weaknesses of different brands and models – often able to diagnose the problem before making the trip to your home – another savings! He is totally honest and his charges are fair. He is prompt and does his best to come as soon as possible, especially in those "emergencies." I have owned a home and rental properties in Ashland for 30 years and have depended on him for years. He has my highest recommendation.
– Phillip Lang, Ashland

When I've got a broken appliance at my house, Patrick at the Fix It Factor is the first person I call. Friendly, trustworthy, prompt, and reliable. That alone would make me call him first. But also, in a couple situations he has helped me make informed decisions about whether to repair or replace, or for which way to go for a new purchase.  He does the right thing for his customers' interests and priorities.
– Michael Donnelly, Ashland

"I am very pleased with the service and response from Patrick Marcus and the Fix It Factor. Patrick is responsive, helpful and competent. He has helped me with repairs to refrigerators and washer/dryers. One thing important to me is to understand the problem, the options available, and cost factors involved. Patrick takes the time to explain the options and also to suggest how I could undertake some minor issues on my own. Fix It Factor is trustworthy and I would recommend it to my friends without reservation."
– Kevin Talbert, Jackson County

We've had Patrick from Fix It Factor come out a couple times for issues with our fridge. Both times he's quickly returned our phone calls, showed up within the same day we call for help, and is obviously knowledgeable about his work. He's pleasant to deal with and if you're lucky, while he's working, he'll help teach you as well! Highly recommended.
– Judy H, Ashland

Patrick Marcus at the "Fix It Factor, LLC, He's knowledgeable, honest and conscientious, everything you want it a repair person.
– Wayne Kelly, Ashland.
Finally are there any last words you would like to share with our readers?
It amazes me how connected to each other we are in the Rogue Valley. Besides fixing appliances, I care about my customers' wellbeing and concerns. I believe that's part of what makes my business successful. The next time you have an appliance repair issue, give me a call, let me help you.
Learn More:
Fix It Factor LLC
P.O. Box 725
Ashland, OR 97520
www.FixItFactor.com
541-941-2935