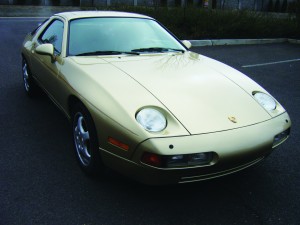 What does one of the most famous sports car manufactures do when their star car tends not to burn so bright? In the early seventies, Porsche's baby the 911, hit a North American sales slump. The 911 being a pure sports car was a handful to drive and noise and emission regulations were becoming more difficult to achieve with the "boxer flat 6" engine. At the same time Ralph Nader was busy killing the Chevrolet Corvair due to the fact it was "unsafe at any speed". This made Porsche nervous as the 911's engine was of similar design to the Corvair and thought Ralph would set his sights on the 911 next. Porsche also felt they could no longer improve on the design after almost a decade of evolution. It was time to replace the 911 and the ground work for the replacement had begun and the 928 was born.
Ferry Porsche and his father Ferdinand Sr. created an automotive engineering company in the early 30's and were responsible for the creation of the "Peoples Car" or the Volkswagen. Ferry then went on to create sports cars known as the 356 and of course the 911. When the 911's fate appeared to be near its end Ferry Porsche was pressured by then managing director Ernst Fuhrmann to build a luxury sports car. It was badged the 928. The 928 was a complete design departure from the 911 which included a water cooled V8 engine in the front of the car and the transmission was put in the back. This created a much more balanced car which in turn made it handle considerably better then the rear engined 911. The 928 was first put into production in 1978 and had a lack luster run of almost 20 years when in 1995 the final of 61,000 928's rolled out of Stuttgart. As with Porsches the 928 evolved considerably during its reign with performance improvements being at the heart of change and the GTS was the final variant
With only 77 928's making their way to the United States in 1995 this is a very rare car indeed. It was spied here at Aaron's Autowerks and is a perfect example of a well kept classic. Its all aluminum V8 engine displaces 5.4 liters of volume and pumps out 345 horsepower! It originally sold for over $100,000 and was the fastest production car of its time. It has a unique look that is unmistakable and it is as thrilling to look at as it is to drive. It definitely is a Grand Touring Sedan as its badge proudly states. The good new is the 911 never did die and is alive and well. Thanks Ferry!
Happy Motoring!!!