Introducing Hank and Robin Kearns, the new owners of Shepherd's Dream, an international natural mattress & bedding company with a retail location in downtown Ashland at 42 E. Main Street. Originally from San Francisco, Hank became friends with previous owners Sarah Sunshine Smith and Nathon Thill. The time to pass the torch turned out to be right for both couples, and Hank and Robin stepped in at the beginning of 2018 to take the company's reins. I caught up with Hank to speak to him about Shepherd's Dream and his own dreams of growing the company into the future.
Hank, thanks so much for being here today to speak with us and congratulations on the acquisition of this amazing company!
I appreciate the opportunity, thank you! I know that Robin and I are a little biased, but we feel Shepherd's Dream products have no equal when it comes to natural handmade mattresses and bedding. We are sincerely grateful to the Shepherd's Dream family of employees who make this possible.
To begin with, can you please share a little bit of background on the company?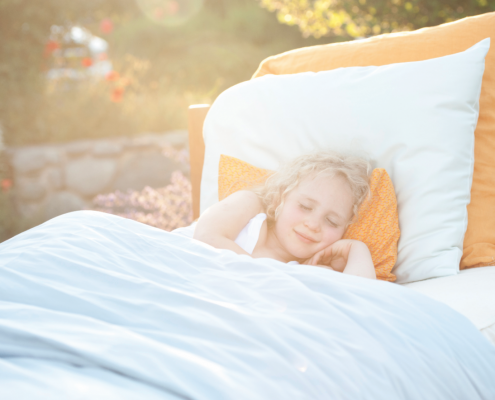 We trace our beginnings back to 1984 with the creation of Jantz Designs, founded by Eliana Jantz. In its original form, Eliana was creating some of the first organic cotton futons. Within several years, she discovered that wool was a superior fiber for making mattresses and bedding. Fast forward to the early 1990s, and Shepherd's Dream started to take shape in Montague, CA (just south of us in Siskiyou County). In close collaboration with Woolgatherer Carding Mill, owned by Patrick Holland, a regionally sourced natural and chemical-free wool supply was created. To this day, Woolgatherer furnishes us with the highest-quality wool batting and textile that can be produced.  Thanks to the relentless hard work and forward thinking of Sarah and Nathon who grew Shepherd's Dream and Woolgatherer to what they are today, we are able to talk about the next phase in the company's journey.
Hank, can you tell us about your own professional background and the opportunity you were looking for when you decided to buy Shepherd's Dream?
I started my career in project management while living in the Bay Area, and Robin worked as a teacher for more than 15 years. When we met the previous owners, we had already been discussing making a move to "the State of Jefferson" as an ideal place to raise our family. As longtime believers in the benefits of wool for comfort in the outdoors and myriad other uses, and having fallen in love with Shepherd's Dream products many years prior, the opportunity to work with the folks creating these products had us excited to say the least! Making such a major life change was not without its challenges, but it was one of those times that it seemed like things were coming together and this was a path we should take. Our goal in taking on ownership has been to expand awareness of these super comfortable, healthy, and sustainable products made right here, while also expanding some of our offerings that we feel are a fit with the core business.
Tell us more about the ethos of the company that you appreciated and what your hopes are to continue it. 
We are a very family-oriented business and we want people to earn a living wage while creating something they can be proud of. Many of our employees have been with the company for over 15 years. Our goal has always been to use the absolute cleanest and finest natural and organic materials we can find, the core of which is regionally sourced and third-party tested. There's a need for handmade products of this quality that are a shift away from the limited lifecycle stuff that ends up in a landfill.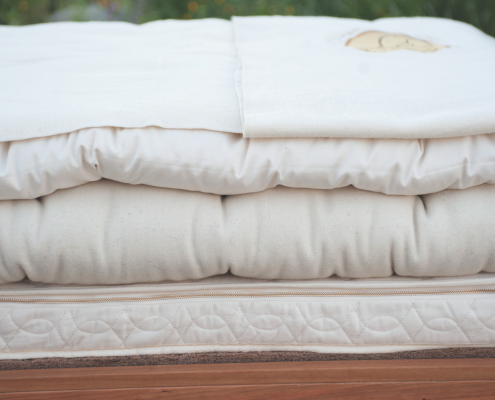 Hank, you and Robin have two children yourself. 

Yes, our oldest son Hank just turned 5 and Emmett is 2. As anyone with a young family can attest, we stay pretty busy keeping up with these guys! I am so thankful for all of the support, planning, product development, and creative work that Robin does for the business, all while raising the boys! It is a ton of work and she does it in style.
Shepherd's Dream has always had a very solid product line. Please introduce us to it.
We specialize in products made from Eco Wool, a trademarked blend of fibers sourced primarily from Southern Oregon and Northern California. The organic cotton textiles we use are sateen, woven to our specifications. Shepherd's Dream has also been expanding our fully-certified organic product builds, which is one of several third party programs we think are important to our quality assurance. From these materials, we build our signature all-wool mattress, the Snuggle Mate mattress topper, and wool comforters to name a few. We also offer a superior 100% natural latex mattress that is built around our core wool and cotton materials. One of the great things about our bedding is that you can layer it to achieve the exact comfort that's right for your sleep environment. It's not uncommon for someone to start with a mattress topper to help improve their existing mattress, and then add components over time as they come to love the all season comfort wool brings to their sleep. Our comforters and washable wool blankets are super popular as we head into the winter months.
The craftsmanship and quality is second to none.
Thank you for that, we take the quality of the products very seriously! It takes a lot of training and experience to build a Shepherd's Dream mattress, topper, comforter, or pillow – and our team takes pride in the fact that these items are made to last a very long time.
Hank, can you tell us more about the structure of your company?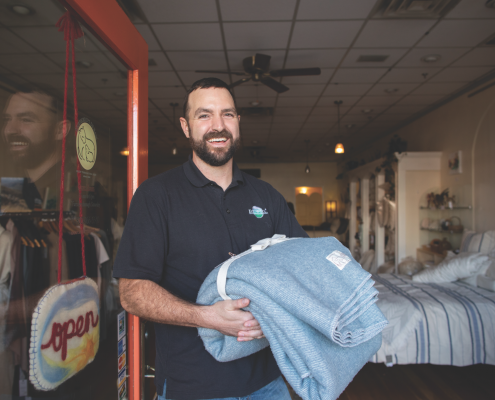 We are still carding wool and making Shepherd's Dream products right down the road in Montague. I am happy to report that our flagship showroom on the Plaza in Ashland has been warmly received by the community and it's coming up on our first anniversary in this more visible and convenient location. In the long term, we hope to expand some of our production capability to Southern Oregon. 
Are there any new products or services you are bringing on board to supplement your current offerings?

We have been working closely with Coyuchi for many years to bring their fabulous organic products to the region. They do an amazing job with sheets, duvet covers, towel sets, and pajamas. With the added showroom space we're working with, we have greatly increased our Icebreaker offerings – focusing mainly on base layers, accessories, and some cool casual clothing options – all of which are made from sustainably-sourced merino wool.
You are also featuring two local wood artisans you are working with to create 100% handmade bed frames and accessories.
The Shepherd's Dream product line needs a solid frame to build on. Air circulation is critical to keeping a clean, healthy bed setup and the craftspeople we work with to build frames do an amazing job ensuring this with properly constructed slatted foundations, while looking great and not costing a fortune. The designs are meant to last a lifetime.  They bring pleasantly clean lines and a handmade aesthetic that can be hard to find these days. The bed frames use non-toxic, food-grade finishes and are built to order in several solid wood options: red fir, maple, cherry and walnut. The fir "Beauty" frame is made by our longtime maker in Grenada, and the hardwood Puritas beds are crafted in Mt. Shasta. We are also working to bring other truly custom made options from Ashland area makers to our customers…
In previous interviews, the previous owner Sarah and I spoke in-depth about the amazing qualities of wool. I am wondering if you could give us a quick review on the key benefits of this product.
Wool is truly amazing. Some of the greatest benefits are:
Relieves back pain, arthritis and pressure points
• Calms the body and lowers the heart rate for deeper sleep
• Naturally dust mite resistant
• Breathable and a temperature regulator
• Biodegradable and healthy for our planet
• Free of all chemicals and flame retardants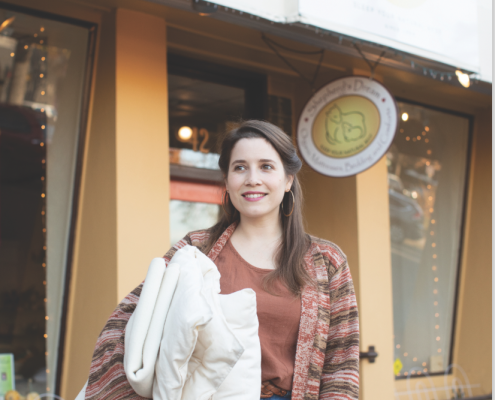 What have been some your family's personal favorites when it comes to Shepherd's Dream products?
It is hard to choose – my son loves his all-wool mattress and pillows. Robin and I are big fans of the all-seasons comforter, contour pillow, and Snuggle Mate.
Do you ever do tours of your wool mills and production facility?
We do on occasion offer tours to folks that are interested in seeing the 110-year-old carding mill and how Shepherd's Dream products are made. Let us know if you have an interest and we'll work on getting something scheduled!
Is Shepherd's Dream always open for First Friday?

Yes, Shepherd's Dream has been a supporter of the First Friday Art Walk for several years now and we have a lot of fun with it. We are members of the Ashland Gallery Association and have at least 6 exhibitors every year. We also are proud to have some amazing fiber art pieces on display, with the works by Wooliza being a major highlight!  She uses our Premium Eco Craft Wool as the base for the majority of her felted art.  There's refreshment and live music to be enjoyed while folks check out the art and get to know some of our products.
Hank, your website serves a global clientele. How are these customers finding you and what specifically are they looking for?

Improving our website and doing the best we can to get the word out has been a major focus for the team. People usually find us while searching for natural, organic or chemical-free mattresses and bedding. Of course, others know to look for wool blankets or comforters, and most everyone is happy to have found a high-quality handmade product made in our region. Much of the work that goes into our website revolves around giving potential customers the information they need to make an informed buying decision and hopefully making the case for why Shepherd's Dream products are such a great value.
Shepherd's Dream products really can become long-term family heirlooms. 
With proper care, they really will last a very long time. Most of our wool-filled items can be refurbished or rebuilt at some point in their lifespan, further extending their usefulness.
I am wondering if you could share some recent customer testimonials with us that speak to some of the qualities you appreciate most?

"I purchased the queen topper yesterday and Renee was helpful and wonderful. It was a positive experience and I am excited to lay down each night on this amazing piece. Will recommend SD to all. Again thank you for your kindness and generosity. Very appreciated.

May the business in Ashland expand, prosper and serve all those that visit."

– Bethann

"The custom latex topper made by Shepherd's Dream was the final piece to complete our bed. We started with the 5″ wool mattress, with a Snuggle Mate 3″ wool topper and mattress cover. I found the bed to be very firm yet comfortable, but when I slept on my side I could still feel the hard slats on my hips (I'm just under 115 lb). My husband's shoulders were a bit uncomfortable, as he is almost an exclusively side sleeper (he is 155 lb). We had come from a Tempurpedic mattress, and I was definitely needing more support for pelvic/lower back pain for me. He still absolutely loved the Tempurpedic, but was open to the Shepherd's Dream system to support me in finding a more pain-free, supportive sleep solution. Once we got the latex topper, it was instantly different. It is more soft and light than I expected, and was the perfect addition of softness and squish, while still providing the support and firmness that I was looking for. I have never slept more comfortably or supported, and I've never heard a word of complaint from my husband again. We both sleep great (on our customizable wooly bolus pillows) each night, and I look forward to getting more products for our kids' beds! Thank you to the Shepherd's Dream team for working with us to create their latex topper (and all the products)!

Thank you!"
Hank, what are you and Robin's dreams for the company?
We are looking forward to continuing the great work that the company has been doing for all of these years. Our hope is that when people happen by the store in Ashland or our website, Shepherd's Dream helps them think differently about the options they have for healthy sleep and the comfort of a relaxing sanctuary in their home. 

Last but not least, you really want to get the word out to have local readers come downtown and explore the shop!

We get calls all the time from people in other parts of the country anxious to see our products in person, and we're working to make that more of an option in the future… but we are excited and grateful to serve our local customers from our new home at 42 East Main in Ashland. Look forward to seeing you sometime!
Thanks so much for speaking with us today!
It has been a pleasure to catch you up on the continuing Shepherd's Dream adventure. Thank you.
Learn More:
Shepherd's Dream
42 E. Main St., Ashland OR 97520
www.Shepherdsdream.com
1-541-708-5439