Insurance agent Sue Carney offers locals in Southern Oregon first class service in all realms of insurance. From your health to your home, Sue has you covered. When it comes to navigating your insurance needs you require an experienced and knowledgeable expert. Someone who knows how to successfully navigate the system, while getting to the results you need with a minimum of hassle, headache, and heartache. Over the past seven years, Sue has served hundreds of clients here in Ashland and around the Rogue Valley. In today's interview I catch up with Sue to discuss changes to this year's enrollment as well as getting insider tips for picking the best policy available- and some pitfalls to avoid.
Sue, welcome back to LocalsGuide and thanks for talking with us today.
Thank you, Shields. I'm excited about this opportunity to reintroduce myself, as our community continues to grow each year.

It's almost time for open enrollment for both Medicare and Obamacare, and I'm reaching out to remind everybody that you don't have to struggle with your enrollment- free help is available to all Oregonians.

I also have a few helpful insurance tips for your readers today.
To begin with, what's new?
For the first time since 2012, the number of insured in the country is going down. This is seen as a direct result of the current administration's attacks on the ACA- especially striking down the individual mandate, which formerly required all Americans to purchase a policy. But the news is not all bad- here in Jackson County at least one insurance company is asking the Insurance Division to permit them to lower their premiums!
Sue, you have been there since the very beginning of Obamacare, and you have committed yourself to master and understand the healthcare insurance enrollment system for your clients.
I originally became an insurance agent specifically to help make Obamacare a success. I had no health insurance myself and tried to enroll as many people as possible, so the program would continue. Since that time, I have grown to include Medicare and other types of health and life insurance into my practice. In 2017, I became a licensed personal and commercial lines agent, so I can also help with home, auto, and business insurance.
Can you tell us more about the specific services you are offering?
Health insurance enrollments are my specialty. Whether you get your insurance from an employer, from Obamacare or Medicare, open enrollment takes place in the fall.

So, my service assists clients with their fall enrollments- to choose the right plan for their needs, to file their application by the deadline, and to follow up with whatever documentation the Federal Marketplace requires. I am also there to help get applications back on track when things go wrong when applying through the Exchange. (Spoiler: they do)
I'm a little confused- what's the difference between Obamacare, the Affordable Care Act, the Exchange, and the Federal Marketplace?
These are four terms that are sometimes used interchangeably. Obamacare and the Affordable Care Act are one and the same. The Affordable Care Act (ACA) is one of the laws that govern health care insurance in this country- however it is purchased. For example, it is the ACA (aka Obamacare) that protects us from being denied insurance coverage due to pre-existing conditions and provides subsidies (aka Premium Tax Credits). The law also created the online platform for choosing and enrolling in policies, and for determining subsidy eligibility. This platform is referred to, interchangeably, as the Federal Exchange and the Federal Marketplace. The names are further shortened by removing the "federal" part, and are simply known as "The Marketplace", or "The Exchange".
What are specific questions customers should be asking themselves when choosing the best health insurance policies?
The first thing to understand is that insurance carriers have several ways of requiring you to share the costs of your care, beyond the obvious monthly premium. These measures are familiar to most of us: co-payments, co-insurance, and deductible. The "out-of-pocket limit" also must be considered, although it is not a cost-sharing measure.

It is important to look beyond the premium to weigh these additional costs carefully, and then choose the option that fits you best. Two examples: 1) a plan may have a very low monthly premium, and a very high deductible. 2) two plans may be similar, but one has a lower out-of-pocket limit. How do you balance and compare these?

Let's return to the first example. A person who is young and in excellent health may well be in a good position to save money by purchasing a plan with a very low premium and a very high deductible, since they might not incur any medical costs in a typical year, beyond the premium.

In the second example, we focus in on the out-of-pocket limit, which is a stop-loss feature that puts a cap on how much you must pay out of your pocket for medical care in a year. For a person who knows that they will be having a major surgery, the out-of-pocket limit is the most important consideration, because this ultimately determines what they will pay for the surgery. And here's a tip- if you are scheduling a major procedure, do it at the beginning of the year, if you can. This way, you will meet your "out-of-pocket limit" early in the year. And once that limit has been reached, you will incur no further out-of-pocket medical charges that year. In other words, no co-pays or co-insurance for the balance of the year. Which creates an opportunity to catch up on any medical issues you may have- without any of the customary fees.

In other words, the best policy is the one that works best for your situation.
Sue, why is short-term medical care not a viable replacement for an Obamacare policy?
Here's one good reason: All Obamacare policies must include an out-of-pocket limit, as mentioned above. Short term medical policies do not have this protection. Nevertheless, restrictions on these policies were lifted by the current administration, creating a serious risk for the public. Fortunately, regulators in Oregon have placed a 90-day limit on such policies. In general, Oregon is an excellent state for consumers, when it comes to insurance. There are many regulations in place that offer us more protection than states typically do.
I heard there is no more penalty for not signing up? Why would I sign up if there is no penalty?
This is an important question. It is tempting to reject the policies that are being offered. A typical Bronze plan won't pay a penny until your costs reach as high as $7,900. And, if you are young, healthy or broke, you may decide to skip it this year. The law now allows this. Wouldn't you be better off pocketing the premiums, and paying for whatever comes up out of that money? The short answer is "no". Here's why- all Obamacare plans include the out-of-pocket limit. This limit does very little for your health, but actually offers good protection against medical debt. And it can keep you from losing your house, should you become seriously ill, or have an accident. With the policy, your medical debt would be limited to $7,900. Without it- the sky's the limit. If you own a home, the policy will prevent you from losing it to medical debt. If you are just getting started, and don't own a home yet, consider the burden medical debt could leave you with. Like having a student loan, that debt could slow you down.
Medicare has some very complicated enrollment periods. Can you please say more?
The Annual Enrollment Period is coming up, from October 15 to December 7. This is the time to switch to a new Medicare Advantage Plan or Medicare Part D Drug Plan. This is followed by the Medicare Advantage Open Enrollment Period, where changes to your Medicare Advantage coverage are permitted.

If you have a Medicare Supplement plan (also called "Medigap"), the time to make a change is each year beginning on your birthday and continuing for a month afterward.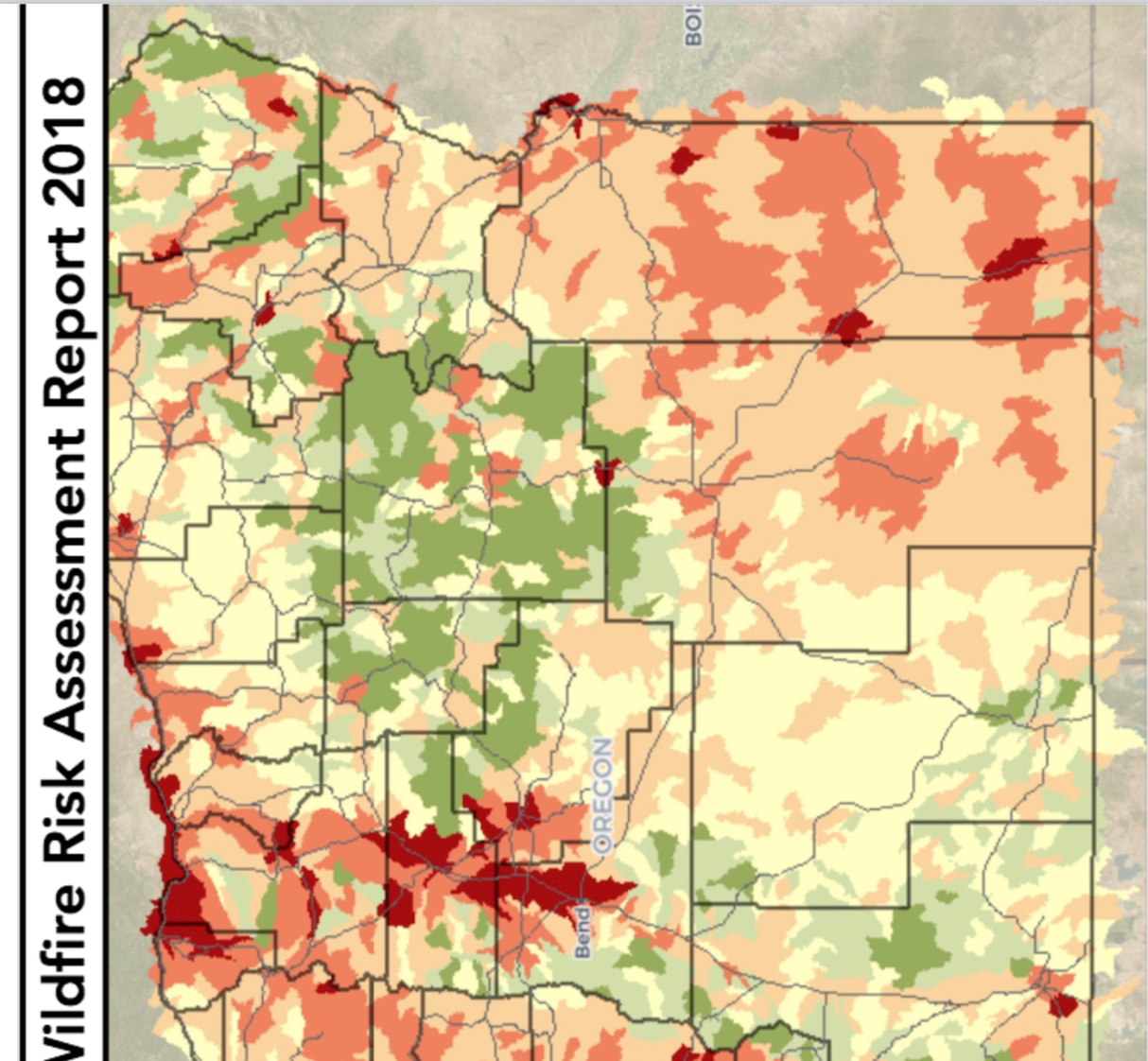 We had a light fire season this year. Should we still be taking fire insurance seriously and what tips can you suggest here?
I am so glad that we got a break this year! Still, the long-term risk for wildfire remains. This can mean that multiple homes will need to be rebuilt, requiring many construction workers. This creates a shortage of workers, and the price of labor goes up. Likewise, with materials. In the past, it has been typical to insure a home at the rate of $150 per square foot. Ashland Insurance now recommends raising the coverage to $200 per square foot, to make sure you don't come up short if you need to rebuild your home after a wildfire.
Is anything going to be changing in the marketplace?
So far it looks like things have stabilized a bit this year, at least in our neck of the woods. Here in Jackson County, we will again see offerings from Moda and Providence. There do not seem to be any threats to the ACA from the government at this moment, but of course, that could change any time. And, as of the date of this writing, it appears that Moda premiums may be going down. This year they applied to the insurance commission for a 3% reduction in their overall rates.
Can you describe the process we would go through in working together?
Whether you are a new or existing customer, the process this year begins with a visit to my online calendar, to make an appointment. Once you have done this, you will receive a confirmation, and a series of emails to help you prepare for your enrollment. These emails are full of tips to help you set yourself up for success now and in the future.
Sue, please talk about your new, streamlined services?
I'm switching to web-based appointments. It no longer makes sense to require people to travel to appointments, when online face-to-face options have become so easy. Over the past few years, the technology of online meetings has improved to the point where these services are reliable and user-friendly. It is now easy to sign documents over the web. It is easy to make appointments on the web. Things have also changed on the Federal Exchange, with the new web broker platforms streamlining the entire enrollment process and smoothing the bumps. And changes in my own life have also driven this decision, as I have shaped my life more around the needs of my aging parents.

I am so happy for the changes in technology that will allow me to continue serving the Ashland community regardless of my location!
How have these new changes touched your existing clients?
My existing clients have taught me that this change is way overdue! Live telephone and web appointments are much easier for all parties. Apart from the time lost in traveling, it's time to give the planet a break. Everything is easier from your home computer. And I think most clients will find the increased attention to client education to be empowering.

Back in the early days of the Exchange, the process was more difficult for all of us. But things seem to be a little less crazy now. Also, when we first began nobody had any idea what a Health Insurance Exchange was all about. Enrollment was often a bewildering experience. But by and large, we learned as we went along. And now my clients seem a little less stressed, because we are approaching our seventh time at this rodeo, and people understand what's going on.

The new, streamlined approach will make life easier for everyone.
How are people continuing to get insurance most of the time?
Most people continue to get their health insurance from their employers, from Medicare, and from Medicaid. Those who qualify for Obamacare are not the majority of policyholders.
How do you stay up to speed with everything in the world of insurance?
All licensed insurance agents must complete CEUs (continuing education units) in order to renew their licenses, every two years. In addition, all agents who sell Medicare must complete rigorous coursework each year. And of course, health insurance is in the news, and there are many excellent articles written daily.
Please talk about your continued partnership with Ashland, Insurance.
The partnership has proven to be a real win-win. Ashland Insurance is a second-generation, family-owned business, and they really care about their clients, their community, and their agents.
What else has been going on in your own life?
Thanks for asking, Shields. Right now, I am focused on health. It was past time to make some lifestyle changes and I am feeling better than I have in years. Much lighter, and full of energy. These days, I really enjoy kayaking, hiking and going to the gym.
Can you please share some testimonials?  
Excellent service

"Every time I see Sue, she demonstrates her deep knowledge of the health insurance marketplace. She clearly presents my options and then breezes through forms that I would have taken hours to fill out."   – MAS

Sue CARES!

"Don't underestimate the value of a professional. Let her guide you and you'll be rewarded with the best outcome. And oh yes she'll do all the work and you'll be smiling when you leave…." – Jack L

Got right to what I needed

"I was anxious. I had just received a letter from the Oregon Health Plan that I was ineligible… What to do? Phone appt with Sue–and she got right to the facts and what I needed over the phone. Got a new plan/coverage started and very reasonable monthly cost. So relieved. Wonderful."   – KH

I was relieved by Sue's expertise–thrilled, too

"I have never reviewed anyone who works for an insurance company. When my daughter and a close friend both highly recommended Sue, I was eager to know why. Sue answered my Medicare questions with a breadth of experience, intelligence and humor. I left her office and said– twice– to my husband, "Sue is amazing; she is someone I would like to see again, and I will recommend her services to everyone I know."   – Jan J
Learn More:
Sue Carney, Insurance Agent with Ashland Insurance
585 A Street, Suite 1, Ashland, OR 97520
FB: facebook.com/SueCarneyInsurance/
To Book an Appointment: https://live.vcita.com/site/SueCarneyInsuranceAgent
AshlandInsurance.com
541-608-1898