It's a one-two punch! Rates going up therefore buying power goes down. Values going up thus creating a deeper gap between what you can buy. Even SIX months matter! This chart from MBS Highway, a respected mortgage professionals' resource, shows the impact of rates rising over the next 3 years and values rising over the next three years. The appreciation used is tied to long-term historical numbers and not just the appreciation levels of the last couple years.
"I'm going to wait until the rates are back down into the 2% range." My first reply is "Good for you, enjoy renting the rest of your life." I have been in mortgage lending for 40 years. Rates do go up and down over time but with our high inflation and six Fed increases in the last month, the sky's the limit. Wishful thinking is not thinking.
Don't like 5.5% (APR 6.159%)? Then you really won't like 6.625% (APR 7.752%)! In studying the chart below, you'll see that in waiting the 3 years your payment has increased $787 a month and you have not enjoyed the appreciation of $78,473.
Find a way to buy now. Buy a house, it may not be your Dream Castle or McMansion but just get a foot in the equity door, your front door!
Let's run the numbers and do some brainstorming. There is no cost or obligation. Give me a ring at 541-708-4020.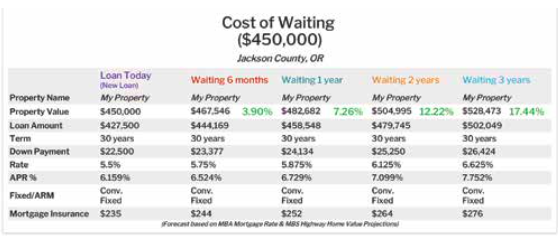 He has been in lending for 40 years. He is a Sales Manager for loanDepot in Southern Oregon. He can be reached at 541-708-4020 or at dporter@loanDepot.com. He is licensed to originate home loans in OR, WA, CA, ID and AZ.
State disclaimer: loanDepot.com, LLC  NMLS ID 174457. www.nmlsconsumeraccess.org Licensed by the OR Division of Finance and Corporate Securities, Mortgage Lending ML-4972.| WA: Licensed by the WA State Department of Financial Institutions, Consumer Loan Company CL-174457. | ID | CA: Licensed by the Department of Business Oversight under the California Residential Mortgage Lending Act CRMLA 4131040.