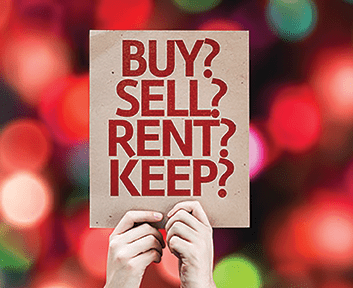 Southern Oregon, as well as most of the nation, is experiencing a record low inventory of homes for sale. Matched with strong demand, prices are being driven up. One would think that all properties on the market are faring well, but it always goes back to supply and demand – and not all properties are in heavy demand. Here is what we're seeing that is not selling quickly and will take time even in this hot market.
Overpriced Properties
Where we are seeing the strongest demand for housing is the entry level. These appeal to the first-time home buyer fleeing high rental prices, investors seeking high rental prices and those downsizing as their kids move out of the house. It's these homes we see multiple offers on, pushing the sales price beyond the listing price. Its simply supply vs. demand. This doesn't mean you can price a $200,000 home at $300,000 and sell it. It does mean you can probably get $210,000 for a house that may appraise for $200,000 and then you have to negotiate larger cash down by the buyer to make up the difference. We recently listed a property at a seller-set price that is 50% over appraised value.  On one hand, there is no inventory available in this price range in Talent where the property is listed, but there also hasn't been anyone willing to pay 50% more than its current value, despite lack of inventory. So, the lesson learned is this – where demand is greater than supply, there is certainly opportunity to increase the price – but that increase must be "within reason".
Project Properties
Many of us are overwhelmed with our life as it is. Kids, parents, work, school, it all adds up, so taking on a project is for the brave. Project properties fall into lots of categories. We recently came across a home that the seller had smoked in and her dogs had urinated on the carpets which yielded quite the smell. Instead of listing the property, which would have sold for somewhere around a $20,000 under market value, we had the work done of replacing all the carpets and painting with Kilz at a cost of $6,000. The home sold at market value which saved the seller money. Passing a project onto a buyer is always more costly than just getting the work done yourself. We just came upon another type of project that's a 30 acre rural property in Josephine county zoned RR-5. Because of the zoning, the property can be split into 5 acre parcels or 6 lots total instead of the current one lot. That make it much more valuable – or does it? The problem is that someone has to hire a planner, get the property surveyed and get the division approved through the county, all of which is going to take time and money. If sold as a project, it's only financeable as what it is – one 30 acre parcel. An appraisal will not give value to 'what can be' they only value 'what is'. So the seller wants to list the property at a price of 6 lots and leave the project up to the buyer. The reality is, if you want the price for 6 lots you have to do the project, taking the time and money to make it into 6 lots. There are many, many more examples of project properties where the buyers have to complete work once they purchase the property and in almost all cases the discounted sale price outweighs the cost of the work to be completed.
Lots & Land
Buying raw acreage or even a lot in the city is not for everyone. Many people dream of building their dream home and many are intimidated by the process of hiring a planner, architect, builder and then getting the plans approved through the county or city. Currently we have 194 lots for sale in Jackson County and they are selling at a rate of about 152 per year, so that's about 1.25 years of inventory. We have 254 rural pieces of land listed and about 132 are selling per year so that means we have almost two years of inventory. So, building your own home may be the dream of many, but it's not the majority.
Unique, Un-financeable & Niche Properties
There are lots of unique properties in Southern Oregon and buyers for them can be hard to find. Living in Ashland, Jacksonville, or Old East Medford you see all these beautiful old homes. Although they are full of character, they can be hard to find a buyer, and they don't always sell quickly. We purchased an 1880's Victorian which we renovated to be our office.  It has turned out to be a true learning experience and took patience, time and money to restore and keep it restored. We also have off-the-grid properties, uniquely large homes, uniquely small homes, multiple homes on one lot and un-financeable homes; all niche properties that take the right buyer, but it only takes one.
Over $1 million dollar properties
In Jackson County alone, we have 67 properties currently listed for sale at over $1 million each, and about 26 are selling per year. Although the million dollar market has been doing much better than years past, we still have 2.5 years of inventory. Southern Oregon appeals to retirees and, in general, they are downsizing when they move here and are not buying $1 million plus homes. On one hand, the over $1 million market is stronger than it has ever been, but on the other hand, it will take years to sell the inventory we currently have listed.
So not everything sells in a hot real estate market, but we should be thankful we have a hot market as we can all remember that from 2007 – 2012 every home had a difficult time selling. Our real estate market today is a reflection of our increasingly growing value-add that attracts more escapees and retirees. They have discovered what we already know, this is a great place to live!