Environmentally friendly dentistry is an approach to dentistry that utilizes best practices to reduce waste, conserve water and energy, and promotes whole body health and wellness through advances in technology and materials science. Environmental friendliness is not an easy task for any business, especially in medicine. In today's interview I speak with Dr. Brandon White to learn more about his cutting-edge practice and commitment to "Exceptional Dentistry."
Dr. White thank you for taking the time to speak with us today and congratulations on another successful year here in Ashland.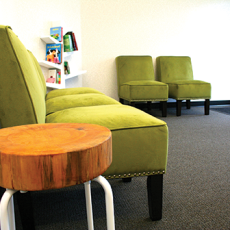 Thank you for catching up with us! It has indeed been another successful year and we are very excited to be experiencing the outpouring of support from the Ashland community. Our team is very grateful and proud to be a trusted resource to our patients and community.
Please catch us up on new developments at White Dental Studio.
We were very excited to expand our facility last fall with the addition of new dental equipment built just up the road in Newburg, Oregon. Local industry and business is vital to not only Ashland's success, but also Oregon's economic success. We are glad to have been able to expand our practice last year, and build our dental practice with locally supplied materials and products. We also have expanded our available provider hours by adding more days with Cindy, our amazing hygienist. Our office manager, Erin, has also been taking on new initiatives to help better coordinate care and keep communication open with our patients. Lastly, we welcomed Sarah into our practice family this winter. Sarah has a history of assisting in an oral surgery practice and does a fabulous job of communicating with patients and helping even the most nervous patient have a positive dental experience.
White Dental Studio has been very mission-driven. Please tell us about your mission and how it continues to evolve and move forward.
The next few years present a number of unique opportunities for our practice. Our mission to continue providing exceptional dentistry in an environmentally responsible practice continues on. We also take pride in exploring advances in dental materials science and technology. As I've shared in the past, there are a number of promising technological advances in dentistry that we continue to evaluate as our practice grows. I wrote "The 5 Developments I'm Thankful For in Modern Dentistry" on our blog and it shares advancements that really benefit the patient.
Patient education and goal setting is an important part of your day-to-day practice. Tell us more.  
Many of our patients find us knowing they need dental treatment. Our practice doesn't focus simply on fixing problems. Time spent on education and prevention is more important to our team than reactive dentistry. We believe in spending quality time with our patients discussing the conditions present and forming an action plan to address needs in a prioritized method. Typically, our hygienist Cindy or assistants, Tishena and Sarah, spend additional time educating patients on techniques, products, and tools to help achieve successful outcomes. We also like to utilize our social media and blog to further educate our community.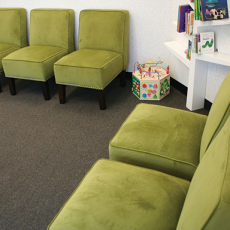 You have designed your practice to be realistic and manageable so that you can give ultimate time and attention to your clients. Please talk more about this.
That's right! Our facility is designed with both our patient's AND our comfort in mind. We enjoy spending ample time with all of our new patients and we educate and discuss dentistry intentionally. Our team does not utilize sales-y tactics, we strive to eliminate fear and financial stresses from entering into the decision making process, and we pride ourselves in having fees that are fair and correspond to the amount of time, detail, and attention we provide our patients at every appointment.
Maintaining a good family work balance has also been important for you.
I am very excited for summer this year and having some time to spend with our 2 young kids. We really enjoy cycling and you'll likely see us on the greenway or up at Diamond Lake cruising around. Our family has also been blessed to be able to share the sport of skiing with our children! Many of our patients already know that our son experiences a number of medical challenges, and we were able to get him involved again this year with Shasta Disabled Sports. He loves it so much and we are very happy to support them in their goals to share skiing with other children and adults who otherwise might not get the opportunity.
We enjoy visiting the Oregon Coast during the summer months, especially when it gets really hot. We also love traveling up into the mountains to explore all the adventure and sights Southern Oregon offers. You also might see my wife, Lauren (White Dental Studio's Brand and Environmental Director), and I at a Shakespeare show or walking around town.
Your customers are often wanting to be presented with multiple options of choice. 
They do! I think of this like when I go somewhere for a really good pastry. They're a weakness of mine but I think most of us can agree, the world is a better place because pastries exist. I know that I'm going to pay a fair amount more for a very good pastry in a small, hands-on, made with care pastry shop, than I am going to pay if I go to a large industrialized high volume grocery store bakery. Both are still going to be delicious, but I like the ingredient quality, great skill, unique décor, and atmosphere I am getting in the local shop. I also know that I am going to have several options available to satisfy my pastry-craving needs. It is often the same with teeth and we strive to present at least 2-3 treatment options to patients on our cases when we can. Complex cases, in our opinion, deserve to know there is more than one way to achieve oral health and we will often times present several options to patients but still be able to mix-and-match from within those options to reach the desired outcomes.
I am curious to hear how you see the industry continuing to move towards more sustainable and holistic models of dentistry?
There are some exciting methods for maintaining oral health and treating disease already available which we have begun incorporating into our daily practice. Bioactive materials, which have been around for several years now, have become easier to handle and more predictable in their application. These products enable us to repair areas of teeth while also allowing the tooth to remineralize via the inherent chemistry of the product and the tooth's ability to absorb it. The applications for these materials are limited for patient use in that compliance is the biggest challenge, but even the products available for patient home use now have many years of success and a proven track record.
We are also seeing digitization become even more prevalent. Fewer and fewer practices still operate on a film radiograph system. Films require more radiation to get an adequate exposure and also require chemistry in the form of developer and fixer products which must be disposed of properly. Direct Digital imaging, which many of us in Ashland currently use, requires such a miniscule amount of radiation to obtain an image that we have been advised by the State that lead (or lead-equivalent) aprons are no longer necessary for patient safety at these minimal doses. Direct Digital utilizes the power of software and computers to translate this data into an easily read image. We still maintain a practice that focuses on the principle of ALARA – As Low As Reasonably Acceptable – when ordering images, but it is comforting to know that we are in an era of increased safety and efficiency.
The issues of mercury use in dentistry remains on many people's mind. We have been following best practices since opening. While an amalgam separator (a canister designed to trap the mercury containing materials before they enter the water system) is mandatory in Oregon, it wasn't until very recently that scrap and waste collection requirements went into effect. We produce extremely small amounts of scrap and waste, but have been following these recommendations (now requirements) for the duration of our practice. This eliminates scrap and waste amalgam and mercury from entering the garbage/trash system. While it's controversial for many, I feel it is a valid and necessary step in protecting our environment.
Lastly, we have finally seen cord-cutting join the world of digital scanning. Our practice is very excited as we look to add digital scanning later this year to our practice using smaller, faster, and now wireless scanners. In my assessment, I have found 2 small hurdles that either the manufacturer or I will need to overcome to be able to see this application join our practice. In the meantime, I have begun exploring how to work past those challenges with a colleague who has similar goals in mind.
Something that I never realized in dentistry was that fixing something often requires on-going fixing.
It certainly seems like it. I think teeth can have a long term solution to restore decay or a broken cusp, but even that fix is unlikely to endure a lifetime of use. Too often, we see a mentality in 2018 America that "I can just get another one" when something breaks or has a problem. Teeth don't work that way. Not everyone can get an implant once a tooth is lost, and not every implant placed is going to be a success. I like to ask concerned patients who come in needing lots of dentistry because they have 30-year-old filings or crowns which are failing one question. I ask: What items in your home, office, or car are made of glass, plastic, or metal and last more than 5 or 10 years without meticulous maintenance? Add on top of that the fact that you can't NOT use your teeth and gums – the system is constantly in use and it is constantly under attack from bacteria, acid, and habits which put not only teeth, but the restorations used to fix a cavity in jeopardy. It is amazing that we can fix people's teeth and have it last for years looking like the day it was restored! Alas, the ultimate responsibility lies in the hands (literally) of the patient to continually maintain their investment. Simple and effective maintenance provides long-term success with a much greater level of predictability than repeated "fixing" of teeth which is where proper education and follow through with evaluations and hygiene visits become worth their weight.
The disease process of dental decay is not improving in our children and this is a problem our health system is not adequately managing. So many children aren't receiving dental care, even in a preventive capacity, until such a time as their teeth are compromised by decay, fractures, or significant infection to the point that they end up requiring a visit to the operating room, general anesthesia, and extensive restorative treatment or extractions in order to give the developing adult teeth a chance at success. At this point, the options do become very limited, and the imprint left in the child's mind is not a positive one regarding dentistry. While we strive to not see cavities in the children of our practice, the fact is they will still get them. The advantages to early intervention is that we can often repair a problem with little to no local anesthetic, and preserve a considerable amount of natural tooth.
More and more doctors are transitioning into retirement. How are you stepping forward to help patients find a new home with dentistry and make a smooth transition?
We've recently seen a number of patients transfer into our practice as doctors in the area retire and they look for a new option. Our team does everything we can to help facilitate those changes. As the practice I had associated in during our start up transitioned to new ownership, we saw an influx of patients who opted to remain with us. While our team is younger and intends to be around for many years to come, I think our experience speaks volumes. I was recently evaluating our team members' years of experience, and I realized that the five of us have combined nearly 90 years of dental experience.
You recently received some great feedback from the community. Would you please share that with us?
We sure did! I was very pleasantly surprised last fall to receive the Ashland Chamber of Commerce's Green Business of the Year for 2017. The Chamber and our staff did some sneaking around to ensure that I attended the annual dinner this year and what a surprise when I did! It was such an honor to even be considered, let alone win an award for leadership and innovation in environmental responsibility. We have so many patients who come in to the office and ask about environmentally responsible dental practices now. Our team does a great job of discussing our role as a business in utilizing best practices to reduce our footprint and provide an atmosphere conducive to achieving those goals. While it is a pillar of our practice, environmentally-friendly dentistry is only a small part in the foundation and structure of our practice where ethical, responsible, quality-focused care help attract patients to our facility.
Do you have a specific direction that you see the practice going or that you want to take it over the next few years?
As we chatted about earlier, I really look forward to our continued growth and capability to hire additional team members who share our vision to provide dental care. We have been, and will remain, a very family-centered practice and a supporter of the Ashland community. Many of our patients desire personalization in their dental care. It certainly is easier to have a 10-minute exam with a doctor, and it is certainly easier for a doctor to have a shortened exam time, but I feel these first visits are the most vital in providing an accurate examination, assessment, and initial plan for our patients.
You are always finding ways to be involved in our community. What have been some recent events you have participated in?
In April were able to realize a goal, with the help of another practice in town, to help bring the Ashland Food Project drop-off/pick-up bags to our neighbors here in town. Last year, we were fortunate enough to be able to team up with True South Solar which is an amazing local business doing wonderful things in the world of solar power. This year, our colleagues at Ravassipour Orthodontics were excited to share in the opportunity to sponsor the Ashland Food Project with us. Access to quality food is a problem which too many in our region don't fully realize. The work of the Project does amazing things to ensure that the food bank is stocked and that access remains for those who need it most.
Speaking of the Food Bank, we are also very fortunate to have Medical Teams International rotating through Ashland at the Food Bank's location roughly 4 times per year. Last year, one assistant from my practice and I volunteered at the MTI mobile clinic and we were able to provide 9 patients with absolutely free dental care in the 4 hours the clinic was available. I tried to calculate roughly what that amount of dentistry would cost on average for comparison, and I would conservatively estimate that the two of us were able to provide around $4000 of dentistry that morning. We are very grateful for the opportunity and pleased to see that the initiative taken by my colleague and friend, Eric Jones of Jones Family Dentistry, has realized such an amazing avenue for those in our community who cannot get to Medford or another urgent care facility for treatment.
How are you continuing to keep your own chops up?
I am an avid "consumer" of continuing education. I try to take as much continuing education in the types of dentistry we find relevant in our practice. Our hygienist, Cindy, and I were recently in Portland for the Oregon Dental Conference. Over three days, we are able to take 20 hours+ of continuing education courses taught by highly skilled, reputable leaders of the dental industry. There are a number of other workshops and courses I enjoy participating in throughout the year, as well.
In late 2017, I accepted the role of Vice President with the Southern Oregon Dental Society. The SODS is the local affiliate to the Oregon Dental Associate, which in turn is part of the American Dental Association. In early 2018, we held a Casino Night during which approximately 30 dentists and their spouses "gambled for good" in an event which raised over $5,000 to benefit Living Opportunities. We were thrilled and amazed as a Society to be able to provide Living Opportunities with this support and we are excited to begin planning an event for 2019.
Do your patients keep you on your toes?
Absolutely! We have reached a point in the practice where, once or twice a month, we are challenged by a case presentation. It makes us have to think differently or plan uniquely to help a patient achieve their goals. These cases often involve multiple disciplines, so coordinating with specialists and labs is crucial to a successful outcome. As our materials and techniques advance, I feel it's important not to remain on the sideline and wait for everything to come to us. It simply won't! While I don't always wish to be the first person doing something new, I definitely don't intend to be a late-adopter either!
What is some of the best advice you find yourself continually sharing with your patients?
That depends on the time of year! Typically, as with most repair based industries, an ounce of prevention is worth a pound of cure. Putting things off until they get worse only leads to a more complex, costly resolution. I also firmly believe in the 5 "Ps" of success. When a patient comes in needing complex dental care, we assess the situation and provide options to manage and treat the disease process present, followed by maintenance. How do we achieve that goal predictably? That's where the 5 P's come in: Proper Planning Prevents Poor Performance. We put a lot of time into planning with patients. Some cases take hours of planning coordinated with specialty. I have one active case now that will involve at least 2 specialties: orthodontics and periodontics. It will also involve cosmetic work ups and transitioning for the patient. The three doctors working on the case have already spent together several hours dialing in a plan so that we can realize ideal outcomes. Why is this important? Well, the realization of what you'd like to have as an end result will help guide a clinician and patient through the planning phases. In turn, this helps ensure good outcomes of the intermediary steps along the way.
I also like to use the 5 P's of planning and the amount of time we spend in diagnosing and assessing conditions to correlate costs. Like every industry, we will have patients shop pricing. I don't blame them! Sometimes, a patient will come back to us after having sought a second opinion and ask why it is our fees are maybe 10% lower or higher than another practice's fees. Then they may ask what we can do to possibly lower our fees. I typically start that conversation with a moment of understanding that our fees are what the fees are in our practice. We feel our fees are fair and they represent the quality of care and attention to detail our team provides. We don't think that a patient needs to sign up for a third party credit service, pay in advance, or be a senior citizen to get a better price. I also tell our patients that they will always be able to find someone somewhere to do their dentistry for less. There is no "regulated fee schedule" so practices are free to charge or not charge whatever they'd like. I have recently seen advertisements for a "price beat guarantee – 10% less when compared to another dentist's plan." How ridiculous is that? Sadly, it is a trend in dental care to undercut and devalue the services one is able to provide their patients in an effort to increase income. We don't believe in this Amazon-ification of dentistry at White Dental Studio and I don't feel it is good medicine to do so.
Are there any last thoughts or comments you would like to share with our readers?
A couple final thoughts/pearls of advice I have to share with prospective patients or people considering establishing care for the first time here in Ashland are:
Interview potential practices! I love meet-n-greet appointments because there is typically less anxiety from a prospective patient meeting us. A potential patient can see if our practice is for them and we can share our vision and philosophies, ask questions, and answer questions. It is so much more cost and time efficient to do this free interview 2 or 3 times than it is to bounce around between a couple of practices.
Trust that your providers have your best interest in mind. If you don't feel like you have, or can build, that trust with a provider in the first 15 minutes of an appointment, then look elsewhere.
Think of dentistry and care with the long-term goals in mind. Short-term fixes typically cost more in the long run. The short-term patch and repair fix is fine for a baby tooth that isn't going to be around in 2 years or for elderly patients who are trying to maintain what they have or their overall health does not warrant extensive work.
Please support your local doctors. The vast majority of us have small family practice businesses. Your support stays local, it provides other local employees with good jobs, and it reduces the amount of commerce flowing out of Southern Oregon and up the corporate ladder to investors controlling larger corporatized practices.
Learn More:
Brandon White, DDS
727 N Main St
Ashland, OR 97520
Phone: 541-708-6288
Web: https://mywhitedental.com