Articles
Alexandra Fox – Otherworldly Abstract Artist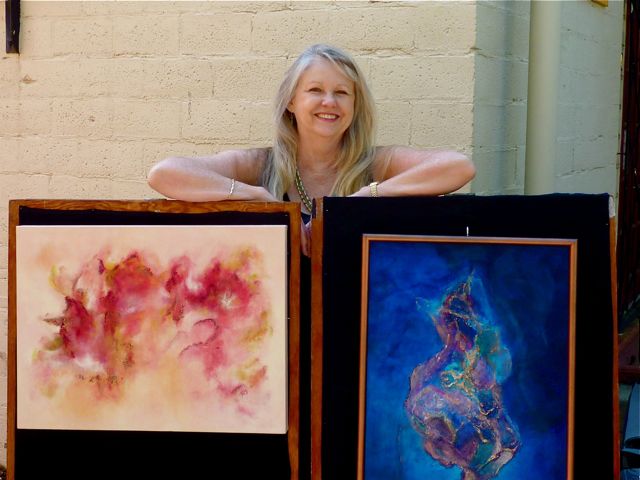 It was the weekend before the Forth of July. I was walking to get my typical morning coffee from "Mix" when an image caught my eye. I was literally stopped in my tracks. A new artist was set up in the space at the back of Mountain Supply. Alexandra Fox is a recently juried member of the Lithia Artisans Market. We talked for a moment and I found Alx charming and very connected with her work. I have to admit to being a sucker for abstract art, but it has to grab me, make me feel something deep. The art of Alx Fox does just that, it pulls the viewer into another world and your own imagination takes over from there. By the way, the piece that drew me in was sold before the end of the day.
Marcus… How long have you been creating your art form?
Alx… All in all, about 30 years. In the 70's I discovered the joy of taking black and white photos and the challenge of developing my own film and prints. When I moved to Kauai in 1985 a darkroom was hard to come by so I segued into pastels. Around 2001, when what I wanted to create couldn't be done with pastels, I took up acrylic and mixed media.
Marcus… What would you say is your main inspiration when you make your art?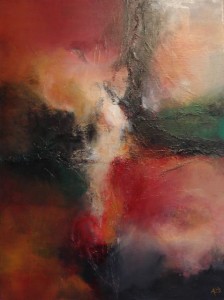 Alx… I am fascinated by the cosmos.  The pictures of distant stars and nebulas fascinate me. So… I think about those and let my imagination take a wild ride. Sometimes it is just one color that gets a hold of me and I can't stop using it for several different pieces.
Marcus… Did you attend college? If so where, and did you study your art form there?
Alx… I started out at the State University of New York at Buffalo in anthropology. My art education began in earnest at Barat College in Lake Forest Illinois where I studied design and art history.
Marcus… What sets you apart from other artists in your medium?
Alx… The willingness to push boundaries using unusual layers of texture and being experimental with color and shapes.
Marcus… What do you most enjoy or appreciate about selling at the Lithia Artisans Market?
Alx… I find being with all the artists an inspiration that challenges me to stretch and be more creative. Interacting with all the visitors that come from all over the world is refreshing and a lot of fun.
Marcus… Tell us something about you that has nothing to do with your art form?
Alx… I love animals and have been blessed to have had the experience and pleasure of owning horses when I lived on Kauai. While there I worked for many years as a ranch hand and trail guide.
Marcus… What is your favorite time of the year and why?
Alx… Summer and early fall definitely. I really respond well to the richness of light and clear skies. I love nature and the intense colors at that time encourage me to paint.
Marcus… What do you consider influential in making you the artist you are today?
Alx… I have traveled extensively and lived in several cities and countries and have met a diverse group of people. This has taught me the value of empathy, respect and kindness . That has impacted my art in a huge way.
Marcus… What do you like to do when you are not creating or selling your art?
Alx… Work outside in the garden with my cat Lillirose. I like to make my own incense or beaded jewelry. I also love to cook ethnic dishes.
Marcus… How often do you sell at the Lithia Artisans Market?
Alx… You can find me there most weekends through the season.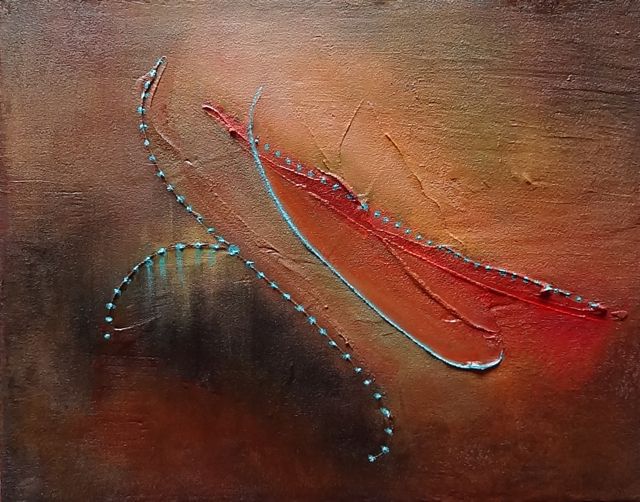 Marcus… Where else can we find your art?
Alx… The Rogue Gallery and Art Center in Medford has several of my Zen series and I currently have works at the Dreams and Visions 2011 National Exhibition in Fredericksburg, Virginia. I will also be showing at the 26th Annual Fine Art Show in Louisville, Colorado.
Marcus… Are you a full time artist, or do you have a separate career?
Alx… Right now I am thankful to be able to focus on my art full time.
Marcus… Abstract art is such a surreal artistic endeavor. Tell us how you prepare yourself, mentally, to take on a new piece?
Alx… Meditation enables me to center myself.  A quiet block of time is necessary too. Then the excitement of freely adding color and building textures takes over. Once I begin time and space disappear.
Marcus… How do you think your art affects the people who see it?
Alx… I believe at first the vibrant colors attract viewers and then the abstract designs pull them in allowing a very strong personal connection. The pieces can mean very different things to each individual. That is why I love doing abstracts so much.
Marcus… I often get blocked as a writer, or an artisan. How do you break through artistic blockages?
Alx… Dedicating a portion of every day in some way to art enables me to stay connected. Getting photos ready to submit to exhibitions, prepping canvas, keeping my website and blog up to date or just cleaning and reorganizing my studio area help me stay in the zone. The creative need to put paint to canvas does not happen every day so these things keep me on track.
Marcus… You lived many years in Hawaii. I can sense the islands in some of your work. How did your time in Hawaii affect you as an artist?
Alx… I spent 18 years on the beautiful Garden Island, Kauai, Hawaii. While there I was also able to spend a considerable amount of time exploring both my surroundings and inner self. The sheer remoteness and unspoiled beauty had a profound effect on me. The pace of life forces you to think deeply and get in touch with nature. I was able to connect with some truly special teachers. It was a remarkable experience and I would not be the same person I am today without having spent that very special time there.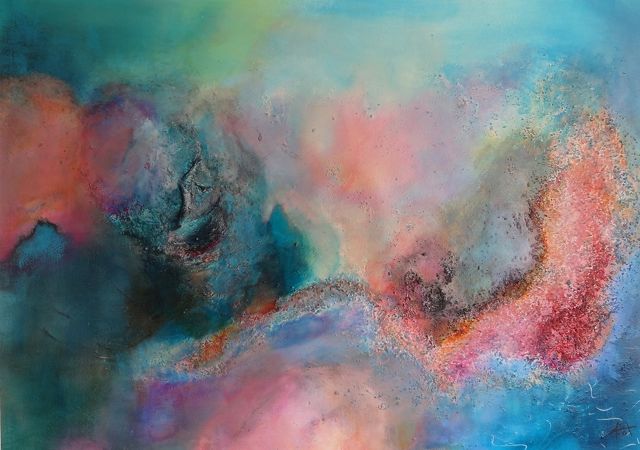 Marcus… I am taken away when I view your art. Does it have a similar affect on you as the creator?
Alx… Yes, it does, totally. I LOVE to paint! When I paint I feel physically free and as joyful as a six year old at play. It is an intense, almost otherworldly feeling where there are no restrictions and a remarkable feeling of connection.
Alexandra can be found most weekends at Lithia Artisans Market, behind the plaza in downtown Ashland. If you wish to know more about Alx you go to her website at www.alxfox.com, or read her blog at blog.alxfox.com. To learn more about the Lithia Artisans Market go to www.lithiaartisansmarket.com or to read current articles go to the blog at lithiaartisansmarket.wordpress.com.