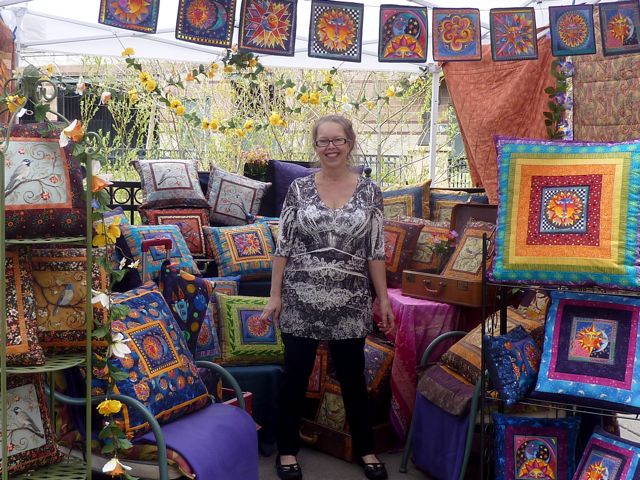 Kris Daly is a quilter who shows her beautiful, bright creations at Lithia Aristans Market. She is a long time resident of the Ashland area, and a mom of two grown kids — daughter Jessica, age 26, and son Aaron, 22. Appropriately, she named her business "Kris Quilts and Crafts". A long time member of Lithia Artisans, she took a couple years off to re-think her craft, and go inside and take stock of what is important in life. Sometimes we have to get a "real job". She did just that for awhile, but has come back to the market with a new found spirit of creativity. Kris is an artisan who has really refined what she is doing, and it shows in the quilts, pillows, and colorful flags hanging in her booth — meticulous stitching, textured patterns, combinations of fabric that just work well together . When I walk into her booth I feel happy. So much color, joy, smiles. I really like what Kris is up to these days. We had a few moments to talk while set up next to each other at the open air marketplace along the creek, and here are the highlights from that interview.
How long have you been creating your art form?
Kris… I have been sewing for over 40 years now.
Who do you consider influential in making you the artisan you are today?Kris… My grandmother sewed all my clothes when I was little. I spent many weekends with her watching her do her magic. She is my main inspiration. I have so many vivid memories from those times. Touchstones really…
Where did you learn your craft?
Kris… When I was 11 we moved 150 miles away from my hometown of Defiance, Ohio. We moved to Bedford, Indiana. That was hard, I remember. We had such a tight family. I always spent weekends with my cousins — playing, cooking and eating meals together. My other grandma gave me an old Singer sewing machine — the kind that is in an old wooden cabinet. My dad (an engineer) helped me cut out my first dress, a yellow cotton shift (a little A line dress, sleeveless. You hardly see dresses like that anymore) with facings and a zipper. I wore it to school. Very cool. I was so proud of that little dress. Since then I have done so many sewing projects… countless. One grandmother inspired me and my other grandmother gave me the tools to learn to sew. Power to grandmothers!
Why did you choose to become an artisan?
Kris… It is important for me to create. I love putting the fabrics together in unexpected ways. It is a form of color therapy. I get excited when I find a fabric that works in my designs. When I am excited about a fabric and a design, that resonates with my clientele and low and behold, the sales start to happen. Last year I completed ten full size quilts (three custom orders), and seven baby quilts. For those of you out there who are not quilters, that is a lot of work. Let me tell you… Lots of pillows too — over 30. Now , I am out of control sewing full time. I am just buzzing with new ideas. I cannot sew fast enough. Sort of like a writer typing with reckless abandon because the story is just flowing out. You know what I mean?  Full speed ahead!
How long have you lived in the Ashland area?
Kris… I have been in the area for 27 years now. I was living in Santa Cruz, California with my husband at the time. We both wanted a change of pace. We are no longer together but we are good friends. I still hang out with his family. It's cool. Ashland reminded me of Santa Cruz, but seemed to be moving at a different pace. That is what we were looking for. I love the Rogue Valley. I spend time hiking, and dancing to local music whenever possible. The music scene here is ever evolving. I do my part to support local musicians and good live music venues. MidSummer's Dream Art & Music Festival is great for live music. I will be there on June 11 & 12 at the Briscoe ArtWing Grounds, just down the road on North Main. I'll have my booth there. That is a fun one. Sounds like it should be great this year.
Where else you you sell your art (other fairs, festivals, etc..)?
Kris… I will be at the Jackson County Master Gardeners Expo in Central Point. That show is in its 33rd year. It is at the Fairground in Central Point on Saturday May 7. The only other show I have planned is Fairie Worlds up in Eugene, at Mt. Pisgah Park.
What is your favorite time of the year?
Kris… Autumn. I love all the colors in the trees. I love selling at the Lithia Artisans in the Fall. It is so pretty down here on the creek with views of the trees turning color in Lithia Park. That is one thing I miss about being in Ohio, the deciduous trees in the fall. But I really love the weather out here. I don't miss the winter out in the mid-West.
How often will we find you at the Lithia Artisans Market?
Kris… I plan to sell at the market most weekends this season. I wasn't able to get out to the market as often last year because I had a full time job. This year I am making the effort to concentrate all my creative energy to making this work. I want to abide by the mantra that says, "do what you love and the money will follow". I believe that is true. I really want to make this work.
To contact Kris email krisquiltscrafts@gmail.com. You can find Kris regularly at Lithia Artisans Market, weekends along Ashland Creek, behind the Plaza. More info. at www.lithiartisans.com, and weekly updates at lithiaartisans.wordpress.com.