Articles
Cathy Moore – Massage along the Creek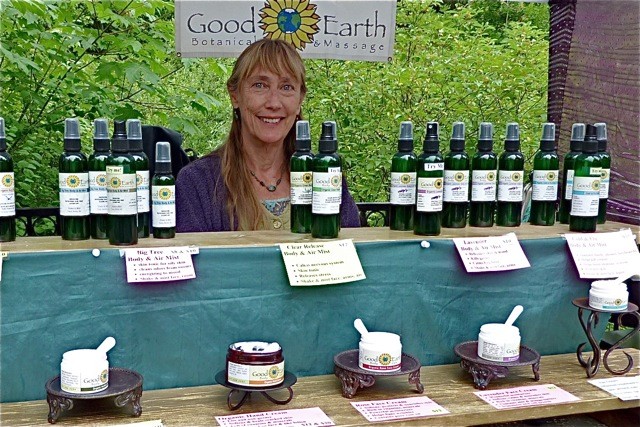 Cathy Moore has been a part of the Lithia Artisans Market for about 10 years. I think that qualifies her as a veteran. Cathy served on the Board of Directors of Lithia Artisans Market for many years. She held the office of Secretary. Today she is just one of the artisans on the Calle, but still a very concerned and creative advocate for the market. She offers her clientele chair massage and herbal body care products. How relaxing to listen to Ashland Creek rushing by as you receive a back and shoulder rub-down. Cathy became curious about natural body care products at about the same time she joined the market in early 2001. We recently had the chance to chat at the market, and this interview is what came from that exchange.
Marcus…How long have you been a massage therapist and when did you start working with the herbal products?
Cathy… I have had a massage practice here in town for 11 years.  I have been making the Good Earth Body Care line of products for 10.
Marcus… Where did you learn your craft?
Cathy…I studied massage therapy at Rogue Community College and became licensed by the State of Oregon in 2000.  I did my own research and development of recipes and label designs for my line of body care products — "Good Earth Body Care".  I furthered my education and received a certification in aromatherapy from Pacific institute of Aromatherapy in 2001.
Marcus… How long have you lived in the Ashland area?
Cathy… I've lived in this area off and on for about 35 years.
Marcus… What do you most enjoy or appreciate about selling at the Lithia
Artisans Market?
Cathy… Since I am a "people person", my favorite thing about selling my products and offering chair massage at the Lithia Artisans Market are the wonderful people I get to meet and chat with. All of my fellow artisans are so talented and interesting.  My customers and massage clients are always fun and engaging. I get to make some money and promote both my business and our unique town of Ashland. Out of town visitors to my massage booth often have many questions about where to eat, where to shop, and what to do around town. Each artisan booth acts as a guidepost to the town because most of us live here, or know the place really well.
Marcus… Tell us something about you that has nothing to do with your art form?
Cathy… Something that most people don't know about me is that I was a D.J. at a university radio station in La Grande for 8 years.  I had a weekly show and could design my own play list. The station had a huge selection of music to choose from and a great sound system. I usually did an hour each of rock, blues and reggae/ world beat, but sometimes played 3 hour sets of just one artist — Neil Young, Bob Marley and John Lee Hooker, and others. My whole family got in on it and we have old taped recordings of my husband Dan's late night classic rock shows and both of my young sons ( 5 year old Chris introducing an L.L. Cool J song, and 10 year old Danny doing a Hip Hop show).
Marcus… Briefly explain how your products are eco-friendly?
Cathy… My "Good Earth Body Care" products are completely eco-friendly.  They are made with organic ingredients and contain no pesticides or preservatives.  They are not tested on animals and are made from plants.  They are fun to use and easy on the environment.
Marcus… What do you like to do when you are not giving massage or creating body products?
Cathy…  When I am not busy working, I like to garden, ride my bike, paint landscapes, hang out with my human and animal families, and hula hoop.  I just got a new hula-hoop at the Market last weekend and it is great fun.
Marcus… How often do you sell at the Lithia Artisans Market?
Cathy…  I am in the massage booth on the Calle' most weekends, May thru October.
Marcus… Where else you you sell your products?
Cathy…  I sell some of my "Good Earth Body Care" line of products at the Ashland Food Coop and the Movement Studio in Talent
Marcus… What else would you like the reader to know about you?
Cathy…  I have a wonderful husband named Dan.  We have been blessed with two talented and happy sons – Danny and Chris.  Danny is 29 and runs an organic farm outside of Jacksonville.  He plays many stringed instruments and is lead singer/songwriter for the country band Red Tail Hawk and the bluegrass band The Moore Brothers.  Chris is 24 and is a shift-leader in the produce department at the Ashland Food Coop.  He  plays stand up base in the Moore Brothers and is currently working a on a series of oil paintings in his downtown apartment in Ashland.
Marcus… What do you most love about living in Ashland?
Cathy… I love living in Ashland for many reasons.  The mountains and beautiful trees, mostly good weather, easy access to hiking trails and world-class entertainment.  I love not driving and riding my bike to the store and bank. The vibrant artist community and general spirit of Ashland has always attracted me. I have lived in many different places from Washington D.C. to Santa Cruz, Calif. and have always wanted to be back in Ashland.
Cathy can be found most weekends along the creek at Lithia Artisans Market. lithiaartisansmarket.com
Her body care products can be found on-line at www.goodearthbodycare.com.